In the area of desktop and laptop market, Microsoft Windows must be the most popular operating system with the usage share of above 70% in most countries' markets and at 77% to 87.8% globally. Along with its popularity, user's demands have increased as well like bundled Microsoft screen recorders. Microsoft brings this function called Game Bar to the newest Windows 10 version. Users can employ this tool to capture gameplay footage, record any live streaming and produce tutorial videos. But for other Windows versions, people have to find alternatives. So this post will make a clear discussion about these screen recorders for Microsoft.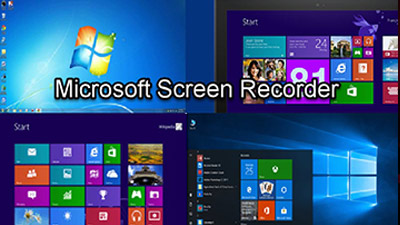 1. Internal Microsoft Screen Recorder for Windows 10
Windows 10 is now on more than 1 billion devices worldwide and it brings new features to help with productivity, security and speed. The most expected part is the Microsoft bundled screen recorder called Game Bar which is separated from the Xbox app. Game Bar supports game clips recording, screenshots taking and game battles broadcasting. Besides, with this tool users can also record non-game applications running on the desktop. It enables you to easily capture video of screen activity from your web browser, Microsoft office applications and many other programs without time limit and watermark.
How to use the Game Bar to record on Windows 10
Step 1: Open the window or an application you want to capture.
Step 2: Press Win+ G to evoke the panel or you can use the controller to find this tool.
Step 3: Make configurations. You can define the recording duration, the audio input devices and audio quality. If you're going to shoot the game recording, you can check the Game Mode.
Step 4: Now you can start and end recording with buttons.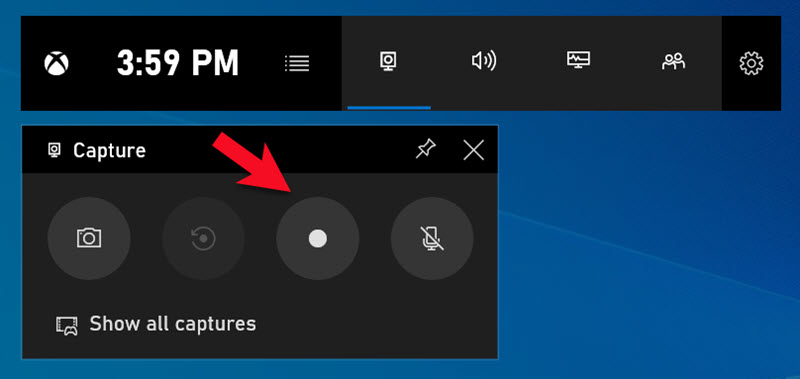 If you can't open the Game Bar or find it can't work, you can refer to this article – troubleshooting problems of Game Bar.
2. External Microsoft Screen Recorders for Windows 8/8.1
If you google the keywords Microsoft screen recorder on your Chrome browser, the top-listed 3 names are Ultra Screen Recorder, Screen Record Lite and Screen Recorder Pro for Win 10. Unfortunately, the minimum system requirements of these programs are all Windows 10. But the Ultra Screen Recorder operates the same way as OBS Studio which supports Windows 8/8.1/10. So here we would like to recommend OBS as well as RecMaster as an alternative of Game Bar to you.
1). OBS Studio: An open-source alternative of Game Bar
OBS Studio, one of the best screen recorders for Windows is an open-source screen application for video recording and live streaming. It allows user to capture full screen or customized area along with audio. By using the scene panel, you can create mixed scenes with multiple sources like windows capture, images, texts, webcams and more. Moreover, you can switch between these scenes to make montage effect. If you record several audio input devices at the same time, OBS can capture the audio track separately. However, the common problem is the OBS black screen and the operation is a little difficult for the newbie.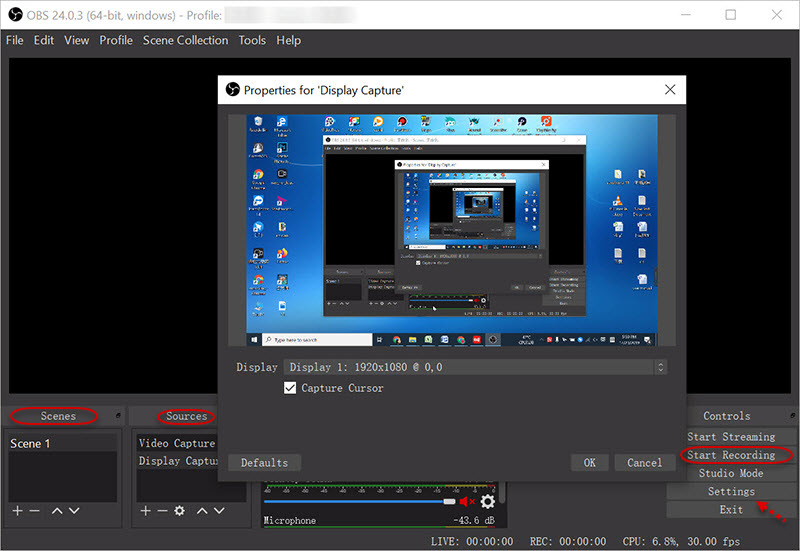 How to use the OBS Studio record on Windows 8/8.1/10
Step 1. Download and install the software on your computer.
Step 2. Create Scenes, Sources and Audio Mixer. In the home interface, you can create unlimited scenes and make configurations of the system sound as well as microphone.
Step 3. Make settings. OBS empowers you to do personalized options. Click the Settings button where you can change the recording path, quality, format and more.
Step 4. Tap the Start Recording icon to start. When it's time to end, press the Stop Recording button.
2). RecMaster: the most compatible and useful Microsoft screen recorder
If you want to find a feature-rich yet easy-to-use application, we would like to recommend the RecMaster to you. With this tool, there is no limit on system requirements and you can capture your screen at ease. Facebook live, teleconference as well as online music recordings are all available with this tool. If you want to produce educational tutorials, the annotation function is necessary to attract eyeballs and emphasize highlights. Moreover, you can finish scheduled recording with the tool so that you will never miss any important moment.

How to use the RecMaster record on Windows 7/8/8.1/10
Step 1. Download and follow the wizard to install.
Step 2. Turn on the window or application you want to capture. Full Screen is for the whole screen capture while Custom Area is for the target screencast. If you want to record a gameplay video, Game Mode is suggested. Meanwhile, you can use the Webcam and Audio Only modes to create video from your camera and microphone.

Step 3. Make configurations. If you want to get customized video, you can change the video format, quality and frame rate. Here is also accessible to capture your voice with the system sound.
Step 4. Click REC button to start. During recording, you can use the annotation function to add text, arrow and other signs.
Step 5 Press Stop button to end. After recording, you can use the built-in editor to cut and merger any unwanted clips on your video.
3. Comparison among the features of Game Bar, OBS Studio and RecMaster
Here is a table listed pros and cons of these three screen recorders.
| | | | |
| --- | --- | --- | --- |
| | Game Bar | OBS Studio | RecMaster |
| Operating system | Windows 10 versions above v17763.0 | Windows 8/8.1/10 | Windows 7/8/8.1/10 |
| Time limit | Within 4 hours | No time limit | No limit in full version |
| Full screen/file capture | × | √ | √ |
| Webcam capture | × | √ | √ |
| Task schedule | × | × | √ |
| Annotation/Built-in editor | × | × | √ |
| One-click uploads to site | × | × | √ |
Final Words
These three screen recorders all have pros and cons. If you need a powerful Microsoft screen recorder, we would recommend RecMaster to you again. We believe with this tool, you can produce wonderful videos.
Related Windows Guides:
How to record on Windows 7
How to record on Windows 8/8.1
Windows Media Encoder Screen Capture Guide
How to Record Windows Media Player