People may be confused about whether Windows Media Player has screen recording feature or not, the answer is negative and another tool Windows Media Encoder does have such function. Today we will not go further on Windows Media Encoder screen capture, we talk about how to record videos from Windows Media Player.
Windows Media Player (WMP) is a preinstalled media player that comes with all Windows operating systems. Developed by Microsoft (see 3 best Microsoft screen recorders), WMP serves as a tool for audio and video streaming (playing), images viewing, music ripping, disc burning and playing back on personal computers. Besides, it adapts well to Pocket PC or Windows Mobile-based devices. Editions of Windows Media Player were also released for classic Mac OS, Mac OS X and Solaris but it is gradually going downhill since a discontinued development strategy has been implemented on Mac versions. So how do we record the videos and audios that are streaming or playing on WMP?
Here we recommend two kinds of screen recorders that are helpful.
● Game Bar recorder (Windows 10 preinstalled recorder)
Built-in recorder – Game Bar (Windows 10) meets perfectly with users' demands. Users can feel free to use Game Bar Recorder to record live streaming videos (don't get confused by the recorder's name, it is not game-recording-exclusive). But this default recorder was born with fatal deficiencies which we will discuss specifically later.
● RecMaster recorder (Third-party recorder for Windows XP/7/8/8.1/10)
RecMaster is designed with those most frequently seen functions that all the recorders are supposed to have. Other than that, it manages to delivers users with some of the most unique features for better serving on users' recording demands.
Let's see the discrepancies of the two recorders.
1. Using Windows-Built-in Xbox Game Bar to Record Windows Media Player
1. Press Windowsand G to activate Xbox Game bar.

2. If this is your first time using Xbox Game Bar, a prompt window will pop out telling you that you can't record unless you open on certain game. Ignore the warning by clicking Yes, this is a gamethen the recorder is available.
3. Click the Recordicon to start recording with the Windows Media Player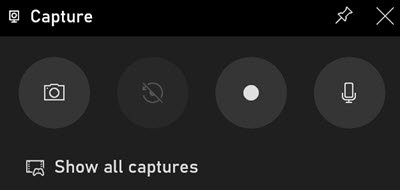 4. Press Windowsand G to call up Game bar again. Click the Stop icon to end up Windows Media Player recording.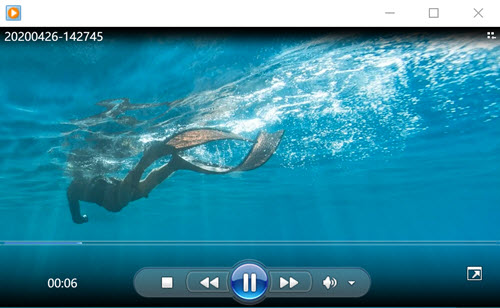 5. Click gallery to check your footage. Xbox game bar wasn't embedded with edit feature there is no further workflow here.
Pros:
● Support screen capture.
● Support the recording of most games of the market, and it is easy to capture the epic moments.
● Time limit: up to 4 hours, long enough to produce any types of videos.
● Support record at 60FPS.
Cons:
● Can't record in full screen or in a custom area.
● Can't edit video.
● Can't record webcam, let alone record screen and webcam at the same time.
● There are a small set of games that Xbox Game Bar may not work over. For example, those games built with the Vulkan API are not operative (Dota2, World War Z etc). To record games mentioned above, you may need to run the game in windowed mode in order for Xbox Game Bar to display. Click to know more about how to record DirectX Game.
Xbox Game Bar has restrictions over games, but it has not difficulty in recording Windows Media Player and the video you are streaming. There is no denying that Xbox Game Bar is an excellent built-in recorder and it behaves well, gamers are enabled to record their favorite games at any moment. But for advanced game anchors or YouTubers, more professional features are what they are looking for. Now rearrange your mindset and let's look at how third-party recorder performs.
2. Third-Party Recorder – RecMaster as Your Right-Hand Software
Follow these steps to record you WMP video with RecMaster.

a. Double-click RecMaster and hit full screen mode to enter its setting interface (or choose custom area to fitting your active WMP window).

In the tagged picture you will find 6 numbers, the first graph decides the formats to export (MP4, AVI, FLV).

The second one is in charge of video quality (standard, normal, high). To promise the clarity of your WMP streaming videos, High quality is suggested to choose.
The third portion determines frame rate, RecMaster supports 20 FPS to 60 FPS. Also, 60FPS makes your video performs well.
The fourth, fifth and sixth parts correlates with webcam and audio options. According to your circumstances, webcam should be turned off as well as microphone sound. Leave System sound open to record your WMP video.
b. Click REC to start recording.
c. Find the floating bar and feel free to add annotations to wherever you want to make a signal.

d. Stop recording.
e. Check out your footage at Recording list where you can playback, edit and export your video.
Pros:
● Uncluttered interface and simple operation.
● Capture video and webcam simultaneously.
● Annotations for highlighting.
● Either record with system sound or microphone sound, or record both sounds simultanedously.
● Automatically Scheduled recording.
● Support sharing to YouTube and other social media.
Cons:
● Trail version has restriction on recording time span, which is 2 minutes. Need payment for unlimited recording.
● Editing tools are primary.
RecMaster Supported Windows XP/7/8/8.1/10 which means it suits with almost every Windows personal computers. RecMaster surpasses Xbox Game Bar in that it supports full screen recording, which is crucial mode that provides users with optimum watching experience.
It is also a professional recorder that offers all the subsequent operations ranging from editing functions to uploading functions.
Convenience is Xbox Game Bar's merit, but RecMaster is not a penny worse than it for it has clean interfaces that are designed to serve specifically on fresh hands.
ALL in all, if the download and installation are not qualified as problems for you, RecMaster will prove to better suffice your demands with its abundant features.
Related: VLC Capture Screen Guide & Tips