So fresh to screen recording thing that you don't even know how to start the online audio capture? Or you're using some tools only to get a "no sound"/silent file… This guide will show you how to record online audio easily without error.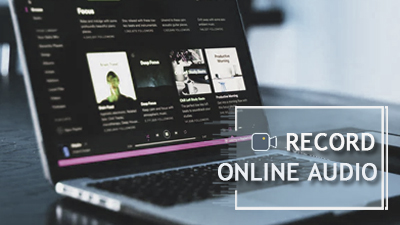 Online streaming offers modern people a great way to enjoy media files instantly on the web without download. Taking YouTube for example, when you visit any specific channel page, the platform will automatically and continuously stream the file data for you, which you can enjoy anywhere anytime without limitation. Of course the premise is there's an available broadband connection. And the internet connection speed also matters a lot –  the faster speed it has, the higher quality and smoother streaming experience you will get.
In view of how streaming works, here comes a question that quite many users come up with – is it possible to get streaming file stored locally? If yes, how to save them? Well, there are generally two ways to go: one is downloading streaming to hard drive and the other one is recording. And this post will give an instruction on how to record online audio, either from a pure audio streaming or from a video clip.
Why recording is still needed if there's such streaming downloader?
– For one thing, all online downloader applications have their own supported list on streaming sites, and usually they are more likely to be friendly with hot video streaming sites like YouTube, Vevo, Dailymotion and so forth, while don't pay attention so much to the niche maybe internet radio or music sites.
– For another, downloader software is actually a content redcap that uses tech stuff to "rip" uploaded media from websites' servers to hard drive with the URL address. It means, if you are planning to download some live streaming events (with no achieve link), your efforts will be in vain. What's more, recording is more flexible than downloading, for instance, you can pause and resume, ignore the unwanted parts, or adjust the volume.
Is it legal to download or record online audio or video?
– Strictly speaking, no, it's illegal. However, things will never go as the rules say just like there's no Upotia at all on the earth. You can properly download or record online sources and it's totally fine if you are only doing so for personal and non-profit purpose. As a common user replied in iMore forum, "If recording weren't (allowed), do you think we'd be allowed to have DVR and VCRs, which is essentially the TV equivalent?" (>> Is it legal to record screen?)
How to Record Online Audio Files on Computer
Recording online audio is not difficult once you've chosen the right tool. However, you must be informed in advance that all online sources are rendered by the machine's hardware and then displayed in front of you. So when you are recording online radio, save online podcast, or music with a certain audio recording program, it's exactly exacting the internal system audio coming from sound card. To prevent piracy and copyright issue, systems are making efforts on this aspect by canceling the driver's recording functionality like Stereo/Waveout Mix of Windows. And Mac desktops or laptops running macOS Mojave or later also forbid many users to record audio in built-in or third-party apps.
But where there is a problem, there is a way out. And here RecMaster is recommended for easy online audio recording. "Easy" can either refer to easy-to-browser interface, easy-to-handle workflow, easy-to-understanding and easy-to-use settings. Below is how it works on recording online audio. Please free download and set it up before the step 1. Be aware that Mac version will require you to install an audio driver. Don't jump it over.
Step 1 – Launch and Choose Audio Only Recording Mode
After the installation, you can open RecMaster to check its multiple recording modes. Currently, there are some minor differences between RecMaster's Windows and Mac versions like Windows version has an extra Game Mode for optimized gameplay capture. But it has little influence on audio recording. So click "Audio Only" button to move on to the next step.

Step 2 – Set for Audio Recording
Choose a file format for the upcoming capture and make sure the system sound option is turned on. As to Microphone option, you decide whether to turn it on or off.

Supported audio formats for Windows: MP3, WAV
Supported audio formats for macOS: M4A, CAF
Support adjusting audio volume: Y
Scheduled recording: Y (Only available for Windows version now and Mac version will add this feature soon)
Audio editing: Y (Only available for Mac version now and Windows version will add it soon, too)
Step 3 – Run the Online Audio and Start the Capture
It's time to navigate and run your target online audio in browser tab or application. When it's ready, click REC button on the main UI r or use hotkeys, Alt+1 for Windows and for ⌘1 Mac, to begin the recording.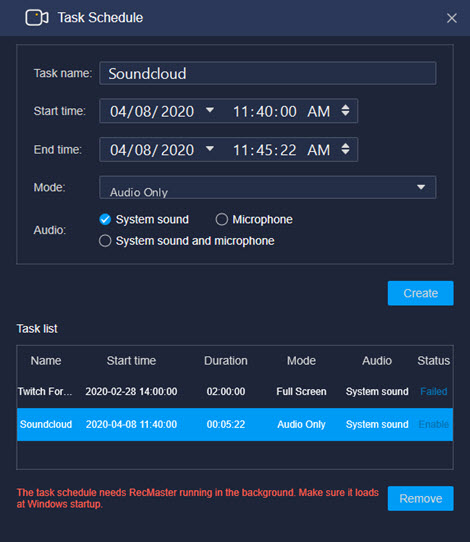 As mentioned above, Windows users are enabled to create and enable any scheduled recording in case they are away from computer and can't start the audio capture manually. [Guide on How to Schedule a Recording on PC]
Step 4 – End Recording
When the internet audio goes to an end, click button or use the same hotkeys as well to stop it. After that, you can check and share it to Google Drive from RecMaster.
In Closing
Online audio is only a part of "WHAT YOU HEAR" on the computer, and best screen audio recorders like RecMaster are usually good at capturing any internal or external sound source with powerful audio driver components. So don't worry about their capability. The key points you should pay attention to are the price and editing functionality.
Also check out guide on: How to Record Online Video
Awesome Ways to Record Music from Spotify As MP3