Maybe you don't have to pay for any screen recorder, because Microsoft has offered related capture tool to get job done, like Windows Media Encoder.
Most Windows, especially the Windows 10 users, know more or less about Xbox Game Bar, the Windows 10 bundled game capture tool. Being defined as a game recorder, it supports recording not only PC games, but also other applications. But considering its strict system requirement and capture limitations (e.g. unable to grab the full/fixed desktop or more than one apps at a time), here we give another freemium screen recorder recommendation that also comes from Microsoft, whose name is Windows Media Encoder. With it, you can not only capture screen area at will, but also grab audio alone for saving.
Windows Media Encoder is a discontinued media broadcasting, encoding and capture freebie released by Microsoft. With a system support of Windows 2000 and XP, no available official page any more at present, this tool seems to be out-dated. But you can still make a download of it and take the advantage of its decent screen capture capability by following this Windows Media Encoder screen capture guide.
How does Windows Media Encoder screen capture video on PC?
Step 1 – Download Windows Media Encoder/WME
There are many versions of WME, among which Windows Media Encoder 9 is the most recent one. Search and free download it from big software download sites like Softpedia, Cnet and Uptodown, then set it up on your PC by following the wizard.
Note that since Windows 10 Anniversary Update in May 2017 has removed the Windows Media DRM, it makes WME 9 unworkable on such Windows 10 versions from that on. That's to say, try some previous versions like x64 Edition, 8 Encoding Utility or 7. Also, some may receive a DirecX promt to be asked to "install DirectX Media 8.1 or greater run-time from www.microsoft.com/directx before running this Setup". At this time, you can open command line prompt to bypass it with "C:\Extracted" .
Step 2 – Open It and Choose A Capture Function
After installing Windows Media Encoder in several clicks, just launch this app.
By default, when you access to its main UI successfully, a "New Session" windows will pop up on which you should select a capture mode.
Capture audio and video: It's used for saving media content from attached devices into Windows Media file.
Capture screen: That's exactly a screen video recorder for any on-screen activity capture.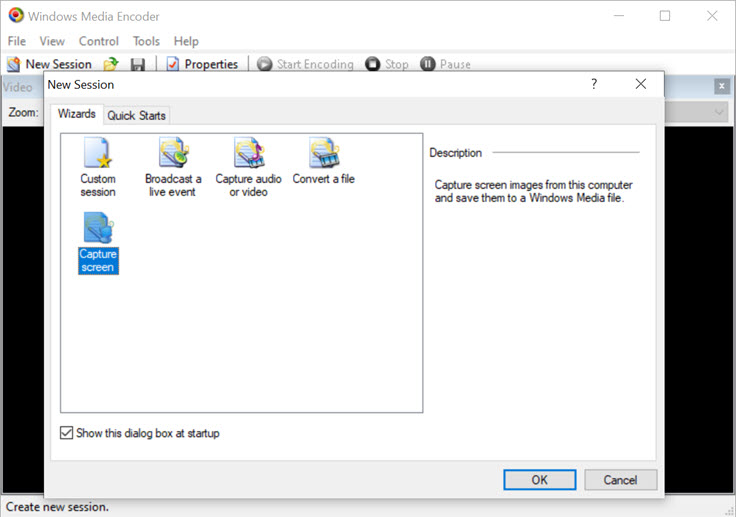 Here the second Capture screen is our choice.
Step 3 – Select the Portion of Screen to Capture
What do you want to capture on your computer? WME offers three screen capture options for you to choose, just pick the one that suits you most. To record screen with audio alongside, do remember to check "Capture audio from the default audio device".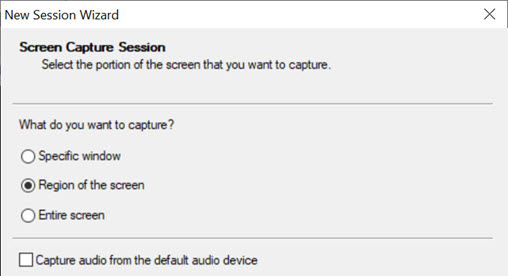 Specific window: Any app, browser, office file, system setting panel, Microsoft Store page or so you are running right away will listed in a Window list. You are free to select any one from the drop down list.
Regions of the screen: Click selection button with an arrow icon here to manually define the desired section to capture by dragging. Once you've done that, you can see the final position and resolution will be shown in detail. You can also tick "Flash border during capture" to obtain such visual effect.
Entire screen: All things appearing on the monitor will be the capture source.
Step 4 – Set for Output File
In this step, you can type the recording's file name and browser to customize the saving path.

Step 5 – Decide Recording Quality and File Size
Still, three setting options are given. Click "Low" to acquire a small-sized file with lower quality, "Medium" to keep a well balance between quality and size, and "High" to encode media file at the highest quality and also the largest size.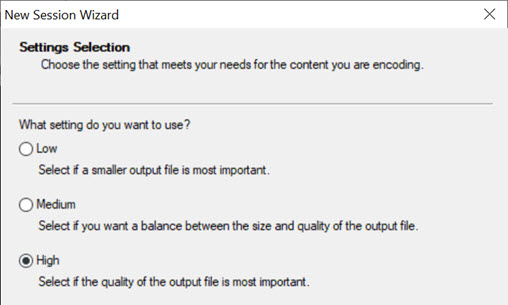 Step 6 – Display Information Writing
If you'd love to, you can specify the media Title, Author, Copyright words, Rating and Description. Once viewers enable captions during playback, they can see the information.
Those settings are too basic for you? A wide range of options regarding capture source, output, compression & encoding and so on can be found in Properties panel.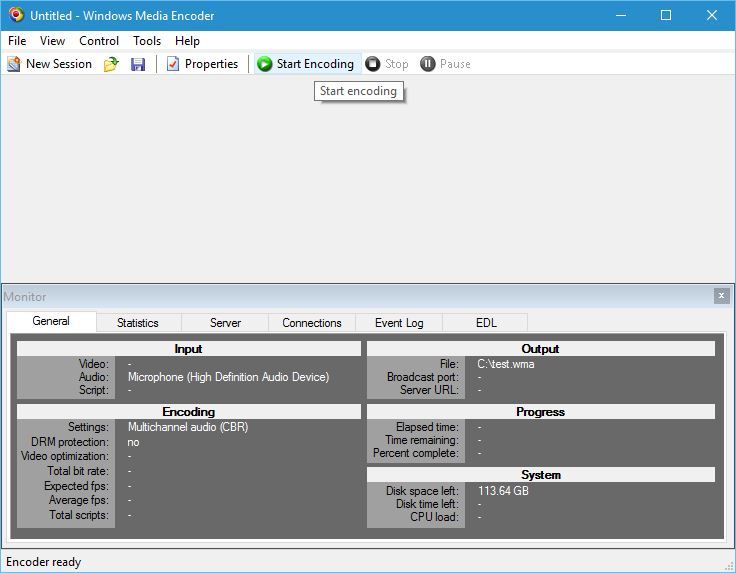 Step 7 – Start and Stop Recording
After all preparation works are finished, click "Start Encoding" button to begin the recording or directly check "Begin capturing screens when I click Finish" in the last step. You can pause at any time if you've made some mistake. When screen movements are over, give the capture to an end too. Then you can preview your WMV-formated video and share it with your maybe YouTube followers, friends, customer, students, colleagues etc.
Windows Media Encoder Unable to Capture Your Windows Screen?
Due to the end of support and poor system capability, many computers running Windows 10, 8, and 7 actually can't run WME properly to make screencast. And in such circumstances, you will probably encounter an error message like "No such interface supported (0x80004002)". Troubleshooting or alternative? We suggest completing the screen capture as easily as possible with an A-B-C screen recorder like RecMaster.
RecMaster is a super simple desktop screen recorder suitable for both entry-level and senior users. The five recording modes for Windows PC can meet all possible screen capture demands including game capture, full screen capture, fixed-area recording, webcam filming and audio recording. Compared to Windows Media Encoder, it's equipped with more capture capabilities like producing picture-in-picture recording with webcam overlay, enabling automatic background recording at Windows startup or any certain time.
1. Launch and Select Capture Mode
RecMaster Windows version has 5 recording options – Game Mode, Full Screen, Custom Area, Webcam and Audio only. Click the proper one to move on.

2. Do Settings on Recording
From video quality/size to other visual effects, many useful parameters and options are given to adjust on the main UI or settings control.

3. Start and Stop Recording
Begin and end the recording with hotkey or the red button. Annotation is allowed during recording and you are also empowered to edit & share home-made movie to YouTube at one go.
Although Windows Media Encoder was ended it further upgrade since 2003, you are still possible to works it with no problem on your Windows PC to get things captured in high quality. However if you find it hard to run normally on your PC, access-free RecMaster is the best alternative app.
Windows Related:
Microsoft Screen Recorder
How to Record Windows Media Player