Summary: Wonder to know how to save your favorite music from YouTube for convenient play? Read this post which talks about how to record music from YouTube.
YouTube is born as a video platform consisting of multiple channels like the music, movie, gameplay and so on. It's undoubted that YouTube is the most popular video-sharing and music-listening paradise owning millions of active users so that many singers and music producers would like to post their songs and music works on this platform.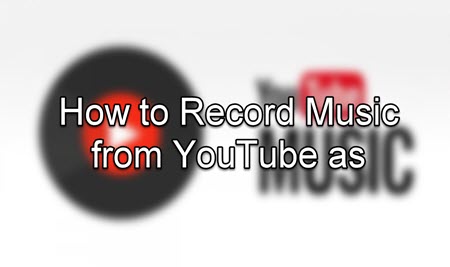 As a music fan, you may more or less want to save music from YouTube for offline-playing. If you're a premium subscriber to YouTube Premium or Google Play Music, then saving music from YouTube is not a matter for you since you can free download it with ease. But what if you're excluded from this designated group or find that you're unable to download content from YouTube as desired format? That's why we write this post to offer a workable and effective solution to capture music from YouTube as an alternative way. Now let's talk about how to record music from YouTube.
What Tool Do You Need to Record Music from YouTube?
Generally speaking, the basic and essential tool is screen recorder. There are tons of screencast tools ranging from online screen recorders, browser tab screen recorder extensions to desktop standalone apps. Chrome screen recorder extensions used to be the widely-welcomed onscreen-capturing tool for YouTube activities. But now things have changed a lot since Chrome screen recording plug-ins are banned to grab content from YouTube allowing for copyright protection. Under such circumstances, online screen recorder and desktop applications are two available workarounds to record YouTube music. With regard to security and stability, desktop options are our preferred suggestion. See>>Online vs. Desktop screen recorder, What's the Difference?
How to Pick Out A Desktop Screen Recorder?
When it comes to choose a screen recorder, a quantity of aspects are needed to take into consideration. What's your budget pouring into this tool? Are you a newbie or experienced guy in screen recording? What format do you want to save the YouTube music as…? In short, a user-friendly screen recorder is usually the high-searched result in Google. Besides, many pros would choose a paid one since it provides more flexibility and better using-experience.
If you want to record YouTube music as your desired format, you can get to know about the best formats for YouTube download record. There are several mainstream downloadable formats for YouTube videos ripping: MP4,WebM, FLV, 3GP, M4A and many people are also curious to convert YouTube videos as MP3, MAV, MP2, AVI, FLAC, M4A, MOV, FLV and etc.
An Easy yet Feature-rich Screen Recorder to Record Music from YouTube
Based on what we've mentioned above, we select one easy but feature-rich screen recorder called RecMaster for you. As a YouTube audio recorder, it's competent for recording YouTube music video, extracting audio from the YouTube video and YouTube music live streaming capturing. It supports multiple mainstream file formats including MP4/AVI/FLV/MOV/M4V (for video) and MP3/WAV/CAF/M4A (for audio), which means you can change the YouTube audio file format so that it's playable without device limitation. To sum up, you can leverage RecMaster to record music from YouTube either in video or audio form.
Download the trial version of RecMaster to your computer in advance before directly keeping on reading.
How to Record Music from YouTube as MP4/AVI/FLV Format
Step 1. Open up your target YouTube video page you'd like to record. Here we set recording one MV of Rihanna as demonstration.
Step 2. Launch the software and choose a video recording mode as you need.
Generally, if you are customized to watching YouTube music videos at full screen, then choose Full Screen recording mode at RecMaster. If you are viewing the content at Windowed mode, please choose Custom Area to select the player window on YouTube and move on to the next step.

Step 3. Set for output format and other parameter
By default, RecMaster will output a high-quality MP4 video with all sounds turned off. It offers flexible options for video format according to computer running system. If you're a Windows user, you can choose between FLV and AVI. If you're holding a Mac computer, then you can record YouTube music video as MP4/MOV/M4V. Additionally, you need to turn on the system sound button in case you can get the audio file. Other adjustable settings options can also be determined by your actual needs.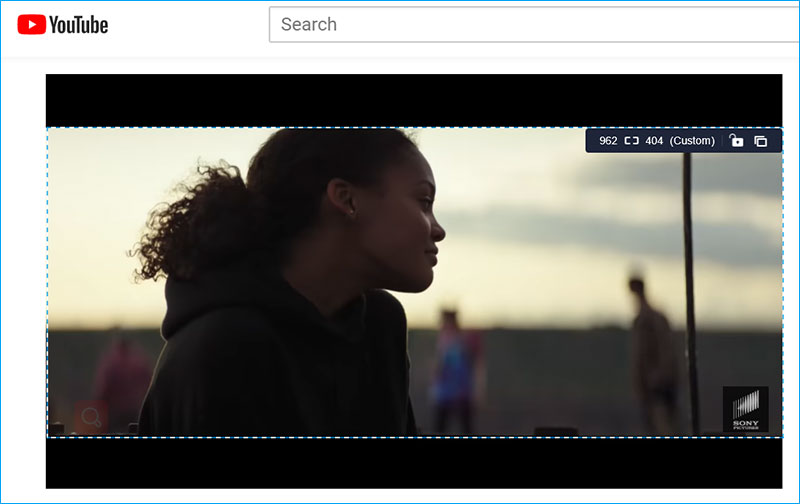 Step 4. Play YouTube video and press the start button on RecMaster's interface to recording while playing.
It's highly recommended to use hotkey F during the recording process to switch YouTube playing mode between full screen and window, K for playing YouTube video, Alt+1 for starting/pause recording at RecMaster and Alt +2 for ending the recording. Don't worry about any unwanted content because you can cut the segment off with RecMaster's preloaded editor.
Step 5. Stop the recording when YouTube video ends playing.
By stopping the recording, you can then review the music file in the Recording list. If necessary, click to enter into editor control.
How to Record Music from YouTube as MP3/WAV Format
In case that you want to extract audio from the YouTube video, RecMaster offers the Audio Only mode to accomplish this goal. Now let's see how to record with this mode.
Step 1. Turn on the RecMaster application and select Audio Only mode to carry out this audio recording task.
Step 2: RecMaster's audio format is adaptable according to system version. You can record YouTube music as MP3, WAV on your Windows computer but for Mac running computer, CAF and M4A are two accessible options. Don't forget to turn on the system sound menu at the same time toggle off the microphone button to capture audio.

Step 3. Turn on the YouTube music page to record. To start recording you can simple press the REC icon of RecMaster.
Step 4. After waiting for a few moments the audio recording procedure is time to end. You can use the Stop menu to terminate the recording.
Now you can choose to save the audio file to your Google Drive or just local space for future reference.
Conclusion
How to record music from YouTube is no longer a complicated and tricky thing with an easy YouTube recorder's participation. If you need to record YouTube music the next time, try to do this work with RecMaster.