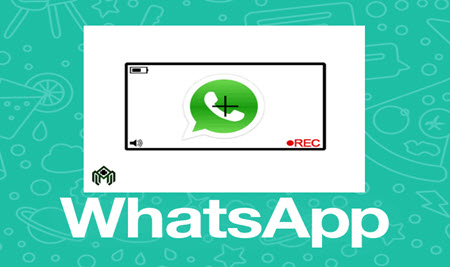 Whatsapp is an American freeware, cross-platform messaging and Voice over IP call service provider owned by Facebook. As a telecommunication tool, it allows you to chat via voice and video call as well as send message no matter where you are at any time. It does provide a lot of convenience for our daily and working life. With the frequent use, you are likely to save valuable, important and enjoyable records.
However, unlike similar products like Skype which has an internal Skype screen recorder to conduct recording process, there is no bundled recording feature in Whatsapp. Under such circumstance, finding a suitable WhatsApp screen recorder is the most urgent step for you to perform WhatsApp recording. Here we recommend the best screen recorder for you to record Whatsapp calls as MP4 or MP3.
The Best Whatsapp Screen Recorder – RecMaster
RecMaster is the easiest and high-performance WhatsApp screen recorder for Windows and Mac user. It can act as a voice call recorder as well as the online meeting call recorder to grab all the onscreen activities. Besides, it comes with many useful features such as inserting both microphone and audio card voice into recording file, capturing WhatsApp file with webcam, and so on. Moreover, it embeds the inborn editor which can directly delete any wasted moments from your recording file instead of repeating screencasting again. All in all, no matter you're a pro or green hand, you can record, edit and share WhatsApp calls at one go with the help of RecMaster.
Key Features of RecMaster:
● Record Whatsapp chat as you like including video call, audio call and text message.
● Record your WhatsApp call window at desired size either the whole desktop screen or a designated area.
● Record call and video at the same time
● Record audio only for either Whatsapp video or audio call.
● Delete and cut any unnecessary parts out after recording.
● Take annotation if needed during the call.
● Schedule any routine WhatsApp meeting recording.
● Directly share the file to YouTube or Google Drive.
Then you can utilize RecMaster to achieve any of these in clicks operation. In the next part we're going to offer guidance on how RecMaster records WhatsApp calls on computer as MP4/MP3 separately.
How to Record WhatsApp Calls/Meetings as MP4
Step 1: Get the software package file from official website. After that complete the installation process and follow the wizard to have a general understanding of this software.
Step 2: Define the recording mode. If you're going to capture the WhatsApp calls by displaying the whole desktop, you need to choose Full screen mode. For a specific WhatsApp recording area, you can use Custom area mode to manually drag the recording box into desired range.

Step 3:In the Settings interface, you need to configure the video format as MP4. You can do the same setting to video quality, frame rate audio source, and storage path. For Windows user, you can also produce Whatsapp calls as AVI, FLV while for Mac user, you can select between MOV and M4V.

Step 4: Now it's time to get started. Press the REC button or use hotkey combination (Alt+1/Command +1) to launch screen recording process. Annotating with text, line and shape during the WhatsApp call if necessary.
Step 5: If you want to end the recording process, simply tab the red button again. Then the Recording list window will immediately jumps into your eyes where you can optionally edit, play, rename and share the WhatsApp recorded file.
h2>How to Record WhatsApp Calls/Meetings as MP3
As a screen recorder with audio, RecMaster is also competent for audio capturing no matter you're having an audio or video WhatsApp meeting. Here let's see how it works to meet this goal:
Step 1: Before simply start recording, you need to make sure that you've already installed this software on your computer. If not, you can directly click the links below to download.
Step 2: Open the WhatsApp main interface and here Audio Only mode is what we are needed. Set the audio format as MP3 and turn on the microphone and system sound buttons on so that both your narration and other speaker's voice can be recorded simultaneously. If you don't want to capture your voice, only choose System sound icon.

Step 3: Tab REC to start and when you want to stop, click the red button again.
If you're producing audio files for YouTube, you can refer to this: Best formats for YouTube upload, download, record etc.
Conclusion
RecMaster is the best WhatsApp screen recorder that helps your WhatsApp recording movements become more well-structured and efficient. Come and download it to assist your recording job!