All ways can lead you to Rome, so here we share another way to digitalize general disc content – recording CD/DVD with screen capture software.
For seniors who tend to free media content from disc with dedicated CD or DVD ripper, maybe this post will make them take a detour. But for those newbies or curious babies, gaining a new skill to convert CD/DVD to media file, e.g. MP3 and MP4, would bring about a fulfilled working day.
"I am trying to record a DVD using Full Screen Recording in Quick Time Player.I am able to click the red button to get the screen recording but then the screen on the DVD Player goes grey.The DVD isn't rights protected." – Question from Apple Discussion
"I want to record a playback of a home recording on DVD. Does your screen recorder support doing so on my Windows 10?" – User feedback from RecMaster support team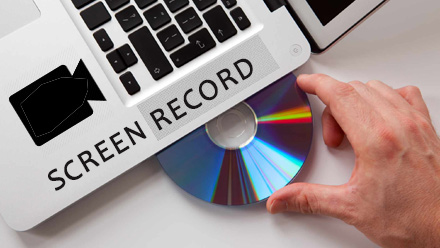 Although less than ripping stuff, screen recording DVD or CD is also required by many disc owners. However, since many customers don't have much knowledge on screen recording, which may lead to a capture failure, here this article will  display a detailed guide on how to screen record DVD/CD and list some frequently asked questions on DVD/CD recording.
How to Screen Record DVD/CD on Computer
Real-time screen recording, compared to one-click ripping, offers a more flexible way for disc holders to save the the media at a preferred way. In this way, you won't do any further editing like trimming, cutting, cropping etc.
To guarantee a success disc capture, you are suggested to pick one decent screen recorder that's capable of grabbing both video and audio with high quality. RecMaster, because of its slick capture performance and easy-of-use, is our recommendation here. With it, you can screen record DVD film at full length or any desired parts, at 1:1 or cropped size, into mainstream MP4/AVI video format or background-music only MP3/WAV file. Yep, as a screen video and audio recorder, it can also be leveraged to keep CD songs or audios to hard disk.
Now please free download RecMaster and get the disc screen recording mission started.
Step 1 – Insert your DVD/CD into disc drive
Step 2 – Open it with compatible player like VLC, Windows Media Player, QuickTime Player.
Step 3 – Launch RecMaster and choose a suitable recording mode to record the DVD or CD.
– Full Screen is the go-to choice for full-screen movie capture.
– Custom Area can be used to record a windowed playback or only record a specific region of the movie (seems like cropping).
– Audio Only is able to grab the sound from audio card, that many people call "system sound" or "internal sound", into audio format, be it DVD soundtrack, CD music or something like that.

Step 4 – Do Settings
For DVD video recording, you can choose video format (MP4/AVI/FLV for Windows and MP4/MOV/M4V for Mac) and quality level. If it's your own video creation, you can apply some personal logo into video to prevent it from piracy.

For audio recording, audio format (MP3/WAV for Windows and M4A/CAF for Mac), source and volume are all available to adjust.
Step 5 – Record and Stop
Now, you can play DVD/CD and make the capture happen by clicking the red button or pressing hotkey
Hotkeys for Windows: Alt+1 for starting/pausing recording; Alt+2 for ending recording; Alt+3 for showing main window; Alt+4 for hiding/showing webcam.
Hotkeys for Mac: ⌘1 for starting/ending recording, ⌘2 for pausing and resuming the recording, ⌘3 for showing main window.
When the recording goes to an end, you can also load it into RecMaster's embedded editor to do easy cutting and merging. One-click sharing to YouTube or Google Drive is still supported.
FAQs on Recording DVD/CD
1. Screen recording vs ripping, what's the difference and who is even better?
Firstly, the main difference is screen recording is doing real-time capture during the disc playback while ripping is more like one-click disc content transcoding, no need to play it back.
Then, as to who is superior to the other one, many people may vote for ripping thanks to its convenient. However, under certain scenarios, screen recording satisfies the needs better. Think about what we've mentioned earlier in user question, feedback and steps…
2. Why does the recording file have no sound?
QuickTime, VLC or other software, because of the feature lack, software bug or wrong settings, usually produces silence screen recording. Generally, media players or system preloaded tools are not empowered to record sound from computer, so you'd better find a proficient screen recorder that works well with system audio like RecMaster.
>> Fix screen recording has no sound
3. Why can't I record my DVDs like movies or TV series?
From external or internal DVD player, when the content is copy protected, you can't record the DVD-video content as recording common data-DVD, receiving a grey screen or similar. At this time, you should seek for DVD ripper to help. >> Wikipedia of DVD
4. Is there any other screen recorders to recommend?
Among piles of best screen recorders, RecMaster stands out for its comprehensive recording features and simplicity, which is enough to meet any possible screen recording requirement including recording DVD/CD. If you are an advanced user and want to obtain a more powerful screen recorder and editor, you can try products from VSDC, TechSmith and Adobe.