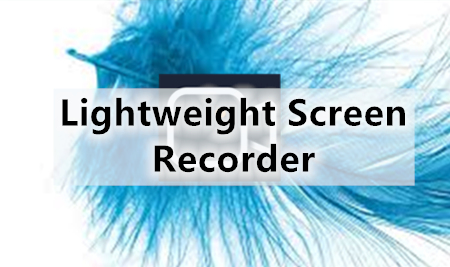 In computing, lightweight software also called lightweight program and lightweight application is a computer program that is designed to have a small memory footprint (RAM usage) and low CPU usage, overall a low usage of system resources.
Lightweight is also an ultra-important element for screen recorders. Lightweight screen recorders not only free PC hard disc memory but also decrease the influence screen recorders imposing on other programs. This problem always strikes game anchors when they need to leverage their games along with gaming recorders. If the screen recorders are heavyweight, it is inevitable that things like FPS drop or latencies will occur.
Now let's check out two lightweight screen recorders.
Lightweight Screen Recorder – RecMaster
RecMaster was born with 5 out-of-box recording modes. They are 'Game Mode', 'Full-Screen Mode', 'Custom-Area Mode', 'Webcam Mode', and 'Audio-Only Mode'. As their names suggest, Game Mode is for gameplay capture, Full-Screen Mode records your whole screen and is the most extensively leveraged mode. Custom-Area Mode allows users to record a random area of your screen. And lastly, if you want to record with your talking head, or capture sheer audios you're your PC, you shall consider use Webcam Mode and Audio-Only Mode.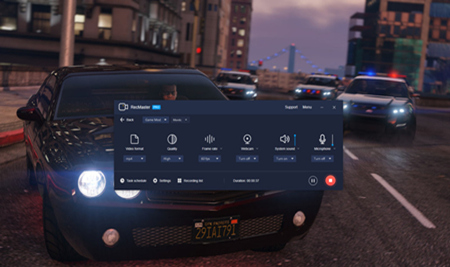 Features and Parameters
App Size: 50.3 MB according to RecMaster's official site.
Supported Games: RecMaster supports users to record games that are based on DirectX 8-11. So far this software has shown excellent performance in recording PC games like LOL, FIFA, PUBG, etc.
Interface Design: Uncluttered, easy-to-use and intuitive.
Time Limit: 2 minutes recording length for the free version users. If you want to record more than 2 minutes, an advanced license is offered to unlock no-time-limit screen recording.
Performance Penalty: The performance penalty brought by RecMaster is relatively low given that it is a lightweight screen recorder with only 50.3 MB, Compared with the most powerful yet large-size recorder Camtasia or Bandicam.
Characteristics:
– "Task Scheduler" is a useful feature of RecMaster. With the assistance of this function, you can capture your screen even when you are not in front of your screen. All the settings for activating this tool are simple too. Just set the recording mode, video format and when do you want RecMaster to record your screen. Then RecMaster will automatically work for your following your orders.
– "Annotation Tools" is a tool kit for highlighting or decorating your videos. Texts, arrows, graphics are all available to be put into your videos.
– "Customized Watermark" is not like the notorious watermark that is hard to get rid of. Instead, this feature exists to allow users to add self-tailored watermark (Text or Graphics) to their footages.
Preparations before Recording: To produce the best quality videos, configurations are necessary. Now you should tweak the Video quality to 'Original' > 60 FPS > Video format (MP4, AVI, FLV). As for audio sources, RecMaster supports users to record with system sounds and microphone sounds.
Supported OS: Mac OS X 10.11 or higher and Windows 10/8/7/XP.
Download Button:
Lightweight Screen Recorder – Screencast-O-Matic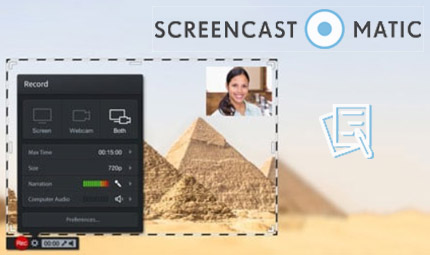 There are two channels to obtain Screencast-O-Matic. Go to Chrome Store, save it to your Chrome extension list or go to its official site and download it as desktop software. If users finally get the hang of Screencast-O-Matic, they can eventually capture any part of their screen, produce videos with webcam and narration, edit their footages by cutting unnecessary parts. The best part of this software is that users can add stock music or captions to their videos.
However, the only inconsiderate part of Screencast-O-Matic is its overlays' arrangements and a block of annotation tools (need payment to unlock this feature). Now, follow this thorough Screencast-O-Matic tutorial and all the information on this software will reveal itself.
Features and Parameters
App Size: 8.9 M according to Google Play (web-based version).
Screenshot tool: Take a screenshot of your on-screen activities.
Annotations (paid version exclusive): The annotative tool kit offers texts, arrows, lines, shapes, and images for highlighting your videos. Other tasks like changing colors, sizes, and fonts of your videos, and adding blurs are available too.
Editor: The editing feature of Screencast-O-Matic supports the change of velocity of your video as well as the cut of unwanted fragments from your footages.
Max Recording Length – The maximum time to record is 15 minutes. You can upgrade to VIP to enjoy no limitation on recording time.
Computer Audio (System sound)Watermark – Free version Screencast-O-Matic adds a watermark to your video, the watermark cannot be canceled unless you upgrade your license. (Click to see how to record without a watermark)
文字 – This recorder captures not only narration, but it also records system sounds from your PC. But to achieve this goal, users should upgrade to Screencast-O-Mactic's Deluxe plan.
Captions (Subtitles) – To me, the most surprising feature of Screencast-O-Matic is adding captions to your videos. This function is not that commonly seen among other screen recorders. Steps: Clicking on CC and upload a caption file to your video. By the way, if you pay for an upgraded license of the software, you can use speech-to-text or type in your own using 'blank captions'.
Upload options – There are several upload destinations to go to (YouTube e.g.). Share your videos directly from this app.
Save as a Video File – You can save your recording as MP4, AVI, or FLV video file.
Final Words
This passage introduces 2 lightweight screen recorders. Through the detailed introduction of each recorders' features and specs, I believe you are now more familiar with them. Now unburden your CPU and record your screen like a blow of wind.