YouTube is the largest video-providing and sharing platform on this planet. It's calculated that nearly 300 hours of video are uploaded to YouTube every minute and almost 5 billion videos are watched on YouTube every single day. When you enjoy YouTube videos online, you may want to download or save YouTube content for offline reference.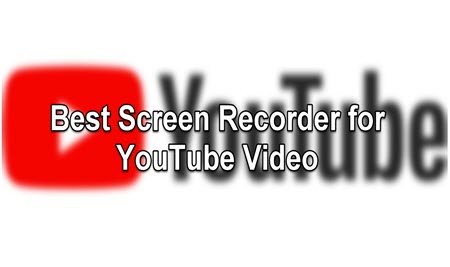 Unfortunately, you can't free download YouTube videos and you may even find some YouTube videos undownloadable. Under such circumstance, the safe bet is to find out the best screen recorder for YouTube videos so that you can save videos from YouTube by screen recording with ease. Here we pick out the best YouTube video recorder for you based on high utility and user-friendliness.
What Is the Best YouTube Video Recorder?
● Easy to use: no matter the seasoned or novice can launch recording at one-go.
● Able to record the entire screen, a particular area or one window region.
● Includes system and microphone audio capture function.
● Flexible recording settings to capture YouTube video in different situations.
● Available to add picture-in-picture effect to your YouTube video.
These are the basic factors you need to consider when you choose one screen recorder for YouTube. Besides, extra features like editing, one-click-upload to YouTube, scheduled-time recording tool, and annotation functions are also necessary points for some YouTube video's recording needs. Based on the characteristics we listed above, we find out an excellent YouTube video recorder to meet all of the related capture requirements and it's called RecMaster.
What Is RecMaster and How About Its Performance?
RecMaster is a YouTube video recorder compatible with both Windows and Mac computers. As a light-weight screencasting tool, it performs well for YouTube video recording without any laggy problem or damage to your computer. It embraces many YouTube video recording features and here we list one by one.
1. Video recording modes:
RecMaster offers multiple recording options for its user. You can choose to record YouTube video in whole screen by virtue of screen mode or designate YouTube video recording in any particular area. If you like to extract audio from YouTube video, you can leverage the Audio only mode to meet this goal. Similarly, it also provides workaround to capture voiceless YouTube videos by turning off audio source buttons. No matter what types of YouTube videos you want to capture, you can always find the workable solution with RecMaster.
2. Parameter settings:
– Audio Source: RecMaster has two audio source options. You can choose to grab audio from system and microphone or shut them download simultaneously or separately.
– Frame rate: It supports video recording with frame rate up to 60fps so that you can still get the fluid video when you're recording high-paced activities like gameplay.
– Video format: RecMaster includes the best video formats for YouTube upload and record. Under such circumstance, you can choose to record YouTube videos from MP4, AVI, FLV, MOV, and M4V which is finally determined by your computer version.
– Video quality: It has the ability to record YouTube video as what you've seen on your screen. For Windows user, you can save your videos as high/original/standard quality. As for Mac user, recording in HD/SD/Original quality are three available choices for you.
3. Advanced tools:
In-built editor: There is a bundled editor in RecMaster to make adjustment on the recorded video. You can cut and merge any part of the whole video instead of recording again.
Task schedule (Windows only): In case you can't monitor the whole recording process, it embeds the task schedule function. You just need to preset the recording duration and keep RecMaster running during the recording project, and then you will get a recorded video.
Annotation tool: Sometimes you may want to make notes in recording process and here you can make it possible with RecMaster. Formal annotation types like line, text, shape are also concluded in RecMaster.
Mouse cursor: If you want to stress some key points or capture your mouse movement tracks, you can depend on mouse cursor effects including highlight cursor, capture mouse sound and record mouse trace to arise viewer's attention.
One-click upload: RecMaster supports one-click upload function to YouTube platform, which means that you can produce, edit and upload YouTube videos within one tool.
How It Works to Record YouTube Videos?
Even if you have different recording needs towards versatile recording situations, the general operation steps are work in the same way. Here is how to record YouTube videos with RecMaster.
Step 1: Download and Launch RecMaster running on your computer by finishing the installation process.
Step 2: Set recording mode. The widely used mode for YouTube video recording is Full Screen mode for better viewing. If you want to make exceptional video recordings, you can choose from the rest recording modes.

Step 3: Make configuration to your video recording. Set up your video quality, frame rate, audio source, and format as desired. If necessary, you can also choose additional features like mouse effect to your video.

Step 4: Start with the REC button. If you need to annotate during the recording, you can find this tool on the floating time bar.
Step 5: Finish recording by press Stop menu. Now you can edit video or upload to YouTube.
Conclusion
After reading this post, you must have a general understanding of the best screen recorder for YouTube. If you still have any doubt or find other good choices, please contact us.
See also:
Best Webcam Recorder for YouTube: Capture Yourself Easily