There are tons of means to combine videos or recordings. You can turn to free video joiners for help, which are powerful but they may comprise potential risk of spam attack. This passage focuses on deliver viewers some tricky but free ways to combine videos and, if the videos are created by screen recorders, we will offer users an instant way to combine screen recordings.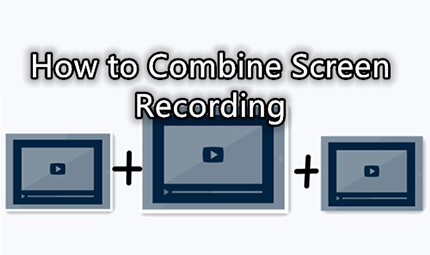 Screen Recorder That Is Capable to Combine Screen Recording
Screen recorders exert itself in recording on-screen activities. At the mean time, if you are in need of a professional tool that could help you do things like controlling on the recording size, FPS, format, quality, and doing more edits with it, screen recorders offer compatible tools for you.
Here RecMaster is the recommended tool for users. Owing to its intuitive interface and multifunctional performance for recording, editing sharing and combing screen recording, it helps users get over the obstacles in recording games, tutorial videos, online music, etc.
RecMaster [Mac Version] serves as reliable screen recording software in the most stable and flexible sense – it supports its users at the very beginning of paid license. This type of mode promises users' utmost benefit and provide steady and continuous services of updating for them.
Now let's get together to see how it lets you record videos in your preferred ways.

● Here are steps to merge videos using RecMaster (Mac version)
Choose a recording mode

Enter the setting overlay and click File List. Choose one of your footages and hit the 'little' scissor to edit it.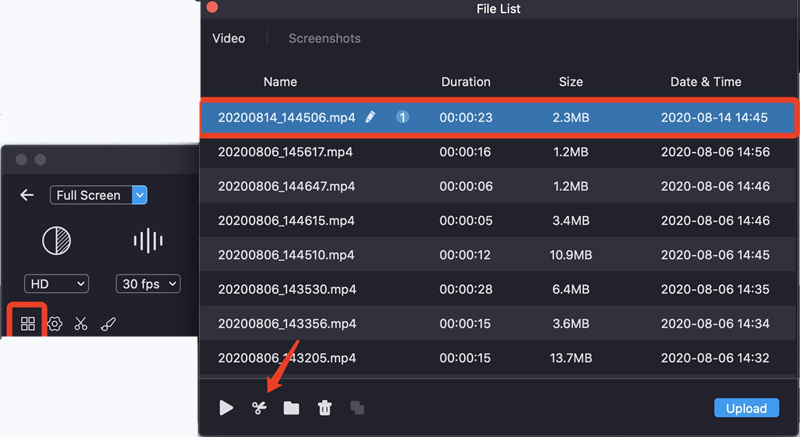 Click the '+' button and add screen recordings.
Hit export and an intact combination of screen recordings will successfully be produced.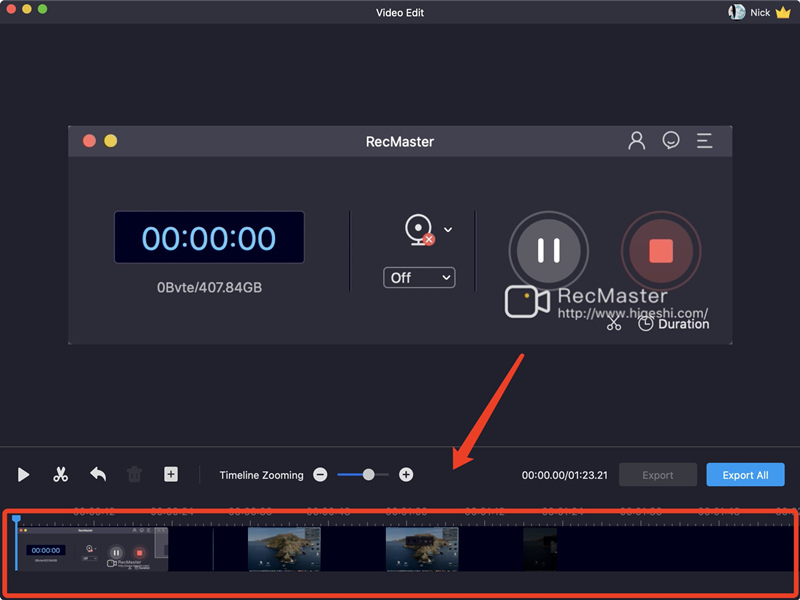 Now it is time to arrange the clips, trim or delete unwanted fragments. Then select export to save the outcome or share on the Internet.
● A 3-second-way to merge screen recording using RecMaster.
Open 'File List'.
Press 'Command' and then check your prepared screen recordings and now, hit the button right next to the 'Dustbin image'.
Then the video will be automatically merged and exported.
Two Free Way to Combine Screen Recording
● VLC – a safe and reliable way to combine screen recordings
VLC is a brilliant media player that could play or recording stream, convert the formats of video. Today I will introduce you another useful feature of it – to combine videos with its internal functions.
Download, install and open the VLC Media player. On the main interface click on the 'Media' and select 'Open Multiple Files option'.
On the popping up window, select the option 'File' and then click on the +Add button to browse and load the videos to be merged. Multiple files can be added here.
Next, click a downward arrow that is next to the 'Play' button and then select the 'Convert' option.
A new Convert window will open from where select the desktop location to save the merged file. Finally, hit on the 'Start' button to proceed with the VLC combine video process.
● Photos – A nearly perfect way to combine screen recordings
'Photos' is a windows-10-exlusive app. Here is a brief introduction about how to combine clips together with Photos app.
The Photos app in Windows 10 gathers photos from your PC, phone, and other devices, and puts them in one place where you can more easily find what you're looking for. To get started, in the search box on the taskbar, type photos and then select the Photos app from the results.
You can use Photos app to browse through your photos collection, create photos album, make videos out of photos and most importantly, combine videos with its intern editor.
Steps:
Build up a new folder and put your target videos in it.
Open Photos and click 'Folders', check the very folder that you built up just now. It takes a while to display your new folder.
On the Top of the window, click 'New' to build a new video project.
Name your project and start to edit it. You can trim, rotate, decide the filters, motion, add text to your merged videos.

Once the process is over, you can upload it so as to save it or share it on the Internet.
Verdict – Compare the Mentioned 3 Methods of How to Combine Screen Recording
Using VLC to merge videos is simple and easy, but it lacks features such like trimming or adding text to the mixed. VLC only produces glued integrity of several videos. However, it is free and users don't need to worry about spam or malware.
Using Photos to combine videos is really a good choice, it not only does great job in merging videos, and it also provides many options for users to edit their combination, such as trim, split, text, motion, or rotate their videos. And what's more, this kind of method is totally free.
Third-party screen recorder – RecMaster is another ground-breaking method to merge videos. As a professional screen recorder and video editor, it allows users to record real-time on-screen activities, thus they are freed from preparing video samples. Besides, RecMaster bears versatile features and users could feel free to make videos variable.
You may also be interested in these articles below:
How to Create Instructional Video with Screen Recorder
How to Record Video Tutorial on PC
How to Split & Save Screen Recording into Segments on Mac/PC