Remote work is now accepted by more and more people, this kind of working style proves itself to be both convenient and effective. It punches above its weight during the quarantine period and helps people in every industry keep in line with their old-time routine.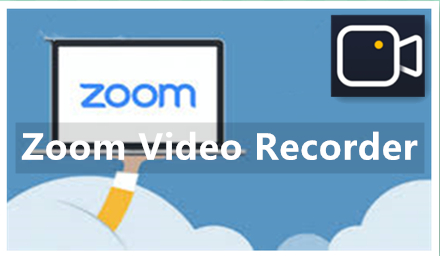 Remote work consists of several elements – the office software like WPS, Zoom, etc is rising to their feet. This passage focuses on introducing a Zoom video recorder for viewers to save important meetings or meeting calls in their daily remote working so that important details won't be omitted with the loss of your memory.
Use Built-In Zoom Video Recorder to Record Meetings
Zoom does have a built-in recorder that allows participators and hosts in a meeting to record the current event. This feature is considerate but not that convenient as you might imagine. In fact, this internal meeting recorder has some latent limitations.
Here are the how-to steps to leverage this typical feature.
By default, when you start up or join a Zoom (video/voice) meeting via URL, you will see a Record button located in the right bottom toolbar. By manually clicking this button and choose a recording mode (Notice: Only paid users are allowed to select from the recording modes), you can start the real-time capture, pause and end it as you like. The file will be converted and available to watch when the meeting ends.
Speak of the recording modes, Zoom gives free users a 40-min allotment while for paid users, Zoom provides them another cloud recording choice – All premium plan users be they Pro, Business, Education, or Zoom Rooms – are given some free cloud space, 0.5 or 1GB.
Precaution: Zoom screen sharing recording uses about 20 MB of storage per hour while video recording uses about 200 MB of storage an hour, please make sure you prepare adequate disc memory for the recordings.

The Limitations of the Built-In Zoom Video Recorder
1. The host of a meeting is born with strengths to give permissions to participators if they want to record the current meeting. The rights he is able to delegate including giving every single attendee the privilege to record, the capability to auto-record. These rights, however, are seen as limitations from the perspective of participators.
2. For local recording, only PC users could enjoy the benefit of this feature, so for mobile users of Zoom, they are forced to turn to cloud recording or any standalone recording app for help if they want to record any Zoom meeting.
3. For paid users, Zoom enables cloud recording automatically, so you should be very aware of your cloud storage.
4. Another risk of Zoom recording is that if the meeting is suddenly blackout for loss-of-internet or something else, the recording on the going will be corrupted and unable to recovery.
Third-Party Zoom Video Recorder – RecMaster
The biggest advantages of a third-party screen recorder are that everyone can record his/her meeting with the help of the tool. Working offline, no worry about disc memories, 3rd-party screen recorder is a perfect alternative of Zoom built-in recorder.
Third-party screen recorder RecMaster delivers a strong capacity to record desktop activities with intact sounds (system sounds and microphone sounds). The task of recording Zoom meetings or meeting calls is easy for it.
RecMaster is able to perfectly record an online meeting, video/voice calls, and webinars from Zoom, Google Hangouts, Skype, or so forth app conversations. Also, you are free to create video or audio recording according to the real situation. What exhibited below are the step-by-step tutorial of capturing Zoom meetings
• Capturing Zoom Meetings:
Step 1. Free download and install the recorder onto your computer.
Step 2. Launch RecMaster and choose a proper recording mode. For your information, Full-Screen mode is recommended for capture full-screen meeting, Custom-Area mode meets the requirements on windowed or a fixed area recording, and Audio-Only mode is designed for creating sheer Zoom meeting or call audio files. Now we want to record the Zoom meeting, so Full-Screen mode and Custom-Area mode is suggested.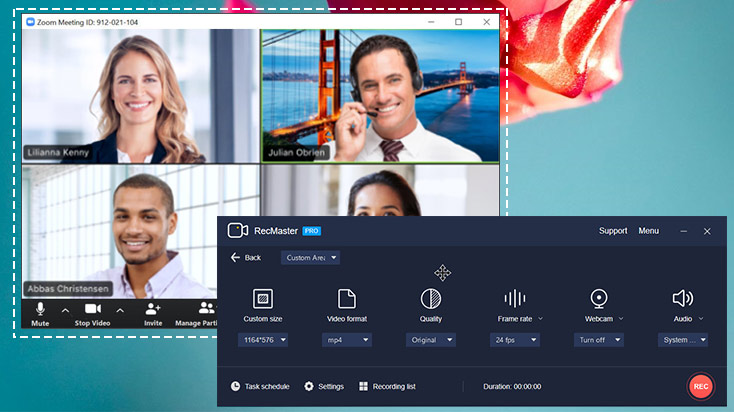 Step 3. Set file format, video quality audio sources. If you are going to hold or attend a scheduled meeting later on or prefer a scheduled recording, click Task Schedule to define the time and enable it.
Step 4. Click the REC button or press Alt+1 hotkeys to start to record Zoom meeting/call once it's ready. For scheduling recording, you just keep RecMaster running in the background and leave it alone. It will automate the capture by itself.
Step 5. When the recording is over, you are empowered to do easy edits and sharing it to YouTube directly.
• Capturing Zoom Meeting Calls
Audio Only Mode is extremely friendly for recording Zoom meeting calls. It captures the system sounds of your PC and produces MP3 files. RecMaster used to deliver excellent performance on recording online radio, capturing online music, ripping soundtracks from music videos. Let alone some simple effort on Voice recording.
1. Open RecMaster as normal and choose Audio-Only Mode.
2. And also, we need to set up specific settings for better performance of our videos.
Procedures are not so similar to those when we record in Custom Area but much simpler.
3. Choose the audio format (mp3) > turn on system sound > turn off the microphone.
Final Words: What If Your Zoom Recording Has No Sound on Mac?
Generally, Zoom and similar online meeting apps handle the web conference sound in their own way to protect the conference audio, which gives rise to this no sound issue when using a non-Zoom video recorder. But as long as you've got the permission of meeting host and participants, RecMaster can work this problem out with the help of its sound driver, which is enabled by default on Windows computer while on Mac, you should select in your Zoom app -> Settings -> Audio -> Speaker as follows.