Due to some restrictions imposed by screen recorders, users may have a bad recording experience. These obstacles could be time limit, a watermark, locked features (paid license), spam and malware, etc. Under such circumstances, is there an unlimited screen recorder that allows users to record with unlimited time and also caters to users' demands to the most degree? And is there even free unlimited screen recorder for PC? You can find answers below.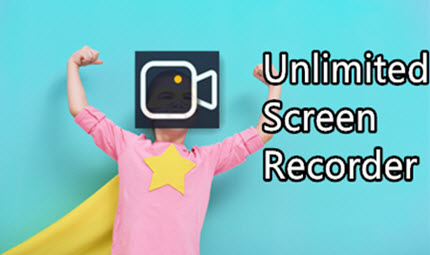 Unlimited Screen Recorder Recommendation
RecMaster is strong recording software. And this software is such user-oriented that it never adds watermark or restricts the length of every single recording. Besides, this software is never bundled with spam or malware in the process of download or installation.
It provides users with good experience and more than that – it also does a good job in other useful features in a recording like an editor and annotation tools.
The deeper you dig into this software, the more impressed you will be. RecMaster prepared powerful parameters for advanced users so that they can produce professional videos like tutorial videos or gameplay videos, etc.
How Does An Unlimited Screen Recorder Overcomes Commonly Seen Limitations
Is there any free unlimited screen recorder on the market?
The answer is yes, but the subject recorder is so hard to find that I know only one recorder that matches the conditions – OBS.
(This software is free, powerful but complicated, if you have any interest in it, you can turn to OBS review and ● The Most Disliked Limitations the Market Has Ever Seen>Best OBS Settings for more details.)
A more general phenomenon on the recorder market is that most of the reliable screen recorders need a paid-license for unlocking some of its functions. However, RecMaster is an exception it imposes almost little restrictions to users and charges the least money.
In this section, I will gradually reveal every detail of RecMaster by comparing it with other screen recorders' common limitations in the industry.
• The Most Disliked Limitations the Market Has Ever Seen
Time limit: RecMaster unlocks the time limit once users purchase one of its licenses. After that, users enjoy recording videos with no time limit.
Watermark: Many 3rd party screen recorders impose their brand watermark to users' footages thereto ask money for eliminating.
RecMaster places no watermark on users' videos and instead, one of its warmly welcomed features is allowing users to add customized watermark to their footages.
Commercial use: Users are always puzzled about whether they can spread the recordings of their online meeting, whether it is illegal to record videos that are infringed or copyrighted videos. The fact is that RecMaster is capable of recording any on-screen activities, but you can't make the recordings for commercial use or you violate the policies.
Limit of system OS: Windows and MAC, Android, or iOS.  Some most powerful screen recorder like Bandicam (apt for game recording, providing 480 PFS for users) supports only Windows. RecMaster, however, supports both Windows and Mac.
• Other Negligible but Also Important Limitations
File size: Some screen recorders produced big size videos, and users' PC in the long run will ill afford these videos.
RecMaster allows users to record with AVI format – a format is both stable and compacted. If you are still unsatisfied with the size, you can consider leveraging some special software for shrinking purposes – like HandBrake.
Doesn't record sound: RecMaster has stable performance in recording sounds and screens. But under one circumstance it will fall short – if you are using Zoom and you want to record your meeting, RecMaster needs you to use its sound driver to record all sounds from participators. Read our instructions for this problem: how to solve the problem of recording with no sound.
Consume CPU: RecMaster bears a feature called 'GPU acceleration', which boosts this recorder's performance and make recording fluent.
Dropped frames: FPS drops have many factors to blame for. High Resolution, outdated graphics card drivers and improper in-game settings all influence your FPS.
RecMaster causes FPS to drop, but you can try 'GPU acceleration' to improve this problem too.
Stuttering: FPS is the core factor that would influence your game/video's fluency. Try to record in the same rate as the stream, less chance for a glitch or stutter. Besides, RecMaster allows users to record at 60 FPS (120 FPS in the near future) which is a strong parameter in recording most of the gameplay on the market.
Resolution: RecMaster supports up-to 4k resolution, you can set up literally any aspect-ratio screen by using its Custom-Area Mode.

• Limitations on Features
RecMaster is such a good unlimited screen recorder that it never locks its features against users. Any free trial users could have access to RecMaster's editor, annotation tools and task scheduler, etc.
Editor: As a well-known screen recorder in the industry, Apowersoft sets limitations at its editing feature. RecMaster allows users to use its built-in editor unconditionally, they can cut unwanted fragments, shrink the length of their videos and upload directly to YouTube (or Google Drive) after editing.
Annotation tools: Snagit, one of the most used screen recorder in the industry, restrict users from using its annotation features after 30 days. RecMaster enables users to add lines, a whiteboard, graphics, and texts to highlight their footages.
Scheduled recording: This feature frees users from waiting until their footages get recorded. Once users set up the time of beginning and ending, RecMaster captures their screen automatically.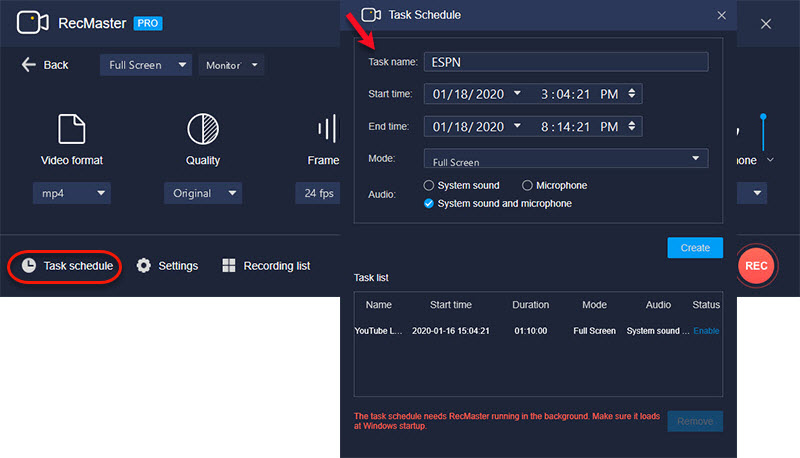 Conclusion
Generally speaking, RecMaster didn't fall in the old rut and set numerous limitations up for gaining revenue from paid-licenses. This unlimited screen recorder is not only cost-effective but also upholds the spirit of delivering the best experience in recording.