Screencast-O-Matic is a powerful recorder that works on both chrome tab and desktop. With the best use of it, users are able to capture any part of their screen, and produce videos with webcam and narration. After recording, they can trim the videos and add stock music or captions to their recordings and finally upload them to YouTube. Paid version of Screencast-O-Matic allows users to annotate their recordings as well as to pan and zoom to capture the most important area of their screens. The only thing that is confusing is its overlays' arrangements. Now, follow this thorough Screencast-O-Matic tutorial and all the information of this software will reveal itself.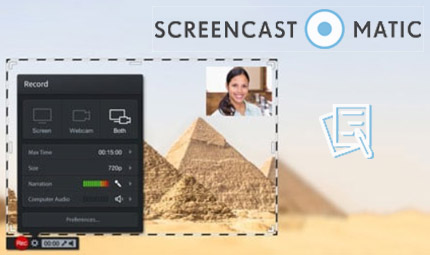 Screencast-O-Matic Tutorial– How to Record Screen with this Software?
Screencast-O-Matic recorder can be launched from Chrome extensions and also downloaded as desktop software. Web version of Screencast-O-Matic is simple and intuitive, so this tutorial focuses on introducing details of desktop version of this software.
1. Go to https://screencast-o-matic.com/ and download Screencast-O-Matic, once you finish the installation, open Screencast-O-Matic and choose a recording mode.This software provides 3 modes for users, they are screen mode, webcam mode and screen plus webcam mode.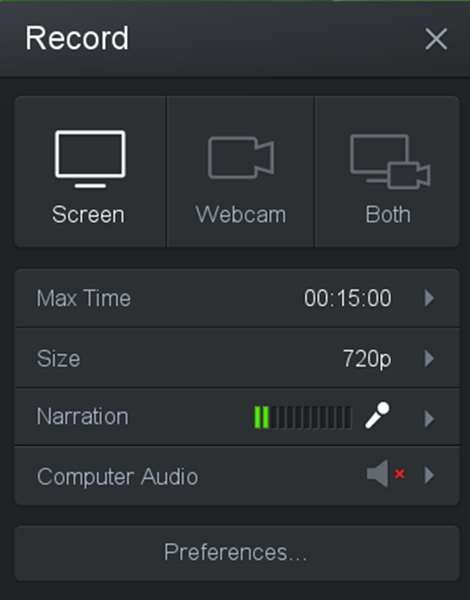 2. Choose Screen mode and deside your preferred resolutions. Screencast-O-Matic supports recording at 480p, 720p, 1080p, full-screen and custom-area.
3. After that, you should select your audio sources and decide whether you would like to capture your system sound.
4. Hit REC in the floating bar and start recording. Once your recording is finished, hit 'Done' on the floating bar and then you can either edit your video or instantly upload video to YouTube.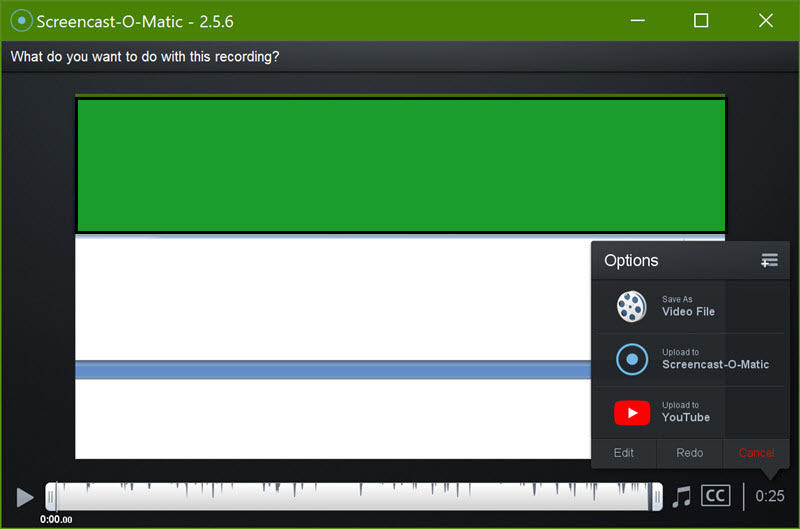 5. In the editing window, users can effortlessly cut unwanted beginning or ending, or add music or subtitles to their videos.
Screencast-O-Matic Tutorial– Something Else You Need to Know about This Software
● Features and Important Parameters
Screenshot tool: Take screenshot of your current screen.
Annotations: Add arrows, lines and shapes and images. Change colors, sizes and fonts of your videos, highlight areas and add blurs.
Editor: Speed up and slow down any section of your video. Cut unwanted fragments of your footages.
Max Time – The maximum time to record is 15 minutes. Upgrade to enjoy no limitation on recording time.
Watermark – The free version adds watermark to your video, upgrade your license to remove the watermark. (>> Screen recorder without watermark)
Size – You can adjust your recording frame with preset sizes (480p, 720p, Active Window or Full Screen) or you can adjust it by dragging the corners and sides of the frame.
Narration – The app will detect audio sources connected to your computer.
Computer Audio (System sound) – This recorder will only capture narration. To capture computer audio requires an upgrade to its Deluxe plan.
Captions (Subtitles) – You have the ability to add your own captions to your videos.  By clicking on CC, you can choose to add your own captions by uploading a captions file. If you pay for a license of the software, you can use speech-to-text or type in your own using 'blank captions'.
Upload options – There are several upload and publish options you can use in the free screen recorder.
Save as a Video File – You can save your recording as mp4, avi or flv video file.
Share on YouTube – If you haven't linked your account, all you need to do is click on 'launch web browser' and follow the steps. Once that's all done, fill in the information and it will upload directly to your YouTube account or a YouTube channel you designate.
Different screen recorders have different advantages, Screencast-O-Matic performs badly if users choose not to pay for its license (48 dollars a year). Here I recommend 3 powerful desktop screen recorders as alternatives to Screencast-O-Matic, so you can decide which one fit you the most.
BTW, we've also concluded a list for you if you are in need of premium web recorders. For those who want a solid desktop screen recorder, simply move on to the next part.
Best Screencast-O-Matic Alternatives
1. RecMaster [Mac OS X 10.11 or later and Windows 10/8/7/XP]
RecMaster gathers 5 out-of-box recording mode and you can choose 'Game recording', 'Full-Screen recording', 'Custom-Area recording', 'Webcam recording' and 'Audio-Only recordinig', all suffice users correspondent demands.

RecMaster boasts for its colorful features. It supports users to add annotations, edit videos, automatically capture screen, merge videos, add customized watermark to videos and so on.
Best part of it is that it charges the least compared with Screencast-O-Matic and Bandicam.
2. Bandicam [OS: Windows XP(SP3)/Vista/7/8/10]
Bandicamis wildly acknowledged as a magnate in the screen recorder market. Although Bandicam has received praises from all over the world, until now it still doesn't support any Mac system. And Bandicam for Mac has been a frequently searched key word but hasn't seen the trace of realization.
Being designed to cater 480 FPS for users, Bandicam is qualified as the best game recorder among the industry. Never mention its rich options and specs are advanced users' favorite.
The only flaw of this software is its price. If you don't have that much budget, I suggest you using a cheaper and less professional screen recorder like RecMaster.
3. OBS [Windows 8, 8.1 and 10, macOS 10.13 and newer and Ubuntu 18.04 and newer]
OBS Studio is powerful software with rich features. It barely exerts performance penalty to other apps. However, it is stereotype that users always thought free software like OBS lacking necessary features, but this phenomenon won't work with OSB Studio, it is aprofessional recorder that was created to offer users with the most advanced features and most detailed functions to record videos or make streams.
The software effortlessly captures users' screen. It manages to record games, streaming videos and audios, website, etc.
Its thoughtfully-designed interface undertakes its comprehensive operations.
Besides, the application offers handy approaches for streaming to multiple places including Facebook live, Hitbox, Twitch, YouTube Live, and more.
Verdict
This Screencast-O-Matic tutorial leads viewers to Screencast-O-Matic's features and operations. This article also introduces 3 alternatives to Screencast-O-Matic, hope our viewers get inspired and find their preferred screen recorders.