You got a screen recording in low quality? Here I will share some root causes and teach you how to improve or avoid this issue.
Making screencast is one of the basic skills that every frequent computer user should have. For common workers, students, teachers, vloggers and similar, it's a great way to document video processes, make easy tutorials/demos/presentations, and save steaming contents (e.g. web conference, live stream) locally for further reference or usage. But for this or that reason, you may produce a bad quality screen recording in blurry, pixelated, grainy, or laggy looking. What should you do then? Can you change the quality to a better one? What's the root cause of it and how to keep away of this issue in the future recording? Now let's walk through all of these questions one by one.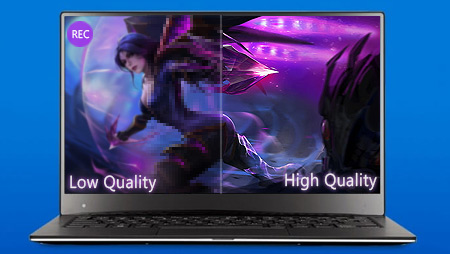 ● Firstly, you can't change the low quality but improve it.
Video quality is unchangeable, at least is unable to increase once the file has been processed by screen recorder. So, if your capture content only lives once, such as an on-the-air broadcasting event, an online meeting or lecture, and you have no chance to operate another capture again, you can try adjusting video parameters and using some filters to see whether it's workable – tweaking the video parameters like sharpness/contrast/brightness/color balance, applying certain filters into video, downsizing the file resolution like from 1080p to 720p, just to name a few. Senior users can do such operations themselves with proper video editor. However, if you are a noob who has no idea on what they are, you can seek help from dedicated video enhancer software via Google search to do compensation.
Another way you can take into consideration is that contacting the live streaming host for the original file if he or she has and is willing to share. At least, theoretically, you should ask permission from him or her before your recording.
● Re-record it, use a decent screen recorder with proper quality settings.
For easy and short recordings of documentation, presentation or so, you are suggested to re-capture it with high quality recorder plus more suitable settings. That's because in many cases, when your monitor displays movements clearly with no error, the cause of low quality screen recording must be the unmatched quality settings on bit rate, frame rate, resolution or so. Therefore, check the previously setting on your capture app, and adoptmore suitable bit rate [important], fps and make sure the output resolution is no more than recording size. If your program doesn't offer bit rate option, go to the video quality level alike option. If either is found, unfortunately, you are not empowered to define the output quality manually. Just turn to another high quality screen recorder please.
RecMaster, as one of the best screen recording software for Windows and macOS, is able to create high quality screencasts on desktop and webcam, in video or audio format. If your recorder failed to satisfy your quality or other requirement, why not get RecMaster free here and have a try.
Now let's get an overall look at its main features and how it works on computer.
Key Features:
– Multiple recording modes to record entire screen, an app, a specific region, with webcam/internal sound/mic or not.
– Support 1:1 capturing 1080p/2K/4K/5K/8K monitor @60fps.
– Support multiple screens! You can choose either to capture or them simultaneously.
– You are free to apply watermark, annotation, and mouse cursor effects for better tutorials, guides, presentations.
– Scheduled high quality recording is available once you create and enable it with software running in the background.
– One-click edits and sharing to YouTube/Google Drive.

How To Use:
The screenshot showing above is taken from RecMaster Windows version. And note that Game Mode, with optimized capability and performance on game shooting, is especially designed to help PC gamers obtain smooth and crisp game clips.

– Choose the right recording mode, then you have to pre-set quality and frame rate according to your requirement.
– Original, High, Standard are three quality levels ranking from high to low. And the frame rate value has a wide range between 20 to 60 fps, which is suggested to set at a higher value when target screen activity is higher-paced than usual, for instance game fight.
– As to media format, audio source, webcam overlay and other visual effects, you just keep them as you prefer.
– After starting the capture, you can access and use annotation tool from floating bar, pause and resume, show the webcam at certain period of time.
– Stop, and preview the video. If necessary, cut the unwanted parts off with the built-in editor.
● If your machine pulls the capture down for low quality, hardware upgrade helps!
Still for many users, screen recording low quality is the outcome of incompetent PC configuration or say low-end PC. Under such circumstance, user is bound to run into laggy capture matter and surely the final video file lags with frame drops too. Then how to record on low-end PC smoothly? Lowering the recording quality by decreasing bit rate, frame rate and resolution is the potential workable method. Absolutely, maybe another blurry or pixelated bad quality video appears with the disappearing of the stuttering one.
In short, don't expect too much on that you can work out excellent crisp gameplay or other recordings on your poor machine. Equipping it with more storage and powerful CPU/GPU is the only way to get rid of the irritating low quality capture once for all.
Final Words
Most screencasting customers have times when the video's quality is not what they'd like it to be. The veteran can soon locate the cause and correct it or find a workaround. While as a newbie, he or she might even have no idea on how to handle it but falling into the unlimited Google search results. Hope you can access to this page and throw away your  screen recording low quality on desktop/laptop trouble.
Related Troubleshooting Tips:
How to Solve Screen Recording No Sound
How to Fix Screen Recording Blurry