Summary: This post talks about 5 effective screen recorders for teacher to create productive video lesson.
In recent years, online courses increase rapidly. Lately because of the coronavirus outbreak, the demand for online course learning grows sharply due to the coronavirus lockdown. Amid epidemic impact, a majority of students rely on video lessons to keep on study. To catch up the new trend, many teachers begin to record lesson videos and then upload to social media.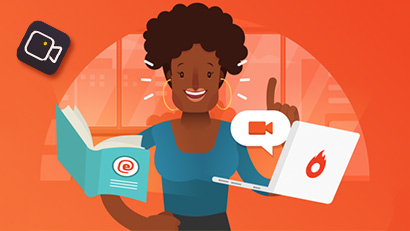 Compared with traditional learning pattern, online video courses have more advantages. On one hand, video lessons save the teacher's time and energy. Instead of repeating the same content to every class, teachers only need to record a lesson video and upload the video to YouTube or other platforms. On the other hand, students also benefit from online video lessons. With a recorded video lesson, students can optionally listen to the lecture whenever they wish. More importantly, students can search the video lesson that they're interested in and enjoy the lecture from other elite schools without geographical limits.
When it comes to online course producing, the most important tool is the screencast application. So this post lists 5 effective screen recorders for teacher and you can choose the best screen recorder for your school.

1. RecMaster: The Easiest Screen Recorder for Teacher
RecMaster is a feature-rich and easy-to-use screen recorder for teacher to create online course. RecMaster enables teachers to record a video lesson for capturing any part of the computer screen. With the function to record PowerPoint with audio and other intricate recording settings, it helps you produce high-quality videos whether in full screen or any desired area without other additional software. Moreover, it offers the necessary real-time drawing and mouse cursor functions to highlight any marks. As the tech online course tool, it promotes the teaching efficiency.
Key Features:
● You can capture a lesson video by sharing your whole computer activity or just a fixed area. Moreover, it's also a voice recorder to capture audio for lecture.
● It supports webcam video recording with narration to the lesson by choosing microphone as the input device. If you need to complete a fixed-time recording, simply utilize the task schedule function to help you.
● During recording process, there is a timer with annotation function on the top of the window. You can use the brush to highlight any area of your screen and add arrow or text to explain key steps.
● Use the built-in editor to cut any unwanted footage and then merge the rest clips as a full video.
● With multi-choice of video format, quality, frame rate, you can optionally upload the video to social platforms like YouTube.

Limitation:
● Mac version lacks some functions like task schedule.
2.    Bandicam: A Useful Screen Recorder for Teacher
Bandicam is a lightweight utility that supports screenshots as well as screen recording. Whether you're an old pro or a green hand, Bandicam makes it easy to set up and start recording on your screen. You are allowed to choose to share your whole screen or only a particular portion in AVI or MP4 format. Compared with similar product, the main difference is that it enables you to record external devices. For tutorial videos, it supports you to add webcam overlay and mix the video with your own sound. More importantly, you can use the annotation and mouse effect to emphasize and mark up important things.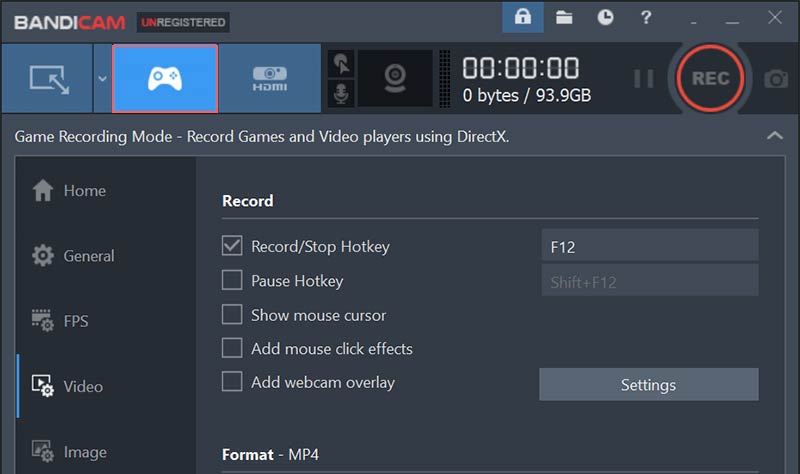 Key Features:
● You can use it to record a full screen or a custom area video lesson.
● It supports webcam overlay in tutorial videos.
● Microphone and system sound can be captured simultaneously or separately.
● Support external device capture.
● You can schedule the screen recording job.
Limitations:
● It is only designed for Windows users. For Mac users you have to find an alternative.
● There's no video editor bundled into Bandicam. If you want to use the editing function, you need to purchase.
3. Snagit: An Effective Screen Recorder for Teacher
Snagit is a power screen recorder for taking image or video capture. It provides Templates to edit screenshot and create video from images. For how-to videos, you can choose whether directly record the screen or use step-by-step pictures to make a video. All it takes are a few clicks and then it aids teachers to record and upload lesson videos in simple ways. During the recording, you can switch between screen capture and webcam recording with ease if you don't want to show your face all the time. Moreover, it enables you to share videos in many platforms like twitter, YouTube, Slack…
Key Features:
● You can record a lesson video showing your whole screen or a particular area.
● It enables you to create lesson video from images especially step-by-step videos.
● You can grab text from a picture or a document. In this way, you can edit some material for video without retyping again.
● Snagit can capture audio from your PC as well as the sound from your microphone.
● The built-in editor for you to make explanation in toolbar like step icons, stamp icons..
Limitations;
● It doesn't support picture-in-picture recording. You can't record the screen as well as your face.
● The video can only be saved as MP4 or animated GIF.
4.    OBS Studio: The Best Open Source Screen Recorder for Teacher
OBS Studio is undoubtedly the best open source screen recorder. There is no limit on duration and scenes and you can record a lesson video as long as you wish. This screen recorder is more suitable for people who have experience in screencast because it offers many advanced settings like switching with transition. Recording a lesson video with camera is also allowed and you can insert your voice along the video. Furthermore, after the recording you can freely share these videos to your social media or platform.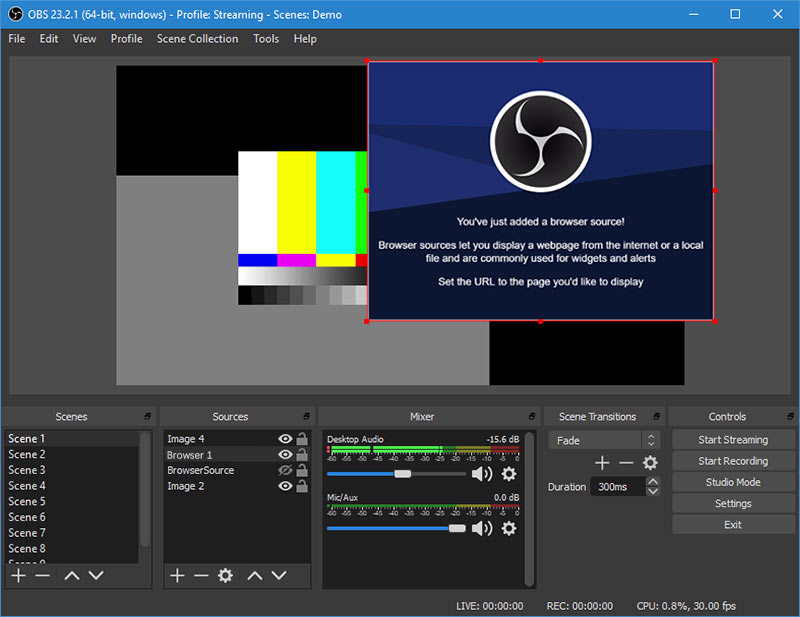 Key Features:
● It's free to use this screen recorder.
● It provides many advanced settings like twitching with transition.
● You can record screen at the same time use the camera.
● OBS Studio allows you to capture audio from the system or microphone.
Limitations:
● It takes time to learn how to use this tool since there is no wizard to teach you
● As an open-source screen recorder, it has some potential dangers.
● You may need to fix the black screen error since is a common problem that you may counter during recording.
5.    Screenrec: A Free and Convenient Screen Recorder for Teacher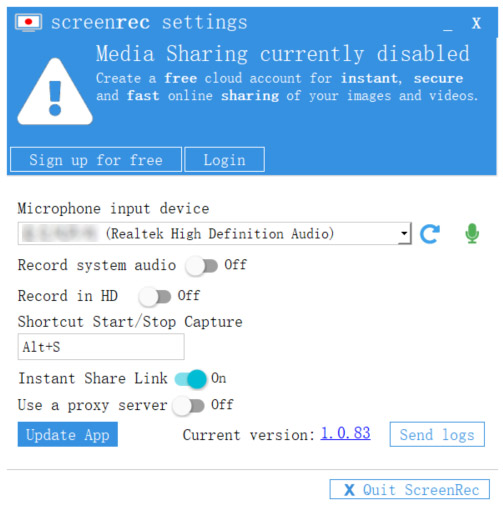 If you want to find out a screen record with basic function as well as no payment, Screenrec must be the best choice for you. You can choose whether to record a video or just take a picture of some key points for educational lesson. For video capture, it's practical to record your whole screen or a portion of your screen with high quality. Without complicated operation, you just need to release the mouse and it will automatically start recording. If you want to get a lesson video with microphone, simply turn the microphone button on.
Key Features:
● Start your recording with one-click operation.
● Full screen and custom area recording are both available in this tool.
● Provide 2GB free cloud storage service to save files.
● No time limit on recording.
● Video can be recorded in HD with microphone and system sound.
Limitations:
● You can't use camera function for video recording.
● A little troublesome for full screen video recording.
● Lack of task schedule and annotation functions.
Final Words
Each of the five best screen recorders for teacher has its own key features and limitations. If you need one that can work on more devices at the same time provide more recording functions, we would like to recommend RecMaster to simplify your work!
Related articles:
How to record online lecture on your computer
4 Best voice recorders for lecture
How to download Udemy courses for offline watching