A handy webcam capture software tool is shared to help record external webcam video without hassle.
No matter you employ an external webcam because of there's no such integrated camera or the in-machine one creates video just in poor quality, when you want to record video from external webcam on your Window or macOS based computer, you may have question on how to do so easily. And this is a detailed guide on this topic.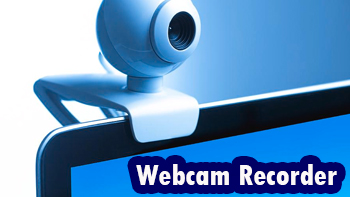 Paying for a pro-level webcam is a wise choice to level your performance up to the next level during live-streaming or work. As a rule, a decent webcam, which may be priced at any ranging from $50 to $1000, will not only give many video options e.g. resolution (up to 4K), frame rate, and compression method, but also delivers more flexible field of view, auto-focus, low-light correction, in-built microphone and similar functionality.
Then when you are in a demand of creating video from USB-connected webcam, regardless of the capture circumstances, you can do it with the following webcam capture software called RecMaster.

Steps to Record Video from External Webcam on PC/Mac
RecMaster is an all-around desktop screen recorder that's able to record screen video from desktop (with webcam overlay if you like), capture pure webcam video with narration (from either internal or external front camera), and also record audio only that's coming from sound car or/and microphone.
When acting as a webcam recorder, it gives you freedom to choose any available face camera (if there's more than one) as the target capture device, offers you video resolution & format setting ability to define the video type and size to a more preferred one like 1080p/720p MP4, and enables you to mix audio from computer and microphone into video at will. Now let's walk through the operation step by step.
Step 1. Free download and install RecMaster
RecMaster is compatible well with both Window and macOS computer, be it desktop or laptop. As long as you PC is running Windows XP, 7, 8(.1), 10 or any macOS version after 10.10, new macOS 11 Big Sur included, you can set RecMaster up and use it successively. Below are the official download links of RecMaster for Windows and Mac.
Step 2. Connect external webcam well and launch RecMaster
Mount the external USB webcam on the top of your computer monitor and then open up RecMaster to move up to the next setting step.
Step 3. Configure on RecMaster
Pick "Webcam" on the main interface to navigate to another webcam setting UI with a webcam window popping up in front of it. You should choose the right webcam and expected resolution on this pop-up window. If your external web cam name doesn't display in the drop-down menu of "Choose webcam", give it a refresh or restart the computer to select again.

The default file format is set to MP4. If you'd like to alter it to another one like FLV/AVI on Windows (10), do close the square-shaped control overlay and do it on the main UI behind where system sound and microphone options are also represent for you to turn them on/off. By clicking the down arrow icon of system sound/microphone, you can see all available sources and conduct a selection. Also, by accessing to Setting's panel are you enabled to add watermark, show/hide floating annotation and 3-second countdown and re-define the hotkeys according to your habit.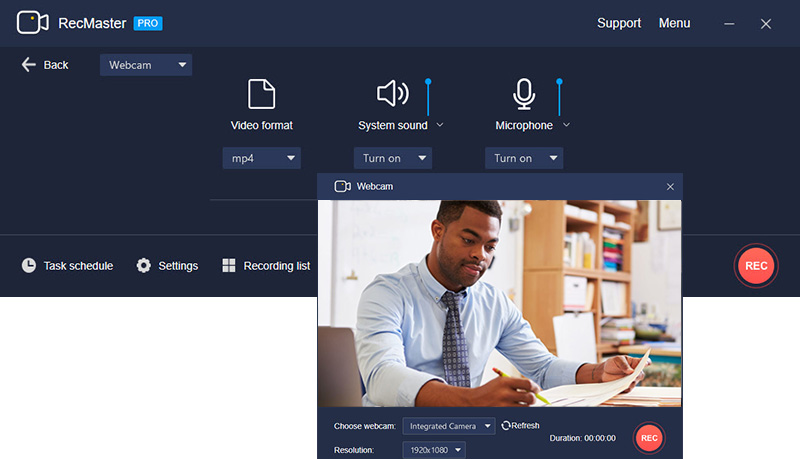 Note: Mac webcam recording mode provides further quality and frame rate settings for both internal webcam and FaceTime HD Camera (built-in). To switch video format from MP4 to MOV or M4V, you will have to move forward to Settings -> General.
In case you are forget to do some crucial webcam recordings at certain time, RecMaster is preloaded with a Task schedule feature to empower you to create Webcam capture automatically and timely.
Step 4. Start and end recording
When everything is OK, get the external webcam video capture mission started by clicking either REC button or pressing the shortcuts on keyboard. If you've already enabled a scheduled recording, simply keep running software in the background and wait for the task to start by itself.
When you stop the facecam performance or it's over by going to the end scheduled time, the video file will be generated into a recording list, from which preview, rename, delete, edit and one-click sharing to YouTube are all standby to improve your working efficiency.
Is There Any Free Webcam Recording Software?
Pop webcam manufacture and computer system may supply its customers free webcam recorder. For instance, the in-built Camera app from Windows (10/8) features taking both screeshots and screencasts from internal webcam once you've changed it to the default one, the QuickTime/iMovie from macOS is born with new movie making function from any webcam. Also, if your store-brought web camera is from popular Logitech, then you can enjoy its cost-free free webcam recorder called Logitech Capture to produce video content from Logitech's general work HD or streaming webcam products, say Logitech BRIO, StreamCam, and C series HD/Pro.
More about Logitech Caputre: It is an enhanced version of former Logitech Webcam Software (LWS), and the main purpose of this freeware is to help Logitech webcam owners create video content from the hardware easily and fast. By supporting multiple sources, you can record screen with webcam, grab app action with webcam, capture two cams only at picture-in-picture or side-by-side layout, or even combine either two available sources for the recording. What's more, a few other settings regarding overlay, scene effects, video parameters and audio are embedded for the most possible customization.
Besides those offline webcam recorders, a piles of online webcam recording services can be found with ease if you have time to dig around on search engine.
Verdict
To record video from external webcam during meeting/live broadcasting or do it locally for remote presentation/learning material, you are suggested to invite a more feature-rich screencasting app like RecMaster to rely on. That's because as long as you start your journey of video creation, even you are just a newbie, you are bound to move up to an advanced user who's willing to do more further screen video capture things with or without webcam inset.