Screen recorders are large in number, so finding just the right one is not an easy task. This passage lays emphasis on how to screen record on Lenovo laptops with the most useful and trusted screen recorders.
The first one is a very rarely known Lenovo product – Nerve Center, which is created to capture games on users' Lenovo laptops. It could also be regarded as a basic screen recorder to record daily activities on users' Lenovo laptops.
This recorder is free yet as I mention just now, basic and simple. So if users have higher requirements over their video quality, FPS, or bitrates, I will later introduce a good alternative of Lenovo Nerve Sense.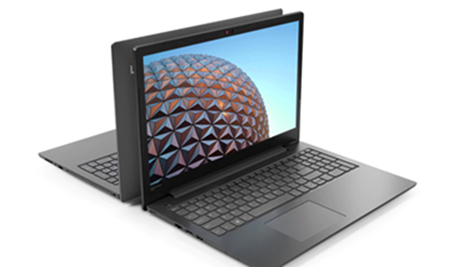 Content Navigation
1. Record Lenovo with Nerve Center (Sense)
2. Record Lenovo with a Perfect Nerve Center Alternative
Use Lenovo's Recorder – Nerve Sense to Do Screen Record on Lenovo Laptop
Introduction
The Lenovo Verve Sense (Center) to Lenovo users is just like the default recorder HPSR to HP laptops users. Verve Center actually is not a built-in recorder that comes with every Lenovo laptops. Users need to download it from Lenovo's official site so as to use it.
This recording software provides information about your gaming machine, helps you with network priority, and most importantly, lets you share game videos by recording gameplay clips with it.
Currently, only Windows 10 users can use this recorder.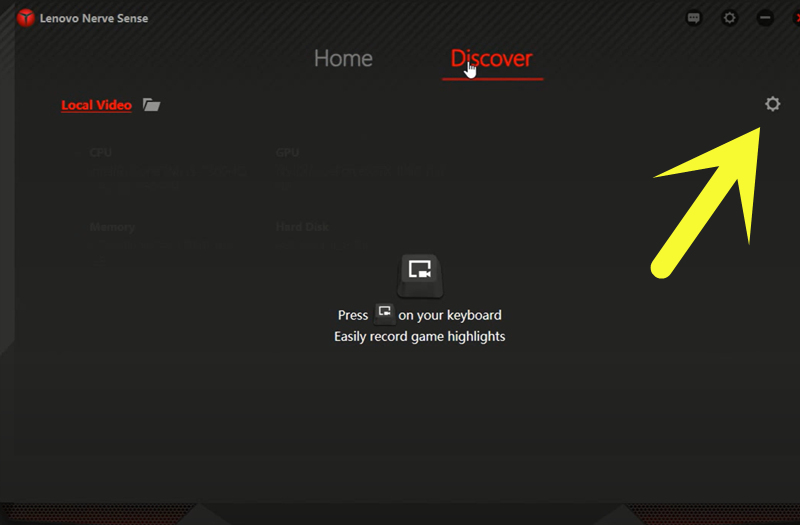 • How to Record Screen with Lenovo Nerve Sense?
1. Download Nerve Center. You can go to Download.Cnet.com to download it. The relevant link is displayed below: https://download.cnet.com/Lenovo-Nerve-Center-for-Windows-10/3000-2094_4-77819359.html
2. Open Lenovo Nerve Sense, go to the 'Discover' interface. Before recording, we need to do some tweaking to the default settings to make our clips look better.
You can manage the video quality, FPS, resolution, and saving path after you hit the gear-like button. Some less important options like cursor effect, microphone, and auto start are also manageable.
3. Hit the recording button (the one that shows in the picture above) on your keyboard and start recording.
4. Once you have done all the workflow, your clips will be displayed right on the Discover interface.
• Lenovo Nerve Sense's Fatal Deficiencies
1. Lenovo Nerve Sense causes an evident FPS drop, in which respect, it is less comparable with Nvidia Shadow Play (not a perfect recorder either, shadow play captures only games rather than ordinary on-screen activities).
2. Lenovo Nerve Sense has a limited number of setting options, you cannot set the bitrates, cannot add customized watermark to your video, cannot record with a webcam, or edit your video.
3. This plugin could misfit with windows defender, Lenovo Nerve Sense could crash as a result.
So you may now be wondering, is there a screen recorder that is not CPU intensive and coexists perfectly with your windows defender, and even provides advanced options for producing the best videos?
The answer is positive.
Use 3rd-Party Screen Recorder to Do Screen Record on Lenovo Laptop
3rd-party screen recorders surpass the free, default recorder in that they provide more recording modes, more advanced options, and more useful features to make your recording process smooth and comfortable.
However, third-party screen recorders share one common feature – they charge fees (most of the products).
Among all the paid screen recorders, RecMaster is the most cost-effective one. It has as many useful features as the magnate recorder in the market like Bandicam or Snagit but it charges the least.
As a handy recording tool, it used to work perfectly on ASUS laptops, Dell laptops. Users use RecMaster to record YouTube videos when they cannot download YouTube videos. It could also be used to record gameplay videos, and make all kinds of videos (tutorial videos, podcast videos) with it.

• So, how to Screen Record on Lenovo Laptop with RecMaster?
1. Download RecMaster on your Lenovo laptop and install it.

2. Double-click RecMaster's icon and activate it.
3. To record the Lenovo screen, we should now choose a mode. RecMaster offers five recording modes for Lenovo users to select from. And Full-Screen Mode and Custom-Area Mode suit the most for laptop recording. Assume now we want to record the entire screen, choose the full-screen mode, and continue.

4. To create high-quality videos on your Lenovo laptop, there are some crucial settings needed to be settled before your official recording.

Video format: There are 3 formats for you to choose from – AVI, FLV, and MP4. Normally, MP4 is considered the most welcomed video format.
Video quality: There are also 3 kinds of video quality. They are Standard, High, and Original Video quality. The original video quality is the crispest one, which also means large footage size.
FPS: FPS is short for 'frames per second', normally the higher this parameter, the more fluent your video will be. However, recording ordinary activities on your Lenovo laptop, 30 FPS should suffice. Recording at 60 is tailored for PC game recording.
5. Hit the red 'REC' button and record your Lenovo laptop.
6. When you finish recording, you can go to the Recording List to find out your footage.
Other features/options:
Webcam: Enable the internal webcam on your Lenovo from the setting panel of RecMaster.
Annotation Tools: This feature is available during recording. You can add text, graphics, arrows, and draw on your video.
Task Scheduler: This feature allows you to automatically record your screen requiring no attendance of anyone.
Video Editor: RecMaster bears a simple editor that allows you to do the easy cutting. Go to Recording List, find a little scissor that the button of your editor.
Final Words
Today's introduced recorders are both desirable for users to do screen record on Lenovo laptops. The Nerve Sense is created by Lenovo and it is free. RecMaster is a 3rd-party recorder but bears much more features. Hope you get clues from this passage and create your own videos with the two recorders mentioned above.