Online classes, or say online courses, are heating trends recently. This kind of trend motivates users to download and record online class videos for offline watching. Luckily, the online course industry's magnates like Udemy, allow their users to download its courses directly once the video's instructor enables downloading for his/her lessons. One inconvenient part of this function is that if the button for downloading the lecture is grayed out, no download will be achieved.
This passage exists for solving this kind of problem. A powerful 3rd-party screen recorder is recommended to record paid and free online courses.
Finish this article and you will also learn about some free website offering online classes
Content Navigation
1. How to fast record online classes from Udemy?
2. Record free online courses – Websites recommendation
3. Is it illegal to record online courses?
How to Fast Record Online Class? [Paid and Free Udemy Courses]
RecMaster is an out-of-box solution for recording online classes. As a screen recorder for both Windows and Mac system, it relieves users from gaining permission from their instructors, they don't have to check out if the download button is grey or not either. The only thing you need to do before capturing your target online courses is downloading RecMaster and click on it.
RecMaster allows you to create high-quality videos with intact sounds from the target online class. With a little attention to the options for FPS, Video quality, and Video format, your footage out of online classes will look even better.
This part is an instruction on how to use RecMaster to record Udemy courses, let's check it out.
1. Download and install RecMaster on your computer
2. Open the online course that is about to be recorded in the background
Pause it and let it wait till we set up RecMaster.
3. Choose a recording mode
RecMaster offers five recording modes to users. To record online classes, the Full-Screen mode and Custom-Area Mode is recommended.

4. Tweak the settings
It is more than optional a choice to set up parameters of FPS, Video format, and video quality since these options determine whether you can get good copies of your online courses.
The video quality is suggested to set at 'Original'. And unlike high FPS game recording, an online course recording at 30 FPS will totally do. Set your video format, FLV, AVI and MP4 are available. Finally, it depends on you if you want to set the audio sources or not.

5. Start recording
Hit the REC button and jump to the paused online course, play it and RecMaster starts to capture it.
6. End and edit
Hit the REC button again to stop recording.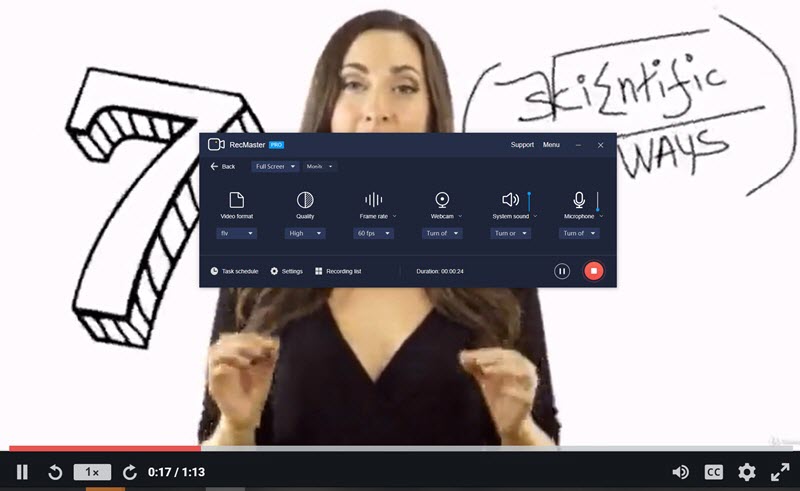 To decorate your videos, you can use the annotation tools to add some texts, lines and graphics as highlights. An editor works for cutting unwanted parts of your videos, and a customized watermark is important to prevent potential risks of violations of laws.
Want More Free Online Courses? This List Might Be Helpful
Many users are eager to find free online courses but end up in the siege of malware and spam. This part will introduce for you some green website that comprises free resources. Some of these websites are backed up by legitimate universities and they just offer large quantities of online courses. But actually, some of them require a tiny fee for a certificate or enrollment, which in my opinion is negligible compared with a hundred bucks of paid courses.
Free website list:
Coursera – This is qualified as a welcomed free lesson resource website. This website attains to offer nearly 2,000 courses with 147 partners, which is quite impressive. One thing users should be aware of is that Coursera classes which starting on a specific date with assignments usually due each week.
Edx.org – Another major player in the field. Over 1,000 courses from 90 partners. The majority of courses are free with a paid option for a certificate. Some specialized course series must be paid for.
Udemy Courses – Put aside Udemy's expensive paid courses, it still provides free lessons.
Udacity – This site's free lessons are generally about computer programming and web development.
Futurelearn – Free lessons are provided by UK Universities on this site.
Editor's Words
Is It Illegal to Record Online Classes?
Unfortunately, the answer is yes. Information in the recorded courses is under copyright laws' protection. Users should quote or transmit the courses without the permission of the instructor.
But the truth is there are still a large number of users out there who download and record online classes to their PCs. The reason they never receive a lawsuit is that they only save them as personal files, no re-uploading, sharing, distributing, or selling them elsewhere to expose themselves to risks, so as a result no one cares about it or can do anything about this.