As long as you have the right sound recorder for Windows 10, recording internal audio or external voice coming from Win 10 doesn't have to be difficult…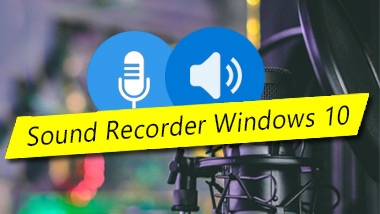 We spend too much time on computers, especially the laptops, for work and entertainment. That makes sound recording a necessary for many workers to enhance communication and improve efficiency. Common uses can also enjoy online sources offline without limit, make personal voice memo or do similar things in this way. Then any best sound recorder for Windows 10 to recommend? Yes, more than one.
Sound literally means audio. In other words, when being connected with screen capture, sound may refer to system sound from machine (like Windows-based one), or (human) voice from micphone. In view of this, this post will give several different kinds of choices to meet various sound recording requirements.
Note that theses tools are only capable of grabbing general unprotected sound. For those DRM-locked ones like live TV streams, iTunes music and alike, the encryption tech embedded in media files will lead you a failure in sound recording.
1. Pure Voice Recorder for Windows 10
Quick option: Voice Recorder [Built-in APP of Windows 10]
Microsoft Voice Recorder, formally called Sound Recorder, is a bundled audio recording app in many Windows systems including Windows 10. Therefore, without download and install, you can utilize this internal program to document voice file in M4A format for personal presentation, lecture, conversation, interview, podcast or just for fun with marker added. After recording, you can also play it back, flag key moments again, trim, rename, share and delete. No official statement, but according to the former Sound Recorder's time limit and some user feedback, Windows 10 voice recorder could maximally output 3-hour-long voice file.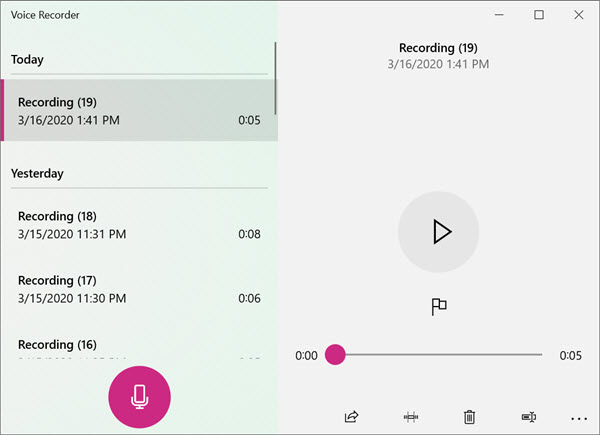 If you are looking for a basic and convenient way, Microsoft Voice Recorder for Windows 10 is the go-to pick. Now search and run it from the left-bottom search box or have Cortana to start up the recording automatically with words "hey Cortana – sound recorder, record memo".
2. One-click Sound & Voice Recorder for Windows 10 [Recommended]
Best option: RecMaster [Third-party screen capture software for Windows 10]
For beginner or amateur users, recording is easy because they simply want to keep a recording of the lecture, podcast, music, voice and so forth, having no advanced editing requirements. The only problem is that similar to QuickTime to macOS, Windows system app Voice Recorder is unable to access and capture sound coming from sound card, too. This makes the third-party facility is a must-have.

RecMaster is our recommendation here. As versatile screen capture software, it's designed with ability to acquiring audio data produced by both sound card and mic. What sounds are made by sound card? Everything you hear, be it any internet resource, local application sound, media playback sound, mouse click or any other system sound effect. Take a look at how RecMaster records sound on Windows 10 PC.

Follow along the steps:
– Install and launch, then you are given five recording options on the main UI. Click "Audio Only" button please.
– Define the file format to MP3 or WAV.

– Set what audio you want RecMaster to record: System sound, Microphone, or they two. Don't ignore the volume adjusting bar and down arrow for more sound options if your PC has.
– Click REC or use Alt+1 to make the recording happen when everything gets done. For pause and resume during the capture, Alt+1 are also the hotkeys.
– Click the same red button or type Alt+2 to stop and save it. You can then check, rename, and share it to YouTube.
As long as the file saving folder has enough space, you can work out high quality audio capture with no limitation on duration. Auto-recording is the bonus feature. You can take advantage of the Task schedule function to enable automatic recording at Windows setup or specific starting & ending time. This is quite helpful when you want to do some background and live streaming records.
By obtaining a 2-in-1 screen video and sound recorder like RecMaster, you can not only make a copy of any output audio for interview capture or so, but also vitalize some with eye-catching screen movements. Why not?
3. Sound/Voice Recorder and Editor for Windows 10
Best pro-level option: Adobe Audition
As a multi-faceted DAW/digital audio work station, Audition offers an all-in-one audio creating solution from (multi-track) recording, mixing, designing to exporting. As of audio recording, Audition embraces audio from both microphone and device plugging into the Line In port of machine's sound card. Drm-free streaming music, web radio, online lecture, virtual call/conference, self-introduction voiceover, Audition can detect them all and show them in the sound bar. To ensure a successful capture, you should configure the right audio inputs and outputs under Edit -> Preference -> Audio Hardware to fire up related sound card drivers like WASAPI or MME for Windows.
After documenting the speakers or/and microphone sound, one single or multiple tracks, you can do basic and even advanced edits in waveform pattern to output a highly-polished and professional file effortlessly, background noise reduced, vocal improved, as well as a slew of effects/plug-ins available to add.
Audition is regarded as one of the best audio editors for PC so that many customers make the most of it for creativity purpose. If you are one of the crowd, you deserve this great application.
Ending Words
The three best sound recorders for Windows 10 are qualified enough to save any of your desired audio. Leveling from basic to advanced, no matter you are a weekend audio recorder, YouTuber, or full-time audio engineer, you can leverage either to accomplish your potential capture needs. The last friendly tip is that if you are saving sound from other person or company, the recording and reusing of it may lead to some copyright infringement issue and break the law. So think twice before doing so.
Related:
How to Record Audio on Windows 10
Best Voice Recorder for Mac