Summary: This post talks about how to grab screen videos on computer with effective tools.
Video becomes an original way to present our thoughts, feelings and blessings. Whenever you need help or guidance, the first thought pops up in our mind is to watch related videos. Similarly, you can also be the video presenter to demonstrate what happens on your computer display. However, as a newbie or inexperienced computer user, taking screenshots on your computer is very easy but recording screen videos may be a new stuff for you. No worries, this post will talk about how to grab screen videos on computer.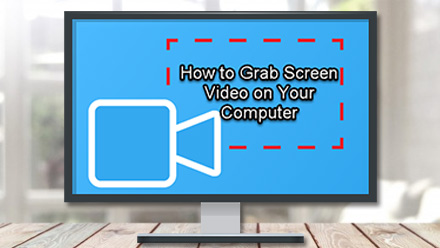 1: Using Screen Video Grabber RecMaster
2: Using Screen Video Grabber EZVid

Tool 1- Screen Video Grabber RecMaster
RecMaster is a good choice if you need a feature-rich yet easy-to-use tool to grab screen video. This program embeds many essential features to capture high quality screen videos. Firstly, multiple recording modes are here to satisfy your recording needs either full screen or particular region screencast. Secondly, it supports flexible settings to fulfill different needs including format, quality, fps… You can make combinations of diverse options according to the actual needs. Input devices like microphone and webcam are compatible with this tool so you can add commentary and picture-in-picture effect to the videos. Other functions like bundled editor, scheduled recording and annotation are all available.
How to grab screen video on your computer with RecMaster
Step 1: Firstly, you need to download the software. RecMaster is compatible with Windows 7/8/10 and Mac OSX 10.11 or above. After downloading, follow the wizard to complete installation.
Step 2: Decide the recording mode. There are multi-modes for you to choose. Game mode is suitable for gameplay footage capture. Full screen aims to grab the whole onscreen with all the actions you perform on the computer screen. Custom area is for particular region recording. You can select a custom recording area and then drag its border to resize or move the recording region. Audio only & Webcam modes are for audio recording and video from your camera.

Step 3: Make configurations. Here configure your recording settings. You can capture screen video with high/original/standard quality with different formats and frame rate. Screen video with system sound and microphone can also be accomplished by using RecMaster. If you want to produce tutorial videos, you'd better turn these two buttons on.

Step 4: Start recording. With one-click operation, you can begin to capture the screen. Simply press the REC icon and after a countdown this tool records.
Step 5: During the recording, you can observe the timer and make annotations to make your video more productive and organized.

Step 6: End recording. Simple click the Stop button and the Recording list will pop up where you can use the bundled editor to remove and trim unnecessary clips. After recording, it also supports one-click upload to YouTube. RecMaster can also act as a YouTube video recorder for you.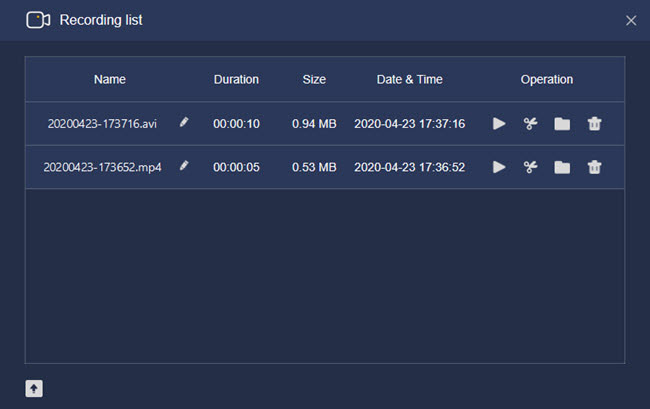 Note: It offers different interface for Mac and Windows users yet their feature are almost the same.
Tool 2- Screen Video Grabber Ezvid
Ezvid is a handy yet free screen recorder for Windows with recording duration up to 45 minutes. Screen video can be captured with webcam, sound, background music and watermark. Meanwhile, it enables you to capture screen with full screen, specific window or customized region. It has a clear interface where you can add title, description and select the scenes and music. Moreover, it has a full-featured with editor with speed control, screen drawing, voice synthesis and many other cool cutting-edge features. The disadvantage is that the video can only be saved as WMV format without other choices.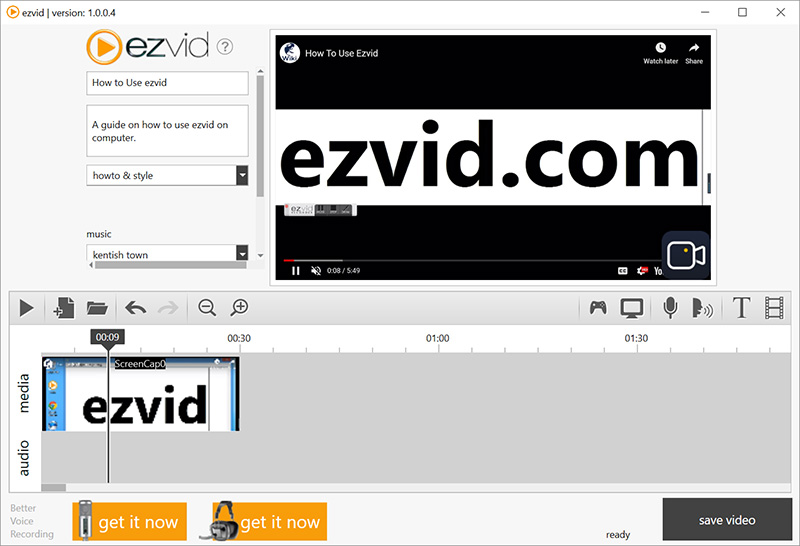 How to grab screen video on your computer with Ezvid
Step 1: Download and install this program.
Step 2: Open this tool. In the home interface you can add title and description to this video for future reference. In the right of the interface, you can choose among game recording, capture screen and record voice. Here capture screen is suggested.

Step 3: Click Start Capture Now to start recording your screen. While Ezvid is capturing your screen, a small widget is displayed on screen enabling you to pause, stop or make annotations. The latter function is very useful for tutorial and walkthrough videos.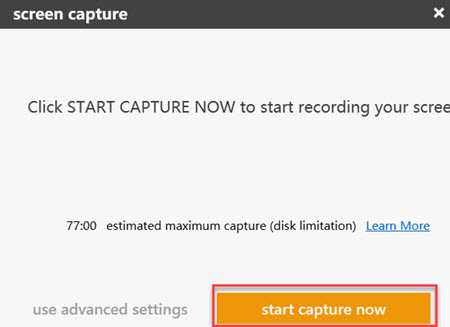 Step 4: Press Stop to end. Now you can use the built-in editor to delete clips, split them in half and add image or other video clips from your PC. Unfortunately, you can only upload the video to YouTube but isn't available to your PC.
Final Words
These two tools are intuitive to grab screen videos. Ezvid is handy to use with Windows operating system. But if you want to make video without time and path limits, you'd better choose RecMaster, the easy and feature-packed screen grabber for Windows and Mac.
Related topics:
How to Make Screen Video in Effective Way
How to Capture Screen Video on Windows 10
Best Video Capture Software