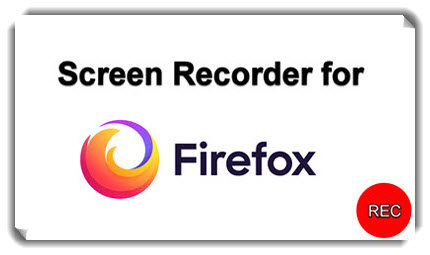 Firefox, as one of the most widely used Internet browser, is known for its high speed, secure and concise internet browsing service. This quick browser provides users a safe web surfing environment without any hassle. Apart from that, users can watch any videos, movies and TVs with this free browser. With the increasing number of Firefox users, there is accordingly a rapid demand for Firefox screen recorders, which help users record streaming videos, web manipulation and other contents. Besides, if you want to get audio from Firefox or save a game video on YouTube watching from Firefox, screen recording is the essential method to make your ideas come true.
Whatever you want to capture, you must have a screen recorder or Firefox add-ons in advance to save your onscreen activities. You may have tried OBS or Frap to make Firefox screen recording but give up for the difficulty or inconvenience of operation. Here we list 5 best screen recorders with easy operation and diverse features for Firefox users. Let's take a look at these best screen recorders and Firefox extensions to record your Firefox screen capture.
1. Best Firefox Screen Recorder for computer user: RecMaster
OS: Windows 7/8/8.1/10; MacOS X 10.11 or above
The most recommended method to record screen of Firefox is to use RecMaster, which is competent for contents capture happening on Firefox browser. As a screen recorder for Firefox, it is available to record a window tab or a small region of Firefox browser. Moreover, you can employ RecMaster to screencast Firefox movements with sound or webcam. Besides, additional functions such as bundled editor, scheduled recording tool and annotation are here to make your recordings pro-looking.

In one word, RecMaster is a lightweight and professional screen recorder either for the low-end PC capture or high-end ones. Download below for trial.
Key features:
● A trustable Firefox screen recorder with flexible settings.
● Additional functions to enrich your recording process.
● Simple and intuitive user interface.
2. Convenient Firefox Screen Capture Add-on: Awesome Screenshot
OS: Connected internet and available Firefox browser
Similar to Chrome extension screen recorder, Awesome Screenshot is a free screen recording application that allows you to capture the browser screen as a Firefox plug-in. Equipped with screenshot as well as screen recording function, it's convenient for you to snap screenshot of any present on the screen in the browser or capture desktop screen in 720p/1080p. Compared with screen recording function, this add-on advantages more in screenshots-taking like blur, crop and add shapes on the images. Additionally, it allows you to share screenshots directly to social media platforms such as Twitter, Facebook and so on. If you prefer a simple screen recorder with versatile screenshots effects, Awesome Screenshot is the right one for you.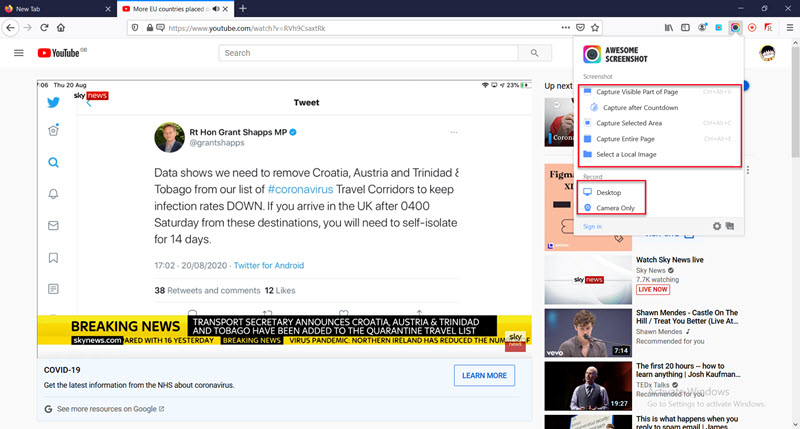 Key features:
● Able to take screenshots and record Firefox browser screen.
● Firefox browser extension: No need to download locally.
● Rich options for screenshots capture.
3. Easy Online Screen Recorder: Screencast-O-Matic
OS: Available on Chromebook, Windows and Mac
Screencast-o-matic is the preference for many Firefox users requiring online screen recording. With a launcher, you can free record Firefox browser content in full screen or active window. Screen, Webcam or both are three feasible solutions offered for screencasting. You can customize the recording size and recording resolution between 720p and 480p. For the trial version, you are limited to record within 15 minutes with real-time narration. To enjoy further functions like internal sound recording, editor to polish video and unlimited recording time, you need to purchase to become a premium member. If you don't mind the functional limits, you can give it a try.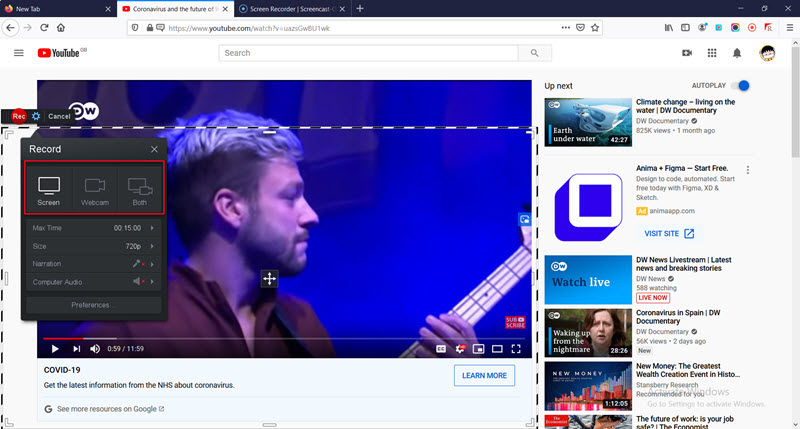 Key features:
● Record Firefox contents online.
● Lightweight screen recorder with three recording solutions.
● Relatively personalized setting options.
Guide: Screencast-O-Matic Tutorial 2020 [Detailed Features and Operations]
4. Built-in Screen Recorder for Windows 10: Game Bar
OS: Windows 10
If you're lucky enough to embrace a computer running Windows 10 system, it's no need for you to look around to find out a Firefox screen recorder. Windows 10 Game Bar is a good browser recorder adaptable to Firefox. As a bundled screen recorder, it can not only keep gameplay footage but also browser activities. Furthermore, this app will enable you to select your video quality, audio of your Firefox screen recording. However, Game Bar also has its own rules. Game Bar only works within a single app and browser and doesn't accept the whole desktop or file explorer. Moreover, the maximum video recording length is 4 hours. Generally speaking, it's really a handy and convenient benefit to enjoy.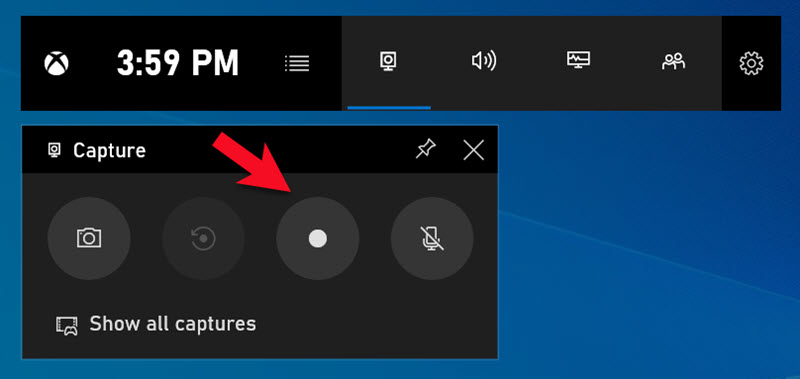 Key features:
● Available for browser as well as application recording.
● Default choice for Windows 10 user to launch screen recording.
● Easy to use
5. Bundled Screen Recorder for Mac: QuickTime Player
OS: Mac computer
When it comes to screen record on Mac, the first name jumps into your mind must be QuickTime. As the default choice for Apple devices, it saves the problem for Mac users to find out an easy screen recorder for Firefox. As a Firefox screen capture method, it allows you to record displayed screen with an HD quality video. This application is ideal for recording games, live streaming videos, tutorials and more. Moreover, it holds an option to edit your recorded screen video like trimming. One pity is that you need to download a sound extension in cooperation to capture internal audio. Despite this shortcoming, it's a good Firefox screen recorder that deserves a try.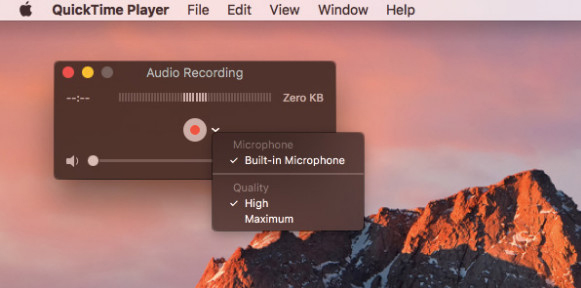 Key features:
● Record displayed screen of Firefox with HD quality.
● Available for all the Mac users.
● Competent for particular and whole screen capture.
Final word
Here we list five Firefox screen recorders to meet your different recording needs. Before making up your mind, ask yourself which factors you care most: Is the budget for screen recorder? Do you like a basic recording tool or professional one? Are additional functions important for you? If you still feel puzzled, you're suggested to directly choose RecMaster for its moderate price and versatile features.