There are lots of reasons to make screen video: create training videos for new employees, save valuable moments of your gameplay, produce new software demo videos and make presentation recordings with narration. To make a video of your screen, you need to make sure your computer preloaded a screen recorder either the built-in one or a third-party. Now we're going to discuss about how to get screen record on your computer.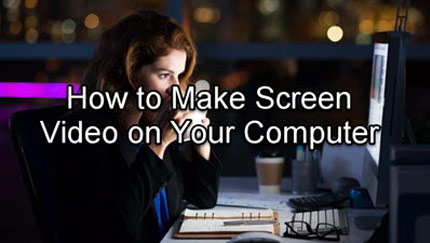 To get screen record, the prerequisite is to employ a professional screen recorder. Maybe your computer already preset one with function limits like unable to capture internal audio, fixed video format and limited compatibility, which will cause inconvenience during recording. No worries. Here we would like to recommend a comprehensive and user-friendly screen recorder called RecMaster which enables you to make screen video without limits.
RecMaster is suitable to get screen video either the full screen video or a particular area one with a few clicks. No matter what content displayed on your computer screen, RecMaster makes it easy to capture with high quality. Screencast of gameplay LoL, meeting recordings of Zoom and saving online course of Udemy are all available by using RecMaster on Windows or Mac.
Now let's talk about how to get screen record with RecMaster.
How to make screen video with RecMaster
Instead of directly moving to the point, let's preview some jargons that will influence your video quality in screen recording.
● Frame rate: Frame rate (always expressed as frame per second or FPS) is the frequency at which consecutive image called frame appear on display. Generally 24 fps is enough to produce a breeze video.
● Resolution: The resolution of your screen determines the number of distinct pixels in each dimension. It is always quoted as width × height and the common resolution sizes are 1280 × 720(720p) and 1920 × 1080(1080p). Keep in mind that a proper resolution is the prerequisite to produce a high quality video.
● File format: A video file format is for storing the digital video data on your computer. The universal video formats are: MP4, MOV, AVI, FLV, WMV…
These related parameters will determine the quality of your screen video so you need to consider before recording. Now let's come back to the point on how to make screen video.
Step 1: Firstly you need to launch this software
Freely download and follow the guidance to complete installation.
Step 2: Choose the suitable recording mode
RecMaster provides four or five recording modes depending on your operating system. Game mode is the unique mode for Windows user and the rest four modes: Full screen, Custom area, Audio only and Webcam are the common modes between Windows and Mac users. You can choose the suitable one according to your actual demand.

Step 3: Change involved parameter
It permits you to combine the parameter in different recording modes. File quality, frame rate and format can be decided according to your need. You can insert audio into the screen video record coming from your computer or microphone.

Step 4: Additional functions
RecMaster offers many additional functions aiming at different situations. Here we will introduce one by one.
● Task schedule: It's designed to carry out any scheduled screen recording. You just need to preset recording duration and it will start automatically. This releases you from sitting along the computer all the time.
● Annotation: It's a good tool to mark up by adding lines, text and arrows which is necessary for tutorial and how-to videos.
● Mouse cursor: You can employ this function if you want to show mouse tracks, movements and sound. This is also useful in how-to videos.
Step 5: Start and end recording
Click REC button to make screen video. If you expect to manually end the recording, you'd better press Stop or use the keyboard combination Alt+2.
Step 6: Edit and share
RecMaster embeds a built-in editor for basicediting like cut, merge and rename. Then you can share your video with friends or upload to social media.
Final Words
Make screen video will be easier with RecMaster. Come and use this method to simplify your screen recording.