As the largest video-portal-website in the world, YouTube has provided viewers with colorful video resources, which contain content ranging from music, games to food topics.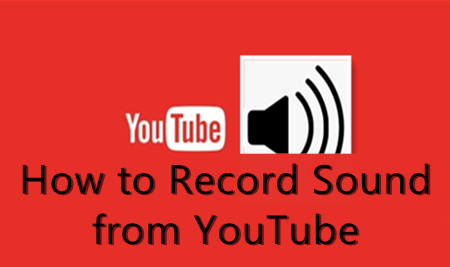 There are times when you find the BGMs of YouTube videos are so touching and the narration of a YouTuber is so inspiring that you have to save them for offline watching. Some YouTube converter or downloader could work but be careful with the spam or malware. Another more reliable way to get an audio copy of a YouTube video is by leveraging a professional screen recorder. This passage will give out detailed steps teaching you guys how to record sound from YouTube. The mechanism of this approach is simple – the recorder captures YouTube videos and using its Audio-Only Mode to save the footage as sheer MP3 format.
Can QuickTime/Xbox Game Bar Record Sound from YouTube?
Firstly let's check how Windows and Mac's default recorders perform on recording YouTube MP3.
• QuickTime
A lot of users use QuickTime Player to do screen recording. But if you do Webinar interview tutorial type of video and if you want to capture the sound coming from your PC, the default settings of QuickTime Player does not do that. The solution comes to some changes to QuickTime Player for capturing system sound.
(According to the default settings of QuickTime, the input option only allows you to record a microphone from your PC that means if you want to play something in your PC, the recording just won't capture that.)
The solution is a little bit complicated but rather effective.
There are a lot of tutorials for downloading Soundflower as a supplement for QuickTime. You can go Google them if you care to.
• Xbox Game Bar
Xbox Game Bar is the default screen recorder for Windows 10, basically, users use this recorder to capture gameplay and you might be disappointed using this tool to record sound from YouTube since there is no option to record only sounds.
For your good experience of capturing the right audio file from YouTube, it is a professional screen recorder that you need.
How to Record Sound from YouTube on Windows and macOS?
RecMaster delivers stable performance in recording YouTube videos including streaming videos, game videos, and YouTube music . RecMaster's Audio-Only Mode saves sounds from YouTube and deletes the images. The produced audio files are in good quality and with ignorable staggering. However, for Mac users, RecMaster temporarily does not bear the Audio-Only Mode on its Mac version so if we are sorry about that and you can still use a QuickTime plus Soundflower as mentioned above.
1. Download RecMaster and choose the right version according to your operating systems.
2. In the main interface, you should select "Audio-Only".
Don't forget to tweak the settings, especially you need to turn on "System sound" and fine-tune its volume to a proper level. Microphone sounds are suggested to turn off in case you capture unwanted noises. Do pay attention to your footage formats, choose MP3 or WAV on Windows, and M4A or CAF for Mac.

3. Navigate to YouTube to play the target video or music and Start recording.
4. Pause or continue recording when the timing is right. When the recording is about to finish, you should hit the "Stop" button to end recording. The audio file is saved automatically to your hard discs and you can find the audio file in the Recording List.
Precautions:
On the copyright front, you should ensure all of your downloading, converting, and recording actions with YouTube recorder or so are taken for your own personal, non-profit, and offline use. If not, you will probably get in trouble.
Writer's Words
YouTube sound recorder – RecMaster makes the task – capturing audios from YouTube not hard work anymore. Unlike the common methods – mp3 converter or mp3 downloader that people may come up with at the first thought, RecMaster is an all-in-one solution and bears the most reliable performance for users to record sound from YouTube. The best part of it is that users could choose fragments of videos instead of downloading the whole video down thus to convert as MP3 format. RecMaster is so energy-saving and not time-consuming at all.