As the largest video-portal-website on the Internet, YouTube keeps on providing its viewers with colorful resources. The content on this website is variable viewers can easily find the videos conform to their inclinations. This trend nurtures a bunch of YouTube recorders/downloaders/converters that help users to save YouTube videos to their PC/Smartphone with a breeze.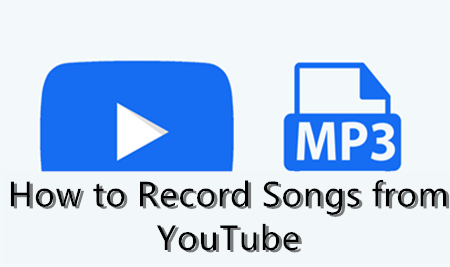 If you are one of those common music video viewers and want to record songs from YouTube for more flexible playback, say in a totally offline or poor-Internet environment, on portable iPod, music/MP3 players, and so forth, you can obtain several methods in handy from this post.
Record Songs from YouTube – Use RecMaster to Capture Music Videos
RecMaster is good at recording YouTube streaming videos, be they live streams or ordinary videos.
Being bundled with no spam or virus, RecMaster is born with strong features to cater to any potential screen recording needs, including recording gaming videos, recording music from YouTube, and any content you can imagine.
With the help of RecMaster, you are availed to save any YouTube videos in MP4, FLV, AVI (MOV, M4V) or save them as sheer audio files with the format MP3, WAV (CAF, M4A).
Let's see the specific steps for producing your own YouTube music videos or audio files with RecMaster.
• Record Songs from YouTube and Save Them as MP4 files
a. Download and Install RecMaster
b. Open RecMaster and select Custom-Area Mode (Or Full-Screen Mode according to your need).

c. Finish all the settings including Video Format (mp4, avi, flv), Video Quality (high, standard, original), Frame Rate (recording at 60 FPS is recommended), and settings for audio options (turn off the webcam and turn on system sound for better-capturing audios from YouTube).

d. Control your recording process by operating on the floating bar. You can pause, re-start, stop recording through this floating bar, and most importantly, add annotations to your footage.
e. Stop recording and your footages will be automatically stored on your hard discs. You can also go to Recording List for replaying or editing.
• Record Songs from YouTube and Save Them as Sheer Audio Files
RecMaster's Audio-Only Mode is extremely friendly for recording YouTube audios. Recording with this mode, users are able to produce sheer audio files.
Let's see the specific steps of the process.
a. Open RecMaster, Choose Audio-Only Mode.

Audio-Only Mode, as its name suggests, captures only sounds.
Tips: During the process of recording, RecMaster captures every system sounds from your PC. Make sure you mute all the unnecessary sounds before you officially record your screen.
b. Enter the setting panel of Audio-Only Mode.

You can now see the options for 'audio format'.
Choose your target format (MP3)> turn on system sound > disable microphone sounds > Play your YouTube video in advance and hit REC to start recording.
c. Stop recording and you get an MP3 format file of your chosen YouTube video. You can check this file out at the Recording List.
Now it's time to play the MP3 with the help of your media player. Here I use the windows media player. And everything goes on well, I get a crisp, high-quality MP3 copy of the video 'The Scientist'.
Sometimes users need to download YouTube songs' MV without the audios. Well, this is also accessible to RecMaster.
Now let's walk through easy instructions about how to record YouTube videos without audio.
a. Free download RecMaster and set it up on your desktop or laptop machine. Then launch it to standby.
b. Open the video you want to download, configure the playback settings e.g. resolution, subtitles/cc, and speed.
c. Go back to RecMaster to choose either Full Screen or Custom Area first
Then set the recording format, quality, fps (if it's necessary), webcam (suggested to disable), system sound (disable), and microphone (disable) for your upcoming capture.
d. When everything is done, click REC on RecMaster or simply press shortcuts to make the capture happen. You can go back to a YouTube video and play it from the very start during the 3-second countdown.
Writer's Words
It's easy to record songs from YouTube. No matter you want to capture an intact music video or you want your videos to be a sheer audio file, RecMaster avails you to achieve the goals.