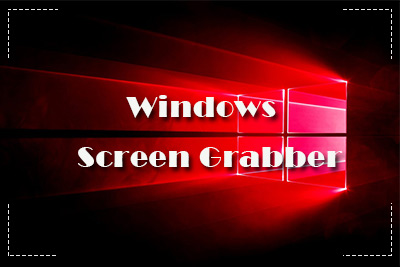 Microsoft Windows is home to a series of several proprietary graphical operating system families, all of which are developed by Microsoft. Microsoft Windows came to dominate the world's personal computer market with over 90% market share. The number 90% was then split by Windows 7 and Windows 10 and they prove to be the most popular systems that enjoy the biggest user base around the world in the meantime.
Windows 7 hasn't seen any traces of default Windows screen grabbers while Windows 10 does. Xbox Game Bar is an outstanding video grabber on Windows 10 which could grab both screenshot and screencast with sounds. However, Game Bar is not qualified as professional screen grabber yet. It falls short in facets of full screen recording, footage editing and webcam recording.
Today we will go through some illustrations and eventually help you find out the most convenient screen grabber for Windows.
Table content:
RecMaster – A Screen Grabber for All Mainstream Windows Versions
Steps Recorder – The Grabbing Program for Windows 7
Game Bar – the Totally Free Screen Grabber for Windows 10
● RecMaster – A Windows Screen Grabber for All Mainstream Windows Versions
Suiting for Windows 7, 8, 8.1, 10, RecMaster manages to grab videos at 60 FPS and deliver crisp HD quality for users. Compared with Xbox Game Bar which is powerful enough on Windows 10, RecMaster surpasses it by dint of more useful features and stable performance.

Let me Exemplify Movies & TV at Windows 10 to show you how to record videos with RecMaster.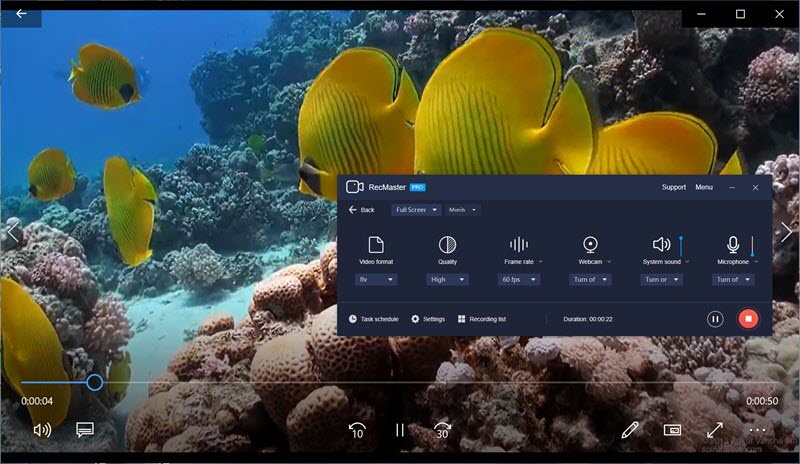 1. Double-click RecMaster and hit full screen mode to enter its setting interface (or choose custom area to fitting your active video window).

2. Click REC to start recording.
3. Find the floating bar and feel free to add annotations to wherever you like.

4. Stop recording.
5. Check out your footage at Recording list where you can playback, edit and export your video.
RecMaster is a professional Windows screen grabber that offers optimum recording modes that manages to grab streaming videos or audios playing on Windows 10's media – Movies & TV. Been designed with uncluttered interfaces and simple procedures, RecMaster is not a penny worse than Xbox Game Bar. ALL in all, if the download and installation are not concerns for you, RecMaster better suits your demands.
● Step Recorder – The Grabbing Program for Windows 7
Windows7 has a screen grabber which is scarcely known among users.
Frankly speaking, this very windows screen grabber is not qualified enough as a "screen grabber", it can't record videos on WMP or capture webpage, it is literally a program serves to reflect feedback of problems.
Steps:
1. Open up Start Menu, Type "problem step" and then appear the option – "Record steps to reproduce a problem". Double click it.

2. Hit "Start Record" and the program is about to capture any motions happening on the screen.
3. Stop recording, name what's been created and save it to local folder. You will find the file is in "zip format". Simply unzip it and open it, a webpage will jump out telling you what's been captured.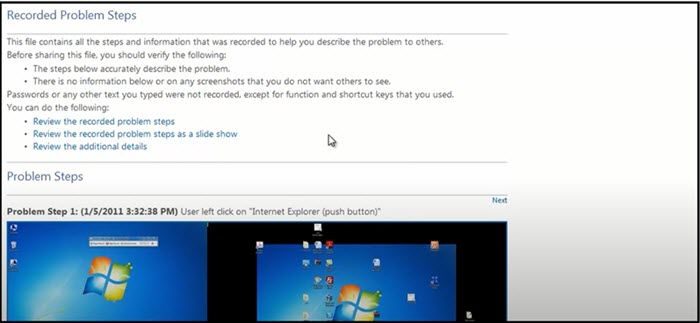 This approach is smack of tricky. Yet leveraging such program on Windows 7 to make screenshots is, however, innovative.
Pitifully there is no such smart way to grab videos or audios on windows7 though. If users sometimes are caught in dilemma and feel confused about screen grabbing, professional grabbers like RecMaster will always shed light on them.
● Game Bar – the Totally Free Screen Grabber for Windows 10
Game Bar was born in version 17763.0 Windows 10, since then it starts to bring convenience to users on screen grabbing. Once users' systems are Windows 10 v17763 or higher, they are availed to make screencast and screenshots with Game Bar. As the most powerful and default Windows screen grabber, Game Bar gradually becomes the right choice for Windows users.
Grab screencast with audio:
1. Press Windowsand G to activate Xbox Game bar.

2. If this is your first time using Xbox Game Bar, a prompt window will pop out telling you that you can't record unless you open on certain game. Ignore the warning by clicking Yes, this is a gamethen the recorder is available.
3. Before recording, users need to set up their audio sources by clicking the Horn. Thus to turn on or turn off system sound or microphone sound. Then Click the Recordicon to start recording with the Windows 10 Movies & TV player.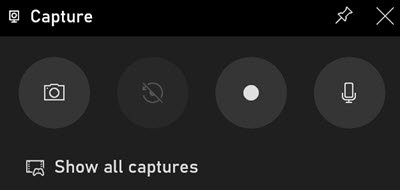 4. Press Windows and G to call up Game bar again. Click the Stop icon to end up Windows Media Player recording.
5. Click gallery to check your footage. Xbox game bar wasn't embedded with edit feature there is no further workflow here.
Grab screenshots:
Press Win + G to call out Game Bar's control bar. The circled button represents screenshot feature. Hit the button and Game Bar captures what's currently happening on your desktop and don't worry all the interfaces of Game Bar will be invisible. What's more, users could directly make screenshots by press Win + Prtscr.
Ending
This passage makes comparison between 3 distinctive Windows screen grabbers. And briefly speaking, Windows 7 nearly has no excellent built-in screen grabber to speak of except one grabbing program. Windows 10 is endowed with Xbox Game Bar which is powerful enough for normal Windows users to deal with demands over screen grabbing. For senior users however, Game Bar lacks some of the features that they think highly of – features of editing and webcam recording. At this time a third-party screen grabber RecMaster shows up as a last resort and brings them with convenience. RecMaster mends up major drawbacks of Game Bar, and feature of taking screenshots will be added up soon.