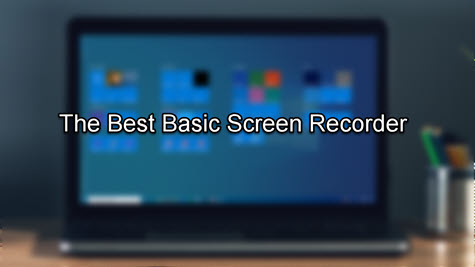 Screen recorder has become an important tool to deal with onscreen activities recording demands with high efficiency. No matter as a green-hand or pro, you may more or less meet recording needs as below:
What should I do to keep the online Zoom meeting records for the absent?
How can I demonstrate the software problem to the professionals in videos?
How to download YouTube videos as MP4/MP3 for offline watching?
How to produce tutorial or gameplay videos for sharing?
With a basic screen recorder, all the problems can be fixed effortlessly.
However, finding out a proper simple screen recorder is head-scratching for the inexperienced. First of all, there are unlimited screen recorders in the marketplace embracing different features. Secondly, as a newbie, you're likely to download screen recorder along with malicious extra software which may take a toll on your computer performance. Lastly, a large quantity of screen recorders require one up to snuff computer to conduct screen recording task. Last but not the least, you may don't know what factor to focus on when choosing a screen recorder.
Considering these aspects we write this post telling the best basic screen recorder and listing necessary points needed consideration when picking out the suitable one for you.
Basic Screen Recorder for Mac and Windows – RecMaster
RecMaster is our recommendation to perform any onscreen recording in the easiest solution. As a basic screen recorder for Windows and Mac user, it imposes several recording modes to suit versatile needs. Besides, it allows you to customize an array of settings directly through one-click operation. Additionally, it performs recording projects in one click workaround and provides the most cost-effective service for you. Now let's begin to see what can RecMaster work for you.
What can you do with the basic screen recorder – RecMaster?
As we mentioned above, RecMaster is compatible with multiple recording situations for desktop users. Therefore, we are going to make a brief list of some widely used situations.
1. It can be used to capture what's happening on your screen in full screen or any specific area in video form. (eg: all the online activities like meeting, course, streaming video, computer screen movements and a designated window display)
2. It can also act as an audio recorder to record sound from computer or generating by your microphone. (eg: online music capture, extract audio from video and merely produce narration file)
3. It's able to record screen with webcam or directly grab content from your camera to produce videos. (eg: tutorial/ course produce, self-narration video and distinguishable YouTube videos)
4. It comes with many advanced tools to help your screen recording process including in-built editor (for post-recording adjustment), mouse cursor (focus viewer's attention on your mouse), annotation tool (greatly used in course, tutorial and other descriptive videos) and task schedule function (automatically carry out screencast in designated time).
5. You can directly share recorded files to YouTube and Google Drive. Besides, you can send videos to anyone in format as MP4/WAV/FLV (Windows) or MP4/M4V/MOV (Mac).
How to perform screen recording steps with RecMaster
Based on the general understanding of RecMaster, let's see how to use it for screen capturing.
Step 1: Please download the installation package from the official website and test all involved device states in advance.
Step 2: Choose one recording mode according to your actual requirement. If you're planning to capture onscreen videos, you can select between Full screen and Custom area options. As for pure audio capture, Audio Only is the best bet to instruct any audio track recording. Similarly, Webcam is the our suggestion if you want to generate videos from your camera.

Step 3: Now it's time to customize your settings for the upcoming recording procedure. Make configuration on video format (MP4/AVI/FLV), video frame rate (0-60 fps), video quality (original/standard/high) and audio source (microphone/system sound) as well as webcam capture options. Another tools like mouse cursor can also be designated in the Settings interface.

Step 4: Press REC to start the project. In case you need to take annotation during screen recording, the annotation tool appears along with the floating timer panel on the top of your screen.
Step 5: RecMaster will terminate the clip recording as soon as you tab the Stop button. After that you can either edit the file or directly share the videos with your friends.
Factors Needed to Take into Consideration When Selecting a Screen Recorder
1. Make up your mind that what type of screen recorder is your preference.
There are tons of screen recorders aiming for different users. Are you going to choose a free one or a paid choice? Do you prefer a desktop screen recorder or some online options? Do you like an open source screen recorder or third-party software or the built-in tool? Make clear on your thoughts can narrow down the searching area.
2. Know what function you mostly care about.
Do you need an all-in-one screen recorder or merely screencasting tool? Do you require high flexible controls over recording settings or want one only providing fixed choice? These aspects can help you know what you really need to care when you begin to choose a screen recorder.
3. Download the software from the official website.
This is very important but simultaneously you're likely to ignore. No matter what screen recorder you choose, always download it from the official website is the guarantee of safety.
Conclusion
This post focuses on the best basic screen recorder RecMaster for Windows and Mac users. If you exactly need one, you can download RecMaster and begin your pleasant recording journey with this tool.