Wondering to select a screen recorder to capture video footage from your screen? Finding a suitable screen recording may be overwhelming since there are tons of options available in many shapes and sizes. To choose a screen recorder, you should look at several important factors and consider them each individually.
Factors to Consider When Selecting A Screen Recorder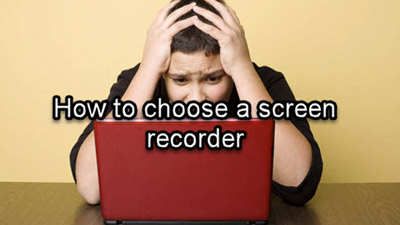 ● Ease of use
The first important thing to consider when you select a screen recorder is the user experience and learning carve for you to be proficient with it. Some intuitive and polished ones frequently have user-friendly interface, making it easy to record videos. While some technically-oriented screen recorders are normally difficult to use due to advanced yet complicated operations.
In this case you can gauge the user experience by doing some research through tutorial videos, software reviews, free trial version and customer feedbacks so that you can have a general idea about the real user experience.
● Supported export formats
The range of export formats supported by screen recorder is a considerable factor as it may play a part in how you can use your videos. Some free screen recorders give your no privilege to change and select the export formats like Screenrec supporting video format only in mp4. Although some screen recorders support exported format selection, the choices of each screen recorder are different form similar product. So if you require that your videos to be exported in a particular format like avi, mkv, flv you need to look for it because the transcoding process will affect the video quality along with complicated operation.
● Control over the recording parameter
Most free screen recorders limit your control over recording parameter like frame rate, audio sources, recording area and so on. A good screen recorder needs to give you more flexibility and personalized options to make your recording more convenient. For example, you can record screen video with 24 fps for common recording request while for high-paced gameplay capture you need to change the framerate to 60 fps or more. Changeable recording area will also assist your recording. Additionally, changeable recording area will also assist your recording. If you want something more versatile, you should look for one that provides you with more control.
● Editing tools
There are three situations with screen recorders about editing tools: no editing features, a handful features and full-fledged editing features. Even if you don't need a full video editor, a basic editor which allows you to trim and cut unwanted part off video comes in handy. As for mature editing features, it can offer you video templates, video polish and transitions. If the editing function is useless for you, you can select with ease. >> 3 All-in-one Screen Recorder and Editor
● Budget
Money is the related factor needed to consider and you need to decide how much you are willing to pay. The features of screen recorders vary along with the price since different types screen recorders aim at different orientations. On one hand, some free screen recorders are always budget-saving but they always have format limits, poor performance and no built-in editor. On the other hand, professional and high-end screen recorders usually cost a lot yet with versatile features like Camstia 2020 costing $249 for lifetime with powerful editing function. However, you need to note that the most expensive option is not necessarily the best option for you.
● High quality customer support
The responsive and efficient customer support is necessary when you need help. A mature and stable screen recorder company always offers extensive custom support services including product FAQ, forums, technical support and more which is lacking in some open source applications.  Always remember that a good after-sale service guarantees pleasant recording experience.
A Comprehensive Screen Recorder – RecMaster
Be carefully considering each of these factors, you should be able to choose a screen recorder that lets you to capture your screen as you desired way. For example, you can start by looking at RecMaster. Here you can download the free version for trial.
RecMaster as one of the best screen recorders embeds multiple useful functions. Embraced with all the listed features, it adapts to a mass of recording needs including gameplay footage capture, online course recording, live streaming saving, online meeting capture and more. No matter you're a fresh-hand or a pro, RecMaster assists your screen recording project with the easiest solution.

Key features of RecMaster:
Multiple recording modes including Full screen, Custom area, Audio only, Webcam and Game Mode to satisfy your needs in particular situation.
Simple and uncluttered UI to erase your learning carve: easy to get started with clear mode classification.
Flexible parameter involving frame rate, quality, audio source, quality and storage path to enrich your screen recordings.
Additional functions like task schedule to start your automatic recording and mouse effect to highlight key points.
Annotation function to create video with productivity by drawing lines, adding text and using brush.
Useful and built-in editor to trim or cut your recorded file in a few clicks.
Moderate charge with rewarding service: purchase 1 year license with 1 PC in $19.95/ lifetime license with 2 PC in $29.95.
Instant and helpful service to clear out all your confusions.
Final Word
A good place to start is to download and use the trial version of the software because seeing is believing. If you want to choose screen recorders by yourself, you can select the one according to the listed factors.
See Also:
8 Best Screen Recorders for Windows in 2020 [Free & Paid]
Top 11 Game Recorder to Capture Game Footage on Windows
Desktop Screen Recorder App vs. Browser Extension, Who's Better?