No need to employ a pricey and professional PC monitoring software, you can record screen or webcam video in background on your computer easily with background screen recorder…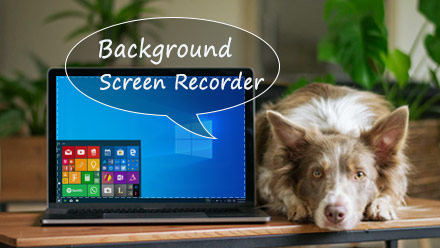 People usually make screencast out of certain desktop activities for documentation, local storage, or post-production purpose. But there are still some who want to initiate an auto recording in background with the system startup, any account login or at a specific time for the sake of monitoring and surveillance. The cases may be:
– You are out for work and want to keep a recording of your children's PC to see what he/she has done with it, whether he/she utilizes the machine for learning or so;
– You get away from your laptop with secret files maybe, and want to ensure no one has opened the computer up or found your hidden stuff;
– Your notebook is taken as a public tool, you simply would like to shoot what's been done here;
– Also similarly, with the permission of your student, college or employee, you plan to capture their on-screen behaviors or even webcam face in the background to analyze or so…
There are piles of pro-level employee monitoring software for PC to help you keep an eye on their movements, preventing any crucial data being misused or revealed and also ensuring a high productivity at the same time. However, if you take the  background screen recording for personal usage only from time to time, it's a waste of money and talent to hire such a "high-end" program. Here several common and proficient screen recorders are shared here to help you carry out the background video capture with ease.
● RecMaster – a super easy desktop screen recorder for both Windows and Mac that's capable of doing auto background (screen or/and webcam) video recording once you preset for it.
● Game Bar – an in-app of Windows 10 system which is able to record monitor in background with only "Win + G + R" shortcuts.
● OBS Studio – an open source screen recorder who's designed with diversified capture options so that you can record either desktop or any other app in background. But like Game Bar, it still needs you to manual start the recording.
How to User Background Screen Recorder to Record Without Anyone Noticing It?
RecMaster, thanks to its auto-start functionality, is our recommendation here for background screencast.
Firstly, it has multiple screen recording modes – Full Screen, Webcam, Custom Area, Game Mode, Audio Only, each of which is available to choose for background recording.
Then specifically you are empowered to automatically record the whole desktop (with front camera alongside or not), capture a certain region, the front camera only, or just the audio coming from system and mic when the computer is turned on or at any certain time.
At last, unlike online screen recorders that usually save the captured file in the cloud space, RecMaster screen recording app only outputs file to local hard disk. That's 100% secure without any data leakage possibilities.
NOW you can free download this piece of software and then walk through how it works.
Step 1 – Launch RecMaster
After completing the installation in clicks, open up RecMaster and click either appropriate button to enter into the secondary window.

Step 2 – Set for background recording
On the main window, you can see several capture options which are all available to adjust as you like.

☛ SETTINGS FOR FULL SCREEN BACKGROUN RECORDING WHEN PC IS LIGHTNED UP
Then it comes the key part: click to pop up the Settings panel -> navigate to Auto-start and make sure the "Launch program at Windows startup" and "Start recording once program loads (Full Screen Mode)" options are ticked. Right below they two, video duration is set as 3 hours by default. You can adjust it to a larger number in case it's not enough.

☛ SETTINGS FOR SCHEDULED RECORDING AT FULL SCREEN, WEBCAM ETC.
For those who require an automatic recording at a fixed time rather than the system startup, RecMaster gives the solution, too. With "Launch program at Windows startup" being checked and "Start recording once program loads (Full Screen Mode)" unchecked under Settings -> Auto-start, back to the main window, you need to click Task schedule to access to the task creation and enabling dialog box, where you are totally free to make any recording at any time period.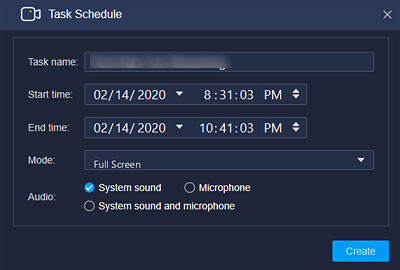 Note that for either type of background recording mentioned above, to ensure PC user won't notice the background recording, do disable the countdown under Settings -> General -> Countdown. Still, begin a recording at will to close the shortcut prompt window (if there is).
Step 3. Leave the software and wait for the background capture to start and end in the way you set. After that, you can view the clip from its saving folder or directly from the Recording list of RecMaster.
FAQs on Background Screen Recorder
Is it legal to produce such recording in background?
It depends. If you have earned the permission of the PC user in advance or you have the legal right to do so, it's legit. That's similar to recording online streaming from YouTube, Skype call, Zoom meeting and so forth. Without authorization of the content owner, video call attendee, or meeting host, you'd better not to do so.
Is the recording process visible to PC user?
Generally, if there's no obvious prompt or clue to the recording, the customer, especially those newbies, won't notice the capture. RecMaster does have a icon showing in the bottom toolbar. To weaken its sense of being, you can make it as one of the hidden icons. If you prefer one app that won't display on the desktop, you can google some an add it to the msconfig startup list.
How do I enable a background (app) capture even when I minimize it to task bar?
This is where screen recorder that's designed with ability to recognize and record any certain thing like an app, a browser URL/tab, and a video capture device. Among the best screen recorders for Windows and Mac, OBS is the one that delivers the most source types. With it, you can do whatever you like while capturing the YouTube content, twitch stream or any other things in the background.