RecMaster's new guide on how to screen record protected apps easily on your PC.
If you want to want to get a video from a site that doesn't offer a download button, you can try recording a video. But in the process, you may encounter a restricted application and then find that the video recording is just a black screen.
Don't worry! This article will show you 3 simple ways to get around the restrictions of these blocked and protected applications, that is record protected videos. Black screen problem usually occurs because the video contains sensitive information or an application that contains paid course content, or copyrighted material. Now let's learn how to screen record protected apps to bypass the restrictions.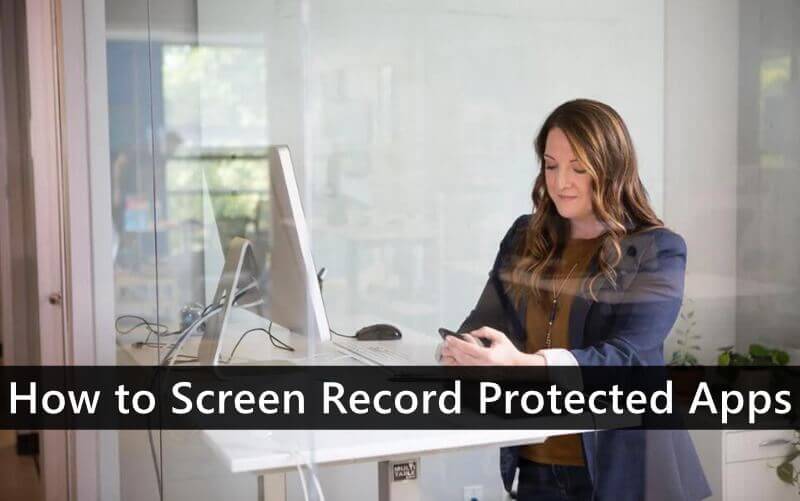 Table of Contents:
Way 1: Using the Screen-Sharing feature in Zoom
Way 2: Using screen recorder apps to screen record protected apps
Way 3: Install a restricted app on virtual space
Conclusion
Way 1: Using the Screen-Sharing feature in Zoom
Zoom is not only a popular online video conferencing platform. It also allows you to share your computer desktop or cell phone screen. You can share your entire screen or a portion of your screen to another device. In other words, you can record your screen on your mirror device. This will be very effective to bypass the protection of some programs.
If you are an iOS user, you can find the button named Share Content in the Zoom meeting control.
If you are an Android, Windows, Mac, or Linux user, this button is named Share Screen.
Once you have successfully cast the video onto another device. You can easily use any screen recorder to capture the video or take a screenshot.
Way 2: Using screen recorder apps to screen record protected apps
Aside from projecting video onto another device, there is actually an easy way to record protected apps. Also, pick a reliable screen recording software. Some system built-in screen recording tools or plug-ins are convenient. But they have limited features. And may not work when capturing some special programs.
Below we will recommend several popular and reliable screen recorders for you, both for computers and cell phones.
Desktop video recording software:
OBS: This is a free and open-source screen recording tool and also supports live streaming. It supports multiple operating systems but requires high computer performance. If you are a novice, you may need to spend some time learning it. Because it has a complicated main page and features.
RecMaster: It is a paid and affordable screen recorder and video editor. It has a simple interface and easy-to-use. This tool is cost-effective software that is suitable for both novice and professionals. RecMaster helps you to screen record the protected apps.
Bandicam: It is one of the most popular paid screen recorders.  You are allowed to record videos smoothly and easily. But this software does not support macOS. And it is more expensive than some other screen recorders on the market.
Screen recorder apps for Android:
AZ Screen Recorder: It is one of the most well-known Android screen recorder apps. AZ Screen Recorder offers a lot of customization and settings to record your phone screen. If you want to use some advanced features, you need to unlock them by paying for them.
Rec. (Screen Recorder): Rec. has a nice and simple user interface that helps you to record an hour of video or audio on your Android device. It also provides users with a countdown timer and enables you to screen record protected apps.
Super Screen Recorder: It is a completely free but powerful screen recorder for Android devices. This video recorder even has an annotation tool. It allows you to add real-time annotations.
Way 3: Install a restricted app on virtual space to screen record protected apps
In addition to the two simple methods we described above, another possible measure is to run protected programs in virtual space. This method is available for cell phone users.
First, you need to download and install DisableFlagSecure on your phone. Next, find and install the latest version of the Xposed Tai-Chi apk on your phone. This app allows you to run apk (android app file) as a plugin in virtual space, thus allowing operations such as screen recording.
After that, you need to open the Tai-Chi application. Select Manage Modules, and check the checkbox for DisableFlagSecurity. On the Tai-Chi menu, select Create Application and choose the application you wish to take screenshots or screen record protected apps.
When you have finished the previous steps, the Tai-Chi application will automatically uninstall the original application. You will find the word Ready to install next to the application. Just click on it and start the installation. After the installation is finished, you are allowed to launch the protected application. It's time to choose the best screen recorder to record videos.
Conclusion
Any of the above methods will be able to help you solve the problem. But we prefer you to choose a reliable recording tool, such as RecMaster. The other two methods are both feasible, but more complicated to operate. Now you can try to use the 3 simple ways to screen record protected apps.
Read more