RecMaster's new guide on how to use your smartphone as a webcam on your computer easily. 
With the advancement of technology, more and more people prefer to communicate online. Using video calls is more realistic and interactive than text communication. That's why almost all PC and Mac laptops have webcams that allow us to attend online video meetings easily or record different types of videos. 
If you encounter some unexpected situations, such as a broken webcam, having to use an old desktop computer without a built-in webcam, a blurry webcam, etc. 
Don't worry; your smartphone will help you solve these annoying problems. In this essential guide, we will show you several different methods on how to use your smartphone as a webcam and create high-quality with a screen recorder, including iPhone, iPad, and Android phones.
iOS: How to use your iPhone or iPad as a webcam?
iPhone has a high pixel count that helps you take clear photos or videos, so it's a good choice for use as a webcam. You can try the two apps below to connect your computer to your iPhone or iPad.
Way 1: Using EpocCam to turn your iPhone into a webcam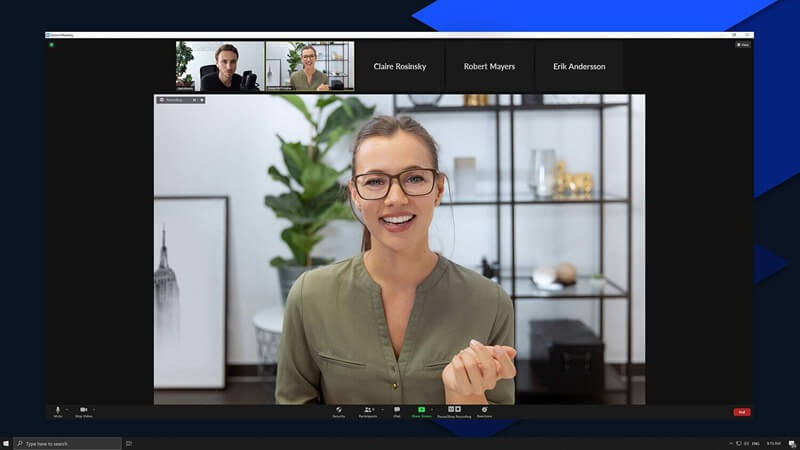 It is easy to use your smartphone as a webcam by using the EpocCam app. EpocCam is a reliable application that you can easily use whether your computer is Windows or macOS. If you need to connect your phone to your computer, you can choose between a WiFi connection or the help of a USB cable. 
All you need is to download the app on your iPhone or iPad and install the EpocCam driver on your PC. When the installation is successful, choose your preferred method to connect your devices, wired or wireless.
EpocCam also supports use in conjunction with other software such as Zoom, Microsoft Teams, and Google Meet. If you want to combine this app with screen recording software will be combined to record clear and smooth videos, it is also an easy task. 
Jump to know more about how to connect EpocCam to RecMaster, an easy-to-use and powerful screen recording software.
Note: you can use the free version of this product, but it will have a watermark icon appearing on the video. If you want to use advanced features such as full 1080p, manual focus, and pinch-to-zoom, you must pay for its full version.
Way 2: Using your smartphone as a webcam with WebCamera App
If the first product does not work for you, or your computer system does not support the installation. Then you can also find this application named WebCamera in the App Store. 
You can purchase the WebCamera app for just $4.99. When you download and launch the application on your computer and connect it to the iPhone of your choice via a WiFi connection, you can turn your smartphone camera into a webcam. You can also use it in almost all of the most popular online chatting platforms or Mac screen recorders.
Android: How to use your smartphone as a webcam?
If you are an Android user, you can easily turn your smartphone into a webcam. This will also help you make a professional and great presentation video or online course using a video recorder. 
You don't need to spend money on an external webcam to get a clear video. Continue reading the guide below, and we will show you two possible ways to do this.
Way 1: Using DroidCam to make your Android phone a webcam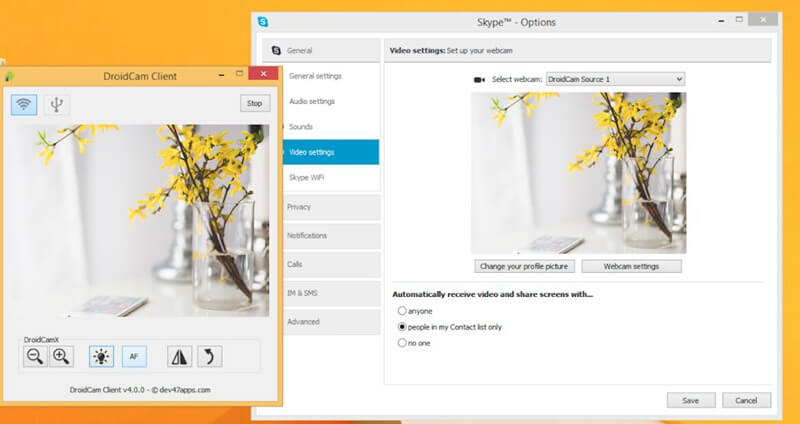 DroidCam helps turn your phone or tablet into a webcam for your PC. This is an entirely free app with no usage restrictions or watermarks. You can connect via WiFi or USB. 
We will show you how to use your Android phone as a webcam via a USB connection. 
First of all, you need to switch to the Developer Mode on your Android phone. You can go to the settings menu on your Android phone, and find the

Build Number

. By tapping on the

Build Number

, you will be able to enable the 

Developer Mode

 on your phone.

After that, you can download DroidCam on your Android phone and computer, respectively. Just go to the 

Google Play Store

, and you will get it. 

The next step is to connect your smartphone and PC. If you need to connect your Android device to your computer via a USB cable. Make sure the application is open on both your phone and computer, then click on the 

USB button

on your computer. You can start recording videos with the webcam when everything appears to be in order.
Way 2: Using your smartphone as a webcam via IP Webcam
You can turn your smartphone into a network camera with multiple viewing options using IP Webcam. 
IP webcams perform better than their competitors in a highly competitive market because it enables you to connect your computer and phone via WiFi easily. Here's how you can do this.
To use your smartphone as a webcam with IP Webcam APP, you have to connect both devices to 

the same WiFi network

.

Once you have done that, you can

 download

 and

 install

 the IP Webcam app on your Android device. Remember to turn off all other apps on your phone, close them all, and launch the IP webcam app. It will display a 

URL

 when you click on the "

Start Server

" feature in this app.

The next step is to enter the URL displayed on your phone screen into your 

Chrome

 or 

Firefox

 web browser on your computer. After opening this new web page, you can look for a video rendering drop-down menu and select the 

Browser

 option. Go to the 

Audio Render

 menu and click on the 

HTML wav feature

. In your web browser, click on the 

Record

 button once everything is ready to begin recording your video.
The end
Turning your smartphone into a webcam is simple as long as you have a reliable tool that can help you improve the quality of your recorded webcam videos. 
We shared four easy ways to use your smartphone as a webcam in this essential guide. You can pick one depending on your type of phone and budget. We hope this article will prove valuable to you whether you're a software engineer, online educator, or self-publisher. 
Combine these camera conversion tools with a screen recorder (for Windows & Mac), and you will have a fantastic experience.
Editor's recommendation
How to Record Online Courses for Udemy?
How to Make a TikTok Video on a Computer as a Beginner?