Want to change the Vimeo video format or convert the video into MP3? Read this post and you will know the method to record Vimeo videos.
How do you spend the unprecedented long-time vacation due to COVID-19? Are you addicted to watching TV series or enjoying the rare opportunity to stay with your family or just playing games all the day to kill the boring time? Well there are many entertainments you can choose, but a majority of people still trend to surf online to pass time.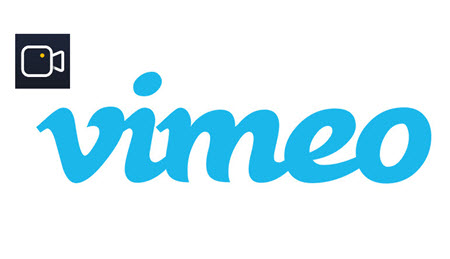 Vimeo is an ad-free video platform, providing video viewing services like the giant YouTube. With abundant video sources, you can release yourself from the high-pressure world by enjoying these videos. However, even without advertisement bothering you may still have bad experience in watching online video for the buffering problem. When you're fully involved in the plot, the image stuck resulted from unstable internet speed may be a disgusting thing to ruin your mood.
How to solve this problem? The first solution pops up in your mind must download the Vimeo video. To download a Vimeo video, click the Download button that appears below the video player. Once you click the menu, you will see links for several different versions of the video including a mobile, SD and HD file. But the following part will talk about how to record Vimeo videos.
Why you need to record Vimeo videos?
However, you can't always find the Download button in every video below even you get the right to download. Pro, Plus, Business and Premium members have the option to enable their videos for download, which means that if they toggle the Download button off, you are not accessible to download. Moreover, as a Basic member, you don't have the ability to permanently store or share your own source file on Vimeo.
Here we make a brief summary of the reasons to record Vimeo video. Firstly, the video format is limited. If you want to change the video format, recording video is the most effective solution. Secondly, if you prefer to extract audio or background music from the Vimeo video, you need to employ a voice recorder. Lastly, downloading Vimeo video may take longer time than recording it. Under these situations, recording Vimeo video is a wise method.
How to record Vimeo videos?
For Window 10 user, you can record Vimeo video with Game Bar. This tool only supports basic screen recording functions, if you need multi-function like annotation, audio extraction you'd better turn to an alternative. Here we recommend a Vimeo video recorder called RecMaster to you.
RecMaster offers versatile features that can fulfill nearly all your recording needs. As a video recorder, it helps record Netflix movie, Perisocpe video and other online videos. Whether you want to record the video in full screen or fixed area, you can all realize by using this tool. Moreover, it enables you to choose the video format as MP4, annotate the recording in real time and change the audio format. Once you've recorded the video, there is no limit to share and store the file on your computer.
● How to record Vimeo video with RecMaster
Step 1: Firstly, you need to preinstall the software on your computer.
Step 2: Full screen mode is suggested to capture Vimeo videos for better offline watching. It also has another multi-option of recording modes and you can choose the best one according to your demand.

Step 3: Here you can change the video format. Considering its popularity and compatibility, you'd better select the MP4 format. If you have extra demands, you can optionally change. You can also choose the audio input whether from your microphone or system sound.

Step 4: Now it's time to start. You can simply click the REC icon or use the HotKey Alt+1 to start the recording.
Step 5: To end the recording, you just need to press the Stop button. After recording, you can use the bundled editor to polish your video especially the beginning and ending part.
Now you're freely to share your Vimeo video.
● How to record scheduled Vimeo streaming with RecMaster
Sometimes you don't have enough time to sit behind the recording all the time or you have to miss the scheduled Vimeo streaming due to work. Don't worry, with the task schedule function, you can easily get a recorded Vimeo video.
Step 1: Download the application and complete the installation with the wizard.
Step 2: Select the recording mode. Full screen is the commonly used mode to capture Vimeo videos. You can also choose other video recording mode.

Step 3: Set the recording duration. Here you need to choose the beginning and ending time and then click the Create button.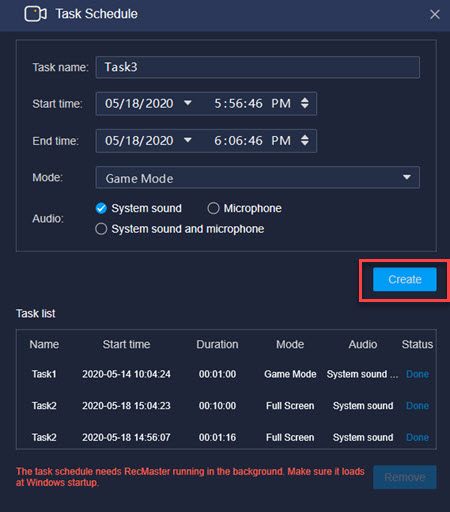 Now it will start automatically and finally you can get the desire video.
● How to convert Vimeo video into MP3 with RecMaster
It's unnecessary to download another video converter. With RecMaster, extracting audio from the Vimeo video is feasible.
Step 1: Open this preinstalled software and then choose the Audio only mode.

Step 2: Select the audio format as MP3 and then turn on the system sound. To capture your own voice, you need to toggle the microphone icon on as well.

Step 3: Play the target video and then use the Key board combination Alt+1 to start.
Step 4: When it's over, press Stop button.
Final word
Downloading Vimeo video doesn't go so well but with the screen recorder RecMaster, it becomes simple to save and store these videos. However, we would like you to capture Vimeo video with RecMaster in the legal way.