Summary: Not familiar with video recording on Windows 10? This article will list two practical methods for you to solve the problem on how to record videos on Windows 10.
Thanks to the development of technology, now we can easily know what is happening around us through internet. A short-form video can cover the whole content with vivid demonstration. We can't deny that videos have changed our lifestyle and play an indispensable role in our daily life especially amid the epidemic lockdown.
Nowadays we can send videos to express the blessings instead of being there. In the spare time, we can watch funny and relaxing videos to spend weekends rather than purely oversleep. In coronavirus pandemic duration, we can watch online videos to keep on studying instead of playing all day in the suspension.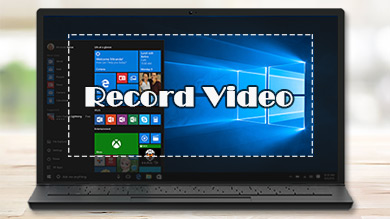 As a user of Windows 10, you may want to share or locally save these valuable and memorable videos. But you may be pampered by the problem on how to record videos on Windows 10. Don't worry anymore, after reading this post you will get the desired answer. Here we would like to give you two methods to record videos on Windows 10.
Method 1: Using the Built-in Feature – Game Bar to Record Videos.
It's easy to take screenshots on Windows 10. But as a newbie of this system, you may have difficulty in operating the built-in tool to record videos. Game Bar is a general-use program that can be used to screencast game videos or non-game videos. Meanwhile, users can freely choose to get a recorded video with voice narration or not. If you only need a screen recorder with basic recording features, choose Game Bar as your tool.
How to record videos on Windows 10 with Game Bar
1. Open the target window or program that you want to record.
2. Press Win icon + G keyboard combination and the hidden tool will pop up on the desktop.
3. Click Red button to start. A timer will appear at the top of the window when it's recording. You can turn on or off the microphone during recording.
4. When everything captured, click the Red button again to stop. Use Windows Key + Alt +R to start or stop as you like.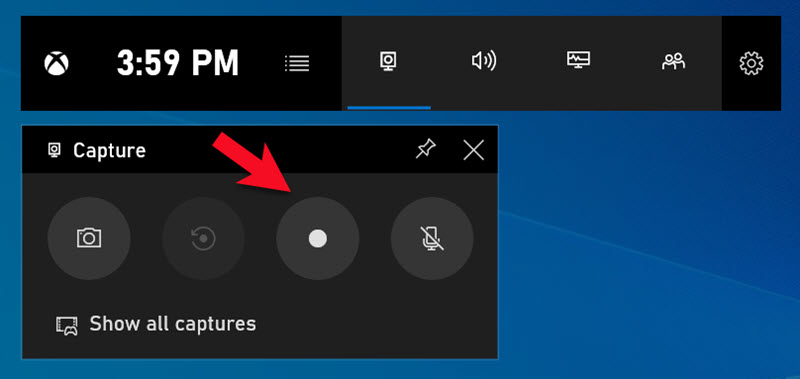 If you fail to launch Game bar on your PC, please check out how to fix Game bar not working problem.
Limits of Game Bar:
● Game Bar only features recording a windowed application, unable to full screen recording or file explorer capture.
● Unavailable for custom area recording.
● Less setting options and no editor.
● Videos with webcam are unavailable.
Related article: Game Bar for Windows 10- Everything you need to know
Method 2: Using Third-Party Application – RecMaster to Record Videos.
To make up the shortcomings of Game Bar, here we introduce an alternative called RecMaster to you. Equipped with mature capability and utility, RecMaster helps you capture any part of your screen with webcam and narration. Meanwhile, the video format, frame rate, and quality can be chosen with ease. At the same time, this application has an annotation function, which is indispensible especially for tutorial videos. By showing the track of mouse, you can clearly demonstrate the process of a new program to the viewer. On this condition you just need to preset the mouse effect and then the whole mouse path will be recorded.

How to record videos on Windows 10 with RecMaster
1. Download and follow the wizard to complete installation.
2. Choose a proper mode. Game Mode, Full Screen and Custom Area are three fundamental recording modes. If you need a video only with webcam or narration, simply select the Webcam and Audio Only.

3. More choices for settings. The video format is not only scheduled in MP4 and you can freely select among MP4/AVI/FLV with high quality. Entering the settings interface, you can change the video resolution, mouse effects and more.

4. Start by click REC button and during the process you can use the annotation function.
5. Press Stop to end. The Recording lists will instantly pop up where you can edit, rename and review the file.
Additional note: RecMaster also supports multi-screen monitor capture and scheduled automate screen recording at any time.
Key Features:
● Support video recording with face simultaneously.
● Full screen or a particular area of your screen can be captured.
● Diversiform modes and settings for you to select.
● Task schedule function comes for fixed time video recording.
● Built-in editor to cut and merge.
Final Words
This is a brief view on how to record video on Windows 10 and you must master the method to record videos. RecMaster, as one of the best screen recorders for Windows 10, applies in video recording including game, YouTube and other platforms. Try to record videos with RecMaster and it will never disappoint you.
Related article:
RecMaster vs Game Bar
How to record gameplay on Windows 10