There are lots of reasons to record your screen on PC. You might like to make videos for YouTube, compose an application tutorial for the newbie or create an online training for work. As a Windows 10 user, you can use the pre-installed app, Game Bar, to make screen activities including take screenshots, record screen and broadcast your game competitions without additional software.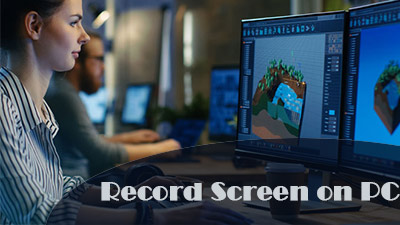 However, for the user of other Windows versions, you need to rely on some alternatives to complete recording. There are a plethora of screen recorders with different pros and cons in market. As a beginner, you may be troubled by the problem to find an easy yet professional screen recorder for your recording. It's a little time-consuming and troublesome. No worries! Here we will give the method that is capable for all the computer devices to record screen with one-click solution.
Part 1: How to Record Screen on Windows 10 with Game Bar
Part 2: How to Record Screen on Windows 10/8/7/XP with RecMaster
1. How to Record Screen on PC with Game Bar: Only for Windows 10
Firstly, you need to activate this tool. Press Win icon + G to evoke the hidden tool and open the window that you're going to record. To start recording you just need to click the Red button and during the recording you can turn on/off the microphone. Finally click the Red button again to stop or use Windows Key + Alt + R to begin or end.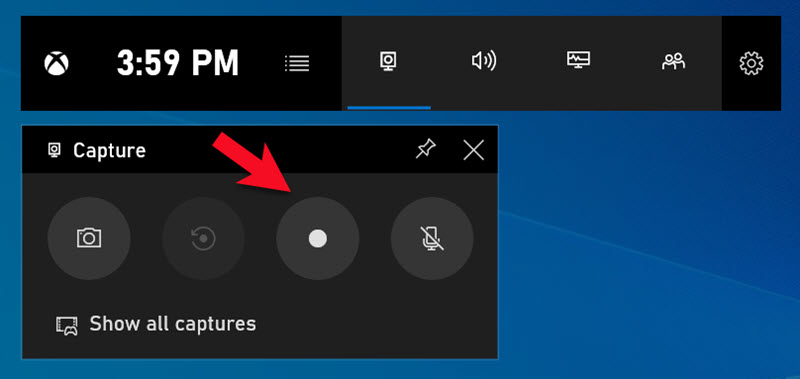 Note: It can't be denied that Game Bar can easily capture video of screen activity from your web browser, Microsoft Office applications and many other programs. But we have to figure out some disadvantages of the powerful tool.
First, Game Bar enables users to record a windowed application but it not features in full recording or file explorer capture or any target region recording. Second, the screen activity can only be automatically saved as an MP4 video file. Finally, it lacks additional function like fixed-time recording and has fewer options of settings.
2. How to Record Screen on PC with RecMaster: Available for Windows 10/8/7/XP
Although Game Bar is a convenient tool, it still has some function limits which may impede your screencast. Here we will recommend an alternative screen recorder to make up the shortcomings of the build-in tool, which is compatible with Windows 10/8/7/XP.
RecMaster is an easy-to-use yet feature-rich screen recorder, which can be applied to multi-situations of screen recording on Windows like recording PowerPoint with audio, screen video capture and gameplay recording. You can easily get a video recorded the full or a small portion of your computer screen. More importantly, it allows users to change the video formats among MP4/AVI/FLV along with multi-choices of video quality and frame rate. If you want to record screen with webcam simultaneously, you can finish the screen activity with RecMaster. Since you have a general understanding of this tool, now let's come to the point on how to record screen on PC.
1). Download RecMaster
First and foremost, you need to download this application and then finish installation.

2). Choose Recording Mode
There are five modes: Full screen/Game Mode/Custom Area/Audio Only/Webcam. Full screen is for the whole screen and window capture or you can use the Custom Area mode to record any focused screen part. Game Mode, just as the name suggested, is for any recording of gameplay. More importantly, Webcam and audio can be inserted into these recording modes. Here Full screen mode is recommended for common recording.

3). Setting up configuration
Select video format, quality and frame rate. If you don't change these parameters, the recording will start with default choice. Remember to tag the Webcam and microphone icon on if you want to get a video with your face and voice. For tutorial video, it's better to choose mouse effect and annotation function to emphasize key points. Click Settings button and then you can select mouse effect as well as file resolution. You can also use the Task Schedule function to launch an automatic recording task.

4). Start Recording
It's time to start now! Press the REC button and after a three-second countdown, it works automatically. A timer will appear on the top of the window, which allows you to observe the time and use annotation function to add arrow or text.
5). Stop and Edit Recording
With everything captured, simply click Stop button and the Recording list will instantly pop up. In the Recording list, you can rename, play and delete the file. There is also an editor for you to cut and merge video.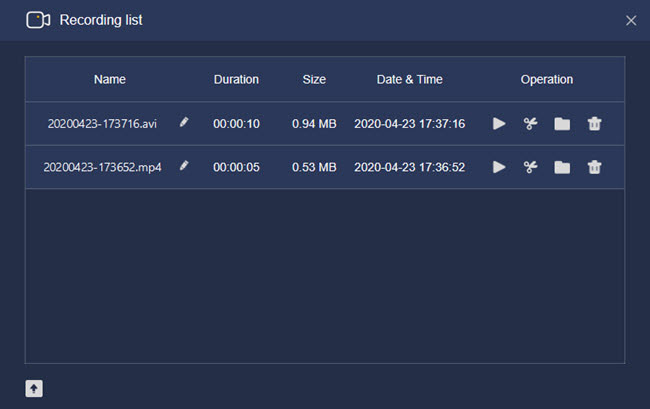 Final Words
Now you master the way on how to record screen on PC. If you mind the function limits of Game Bar, use the alternative RecMaster to record screen. In this way, you can really record anything that happens on any part of your screen.
You may be also interested in:
How to record screen on Windows 8/8.1
How to record screen on Windows 7