Summary: This post will talk about how to record music from Spotify with the excellent audio recorder in case that you can save Spotify music to your Mac/ Windows as MP3.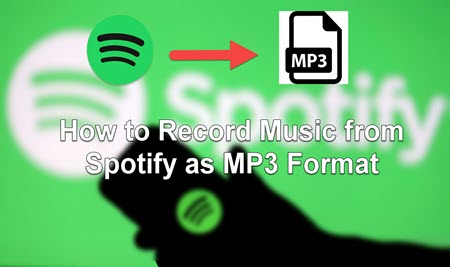 Spotify is a music streaming service provider that can be accessed from various platforms, including iOS, Android, Windows Phone, OS X, Windows and Playstation. It also features a web player for streaming music through your browser. The service comes with a free and paid subscription that lets you listen to more than 60 million songs online.
For the free subscription, you need to get a free account which allows unlimited streaming in some countries like the US, Australia, Singapore, New Zealand and Hong Kong. If you want to get rid of the free ads and other function limits, you need to become a premium member which allows you to play anywhere even offline. If you're using a desktop computer, you may wonder how to record music from Spotify on your computer for removing the limit of free account or collect the songs for listening offline. Here you will know how to capture music from Spotify on computer with awesome way.
Premium information about Spotify
Price
functions
Individual
$9.99/month after offer period 1 account
Listen to music ad-free
Play anywhere-even offline
On-demend playback
Duo
$12.99/month after offer period 2 accounts
2 Premium accounts for a couple under one roof
Duo Mix: a playlist for two, regularly updated with music you both enjoy
Family
$14.99/month after offer period up to 6 accounts
6 premium accounts for family members living under one roof
Family mix: a playlist for your family, regularly updated with music you all enjoy.
Block explicit music
Ad-free music listening, play offline, on-demand playback
Spotify kids: a separate app made just for kids
Student
$4.99/month after offer period 1 account
Hulu (ad-supported) plan
SHOWTIME
Listen to music ad-free
Play anywhere-even offline
On-demand playback
Note: If you have Premium, you can download your favorite songs, albums, playlists, and podcasts, so you can listen to them without an internet connection with up to 10,000 songs on a maximum of 5 different devices. Moreover, you need to go online at least once every 30 days to keep your music and podcasts downloaded. What's worse, it's impossible to download albums or podcasts in the desktop app.
RecMaster Audio Recorder for Spotify
The recommended software that works well on recording Spotify songs is RecMaster Audio Recorder. This tool can get the audio in original quality as what's you're listening on Spotify. This is a fantastic feature as you could enjoy listening to Spotify songs on your computer as if you're streaming from the site. Moreover, as an online music recorder, it embeds many useful functions that can make your Spotify audio recording more effective which we will further go through later on. For now, let me show you the steps on how you can record music from Spotify to your computer with RecMaster.
See also: How to record audio from YouTube
How to capture Spotify music with RecMaster
1. Download and install RecMaster audio recorder for Spotify to your computer.
2. Launch the program and choose Audio only at the left of the main interface. In this situation, recording Spotify audio only with System sound is the preferred option if you want to produce crystal quality audio file without noise.
3. Play the music that you want to record on Spotify and click the Record button. Click the Pause button if you want to temporarily stop recording and Resume to carry on recording.

4. Click the Stop button once done with the recording. You will see the recorded file in the Recording List
As mentioned above, this Spotify audio recorder offers more than just manually recording streaming music on your computer. Some of the other functions that you would find helpful are as below.
1. Auto-split recording (Mac only)
You'll find this feature useful if you want to record an entire playlist but would like the tracks to be saved separately. Click Settings on the bottom left side of this interface, select Auto-split function. You can choose auto-split based on designated recording duration or recording file size.
2. Task scheduler (Windows only)
Even if you're busy with doing other things, you can use the task schedule function so that you wouldn't miss recording songs on Spotify radio or spare your time into other essential things. Click Task Schedule function, type in the task name and set your duration. Select your recording mode as Audio only and your audio source, click Create to set up a task.
3. Changeable audio format
RecMaster gives you the right to change audio format from Spotify. You can save it as your favorite form. For Windows user, you can record Spotify music as MP3 or WAV to compatible with your device. When it comes to Mac version, Mac users can save their audio file as CAF or M4A.
See also: Best formats for YouTube upload, download, record etc.
Conclusion
RecMaster audio recorder provides the basic function of recording music from Spotify and gives quality audio output. Moreover, its additional features like automatically get music from Spotify, auto-split your audio recording to assist your audio recording.
Music related articles:
How to Record Songs from YouTube
How to Save Music from YouTube
How to Record Hulu (Live) TV Shows