Anyone with a Google account can use Google Meet for free, then what if one wants to record Google Meet on the Web, iOS or Android?
Video-conferencing software gains a huge popularity as both employees & employers, students & teachers benefit from remote-work a lot during coronavirus pandemic. We have to admit that this full-on global work mode has changed our lifestyle to some degree unconsciously. With more and more people starting to host and attend virtual communicate online, the whole video conference service market witnesses and obvious growth so that either existing online meeting providers and related tech companies join into this competition by upgrading their ready-made products or releasing new product lines.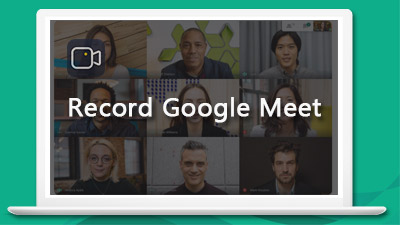 Google, who has its own standalone web-based messaging app called Google Hangouts since 2013, did such service transition by directing Hangouts users to its new Google Meet video-communication in middle 2020. As a replacement of Hangouts Meet, Google Meet is soon free and opened to all users with an available Google Account. Starting and joining a Google Meet does become easy-peasy.
Then due to this or that reason, you may need to record some online meeting events for further detail reviewing or sharing to those who don't attend. Because of this, here I'm delivering a clear and particular guide on how to record Google Meet successfully.

Google Meet Has An Internal Recording Tool for One-click Video Capture
Like other mainstream video conference services, Google Meet is still equipped with an in-app recorder for convenient content capture with only a click. However, to take advantage of it, you must meet the following requirements:
You can record the conversation when you are the meeting organizer, a member in the same organization with meeting host, or a Google-Workspace-signed-in teacher.
You can enjoy the meeting recording feature with the subscription of G Suite (Enterprise) for Education, Essentials, Business Standard/Plus, Enterprise Essentials/Standard/Plus editions.
Only when Google Workspace administrator turns on the recording can you conduct the video grabbing.
Don't be here only to present and join the the web meeting first, then start presentation, and initiate the record.
Recording functionality is only available with Meet on computer, but not opened to mobile Meet version.
Being a qualified user for Meet's recorder, the Record button will appear on More pop-up option list. And below are the briefly steps on how to use Google Meet's recorder:
Step 1. Navigate to web-based Meet on computer and then Start an instant meeting or join a meeting with the right code/link. Don't use mobile Meet because it doesn't offer recording feature to you.
Step 2. After accessing to the meeting room, whenever you think is the right time to start the capture, just click More icon with three dots and click Record meeting.
Step 3. Go on your presentation or listening and let the recording to start by itself in the background. When the capture mission is on, all participants will be notified by default.
Step 4. When the meetings goes to an end, click More again and press Stop recording. If you forget to manually stop the recording process, it will end by itself when all people leaves the room.
Step 5. Wait for the meeting video being processed and saved into the My Drive -> Meet Recordings folder of meeting organizer. When it's done, the meeting organizer or any other one who starts the recording will receive an email containing the video link. Then you can watch, share and download recorded video for further usage.
To Record Google Meet Without Limits, You Should Use 3rd Party Program
As mentioned above, there are many restrictions on using Google Meet's built-in recorder although you can attend one meeting for free and without trouble. If you are encountering any of the limits, having no permission to record Meet as you want or any unsatisfactory aspect on recording Meet video, you can only rely on dedicated screen recorder to satisfy your demand. Mobile users could give a shot on apps like AZ/Debut screen recorder and Window/Mac owners on desktop programs like RecMaster.
Now I will set how RecMaster records Google Meets on Windows 10 as the demonstration. You can free download it here and finish the setup to standby.
Step 1. Launch this screencasting app and do settings for Google Meet capture beforehand.
● Choose a recording mode
Firstly, you should select a recording mode on the main UI. In most cases, "Full Screen" is suggested to keep every on-screen movements recorded. If you won't run Google Meet in full screen and want to bypass the irrelevant areas such as system tray and browser panel/border, you could pick "Custom Are" to manually decide the target section. Also, if there's no special file presentation or crucial attachments to show, you are free to leverage "Audio Only" to grab oral contents to an audio file.

● Do recording settings
What comes next is to configure the video or audio details. For video recording, you're capable of adjusting video format, quality level, frame rate, audio source and webcam. For video capture, audio format, source and volume options are offered to set.

● Task Schedule tool is made for scheduled meeting recording
If you have no time to sit in front of your machine at time for a scheduled/Google Calender meeting, or in case you are an "amnesia patient" forgetting to start the capture timely, you are purveyed with a Task schedule mini tool on Windows to create and enable automatic capture of any type. Mac users are given a Duration feature to achieve auto-stop and Auto-split to save recorded file every certain size/duration.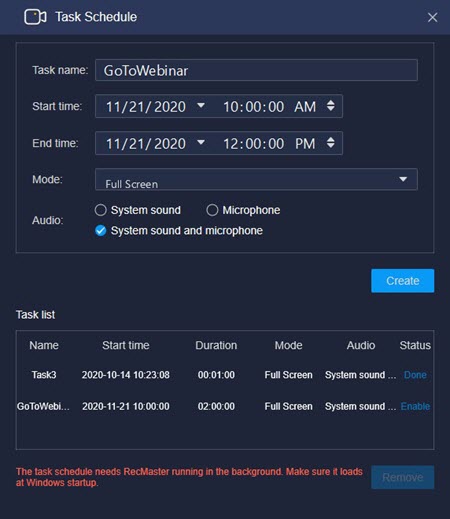 Step 2. Start/Join Google Meet and start session recording
When the web meeting event starts, you, either as a host/presenter or a general audience, can make the background recording happen on RecMaster by clicking the REC button or type shortcuts (Alt+1 for Windows, Command+1 for macOS) at any time as you prefer.
Step 3. Pause & resume if necessary, and stop it
During the recording process, you are free to pause and resume to jump over unnecessary parts, add or hide webcam, and do annotation marks at will. As long as the meeting is over or key points are all saved, you can end the recording with button pressing or shortcuts Alt+2/Command+1.
Step 4. Access to recording, edit and upload it onto the web (optional)
Go to recording list to preview and rename the final output video or audio. The internal editor enables you to cut unwanted segments off. If you get used to storing important file on YouTube or Google drive, RecMaster gives the access button to go ahead.
FAQs
1. Why is the "Record" button missing sometimes?
If you can't find the Record button during a Google Meet event, it may be caused by that the admin has turned off recording for Meet, you are using a mobile to do the capture, you didn't join the meeting before doing representation inside, as well as you are born with no ability to record within app.
2. Where's the recording stored, I can't find it?
Recording file will be saved into the meeting organizer's Meet Recordings folder in My Drive. If there's a word of "Still processing", it means the video is under processing and will be generated in the near future. So just check the status later on.
3. Why do other people unable to download the video I shared?
Make sure the setting option of "Disable options to download, print, and copy for commenters and viewers." under recording Share -> Advanced is not ticked. If it's checked, other visitors couldn't download it.
4. Why am I unable to record the real-time caption of meeting?
Currently, Google Meet's recorder doesn't support recording Google Meet (live-stream) meeting with caption. If you want to show the closed caption onto your recording, you must seek help from third-party meeting recorder like RecMaster to record online meeting with caption attached.