When you are playing a game, have you ever wanted to record your wonderful performance or take screenshots to save the perfect scores or wonderful moments during the game? Both professional gamers and common game lovers like to record the game process for later review, improve game skills, or show off their adventures and skills to their friends and followers. In order to achieve the above goals, you need game recording software to help you record the gameplay on Windows 11.
To make it easier for you, we've recommended two pieces of game recorders and outlined a few simple steps on how to record a gameplay video on Windows 11.
Contents of this article

How to record gameplay on Windows 11 with the Xbox Game Bar
The easiest way to record gameplay on Windows 11 is using the Game Bar. Just like on Windows 10, this is Microsoft's built-in video-capture tool Windows. (If you want to learn more about the new features of Windows 11, please click here.) Game Bar is a basic game recorder designed for recording games and other software.
Tip: If you want multi-functional software that can record the entire desktop, customize the recording area, use a webcam and follow the cursor to record, please jump to the best way to record gameplay on Windows 11part of RecMaster.
Step 1 
Open your favorite game and press Windows key + G. The Game Bar window will pop up above the game you're playing.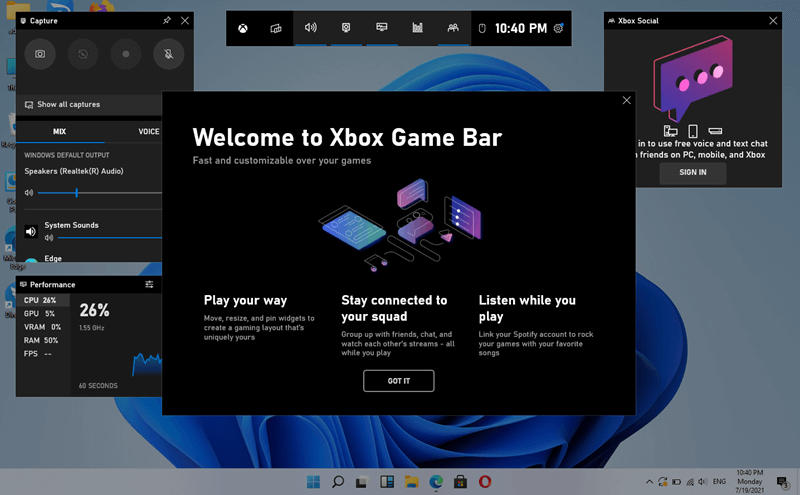 Step 2
Click the record button or press Windows key + Alt + R to start game recording. There will be a timer appear at the top-right corner of your window. You can also select the Take screenshot icon to take a picture of what's happening in the game.
Step 3
When you finish the gameplay recording, you can click the Stop button or press Windows key + Alt + R to stop.
Step 4
The game videos you record will be automatically saved in the folder as MP4 files, and you can find them easily.
How to record gameplay on Windows 11 with RecMaster
Compared with Game Bar, RecMaster has more easily accessible features and has a user-friendly GUI.
Recording your gameplay is just as easy as recording any type of content. Let's try it now!
Step 1
RecMaster provides seven different recording modes for users to choose from: Full-Screen mode, Custom Area mode, Game mode, Program Window, Follow Cursor, Webcam, and Audio Only. Now, we can choose the Game mode.

Step 2
Open the game you want to capture, and switch back to the interface of RecMaster. RecMaster will automatically recognize it. And there will be some numbers in green on the top-left corner of the game, which means the game is ready to be recorded by RecMaster. At the same time on RecMaster, you can choose whether to enable the system sound and microphone during the gameplay recording.
Tips: To switch between the game and RecMaster, you can use shortcut keys: Alt + Tab.

Step 3
When you are ready to start recording the game, you can click the big red REC button on RecMaster or use the hotkey, Alt + 1, to start capturing. Hotkeys make the operation easier. If you want to know more about RecMaster's hotkeys, please jump to Hotkeys in RecMaster.
During game recording, you can use RecMaster to quickly take a screenshot by pressing Alt key + f1.

Tip: When you press Alt key + h, the annotation tool will pop up on the right side of the window. You can utilize it to do real-time annotation by selecting content, adding lines/texts/number arrows, or drawing some marks by yourself.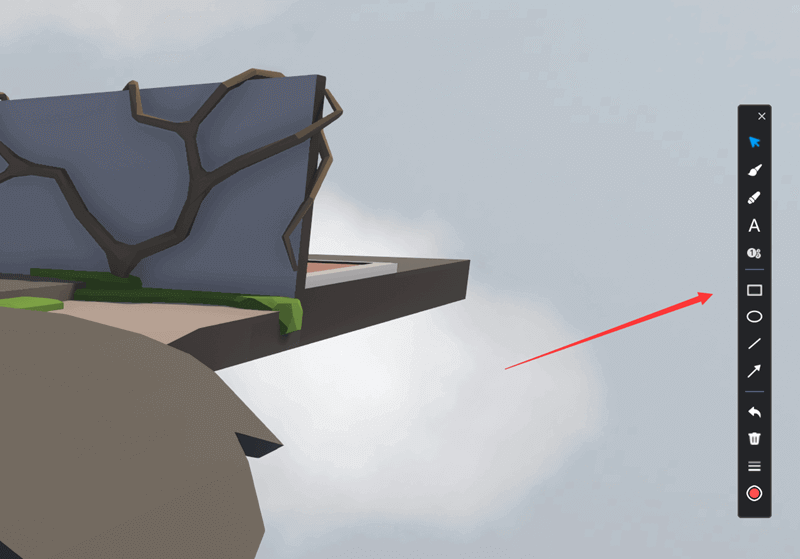 Step 4
RecMaster allows you to pause during recording, you just need to press Alt key + 1. If you want to pause the gameplay recording and Alt+1 again to resume. To end the recording, you can press Alt key + 2.
The recorded game video will be automatically saved in the Recording List. You'll be able to play, edit, rename or delete it. Then, you can click the Upload icon to share it to YouTube or Google Drive. This could be helpful if you want to share your game videos with friends or followers quickly.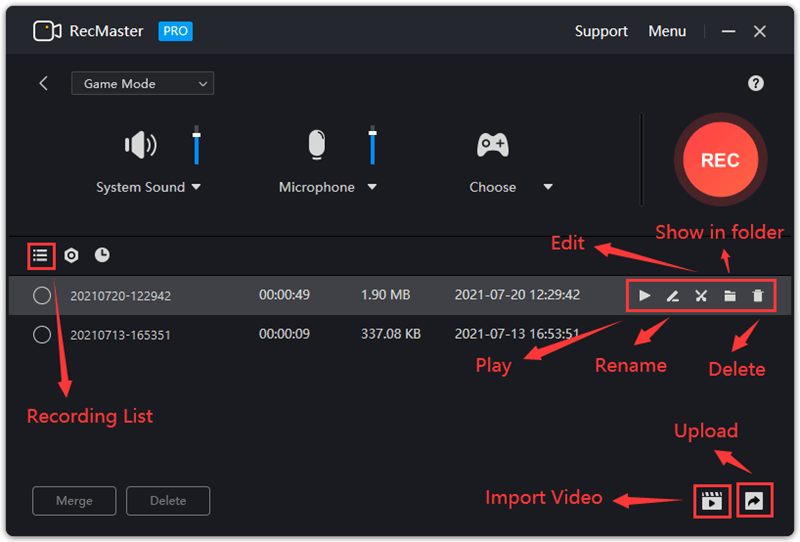 Tip: By clicking the Edit icon from the recording list, you will see an edit window pop up. In this control, you can cut video into pieces, select and delete any piece of them, select and export any piece of them, remove the logo, set subtitles, as well as merge and export the remained clips after cutting and deleting.

Other features of RecMaster
RecMaster has many basic settings, as well as some advanced settings. If you want to know more about the usages of RecMaster, please click here.
Hotkeys in RecMaster
Using hotkeys is much more convenient than using the mouse to click and choose during gameplay recording. For your convenience, we have put together all the hotkeys in a list below. Here are the default settings, you can customize the combination of shortcut keys. (Menu>> Settings>> Hotkeys)
Start/ Pause: Alt + 1
End recording: Alt + 2
Show main window: Alt + 3
Boss key (Enable it to record in hidden): Alt + d
Hide/ Show webcam: Alt + 4
Open/Close webcam: Alt + 5
Enable/Disable Annotation: Alt + h
Capture: Alt + f1
Video Settings
RecMaster enables to capture video as MP4, FLV, GIF, and AVI. And here are some other settings related to the video, such as Resolution, Frame Rate, Encoder, and Output Resolution.
If you have special requirements for video quality, you can change these settings as you like. Otherwise, you can just leave it as it is.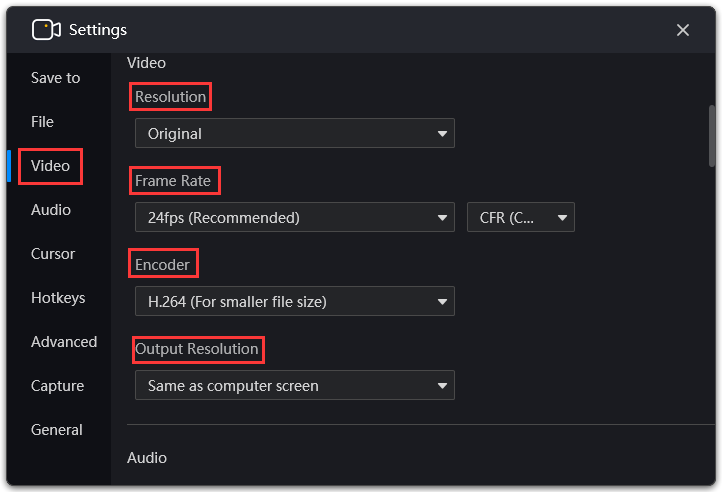 Conclusion
These are all about how to record gameplay on Windows 11 with the Game Bar and RecMaster. Now you know how to use a screen recorder to record gameplay and you can also share it with your friends if you wish.
Please feel free to contact us if you have any  If you have any questions about RecMaster.
Related Contents:
How to Screen Record on Windows 10?
How to Record An App Video on Windows or Mac Computer