Dawn of Man is a city-building and survival game that was developed by Madruga Works. You can hunt, gather, make tools, fight, explore new technologies and you will face the challenges the environment brings to you. It is famous for its authentic style and unique scenery. You can see many tutorial videos and gameplay recordings on YouTube. Do you want to record your gameplay videos and share them with friends? This guide will show you the best way to record Dawn of Man gameplay with no lag on Windows 11. Let's take a closer look at the detailed tutorial.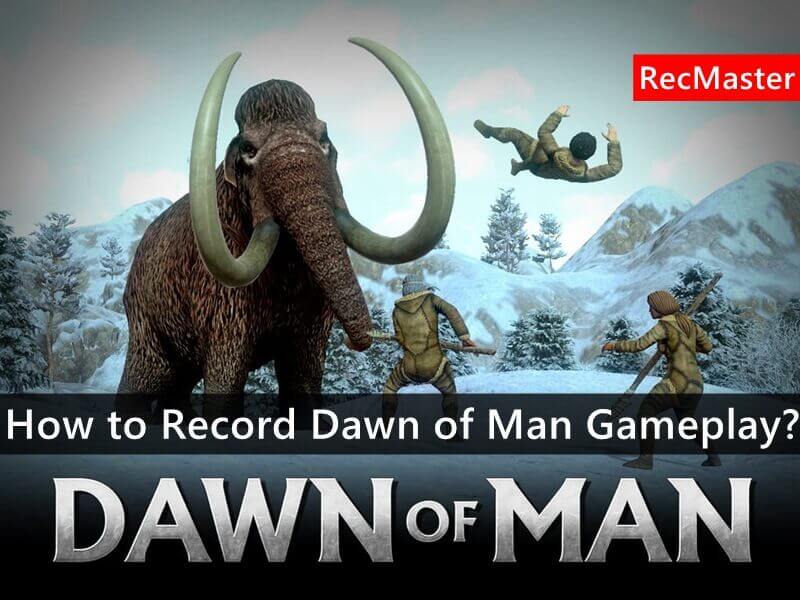 How to record Dawn of Man gameplay with RecMaster?
It's wonderful to record your gameplay videos to share your skills and tips with friends and other game lovers. If you have a powerful gameplay recorder, It's will be very easy for you to record Dawn of Man. RecMaster is a feature-rich and easy-to-use screen recorder. It's the best choice for many users because it is user-friendly, that being said, you don't need to have many recording techniques and skills. You can just follow the simple steps below to record Dawn of Man on PC.
RecMaster is suitable for Windows 10/8/7/XP system, and Windows 11 is also applicable.

Step 1: Choose the recording mode
Free download and install this video recorder. Then, launch RecMaster and there are seven recording modes for you to choose from. Here we choose the Game mode to record Dawn of Man gameplay.

Step 2: Confirm recording settings
After that, you can check the settings. Open Dawn of Man and refresh the interface of the screen recording software. RecMaster will recognize the game and connect it automatically. You can record the system sound, microphone sound, or both of them.

Tip: If you want to record your webcam while recording gameplay, you can choose the Full-screen mode. Full-screen mode allows capturing everything on your desktop.

Step 3: Start gameplay recording
Next, launch Dawn of Man and you will see a number in the upper left corner of the game page. This number is the current frame rate of the game, which is called FPS (Frame per second).
Green FPS means the game is captured, but not recorded.
Red FPS means it is recording.
Yellow FPS means pause the recording.
When everything is ok, you can press the Alt key + 1 to start the gameplay recording. It is very convenient to use shortcut keys instead of mouse buttons. Click here to know more about hotkeys in RecMaster.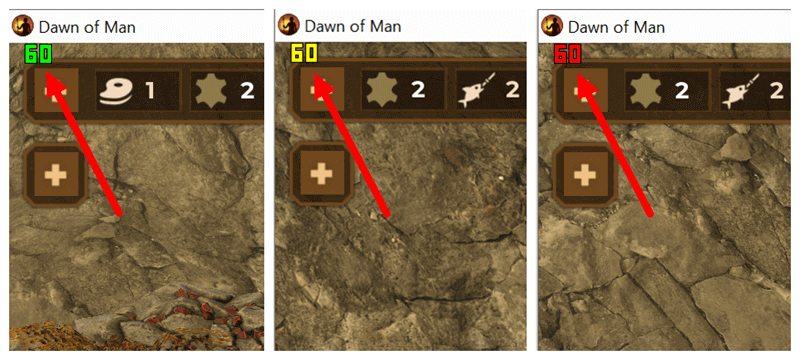 Step 4: Pause & stop recording
During the capturing, you can also take a screenshot by pressing the Alt key + f1. To pause the recording, you can press the Alt key +1. If you want to stop the gameplay recording, just pressing the Alt key + 2. The recorded video and screenshots will be automatically saved in the folder.
In the recording list, you can play, rename, edit, and delete the recordings. It's easy to use RecMaster to share the recorded videos with your friends and followers to YouTube or Google Drive quickly.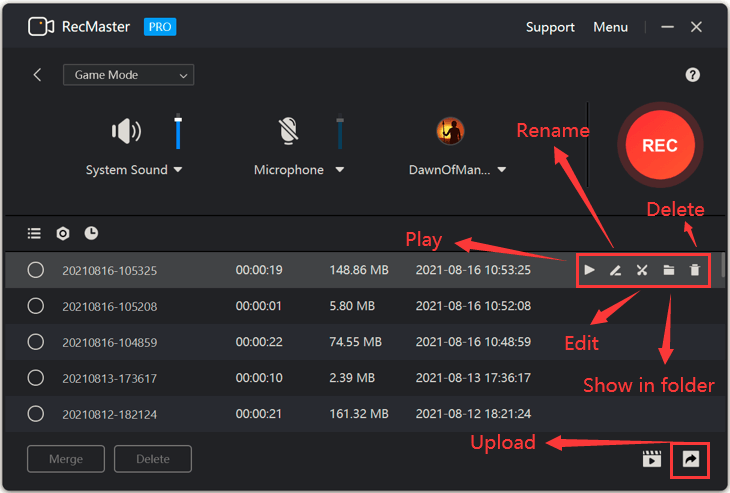 Step 5: Edit the recorded video
RecMaster has a built-in editing tool. It enables you to cut, trim, add subtitles, remove the logo and delete the unwanted clips. To pop up the editing window, you can click the scissors icon in the recording list.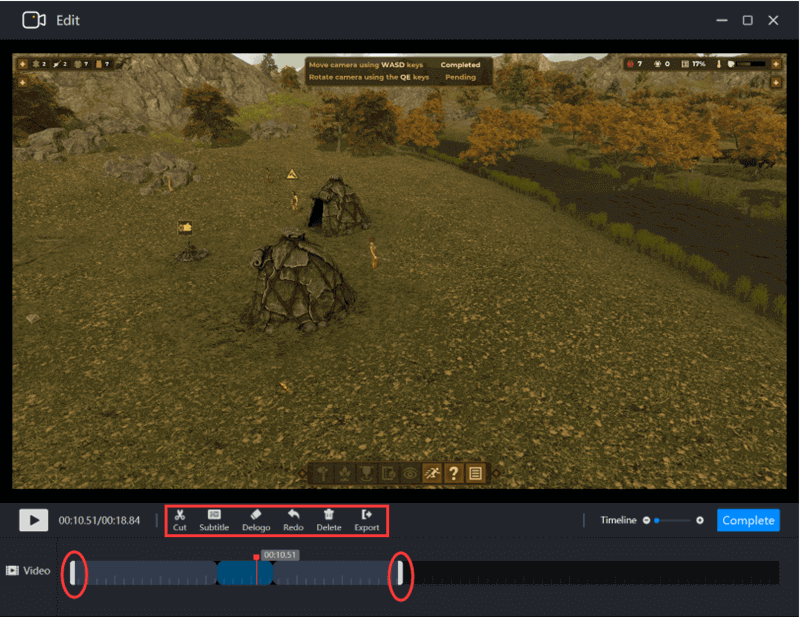 More features and settings of game recording
Before, we have introduced the simple steps of recording Dawn of Man gameplay. In addition, RecMaster has many features and parameters that you can freely choose.
Hotkeys in RecMaster
Here are the default hotkeys settings. You can set the combination of shortcut keys as you like. So you don't need to worry about the conflict between the hotkeys of RecMaster and the shortcut keys in the game. (Menu>> Settings>> Hotkeys)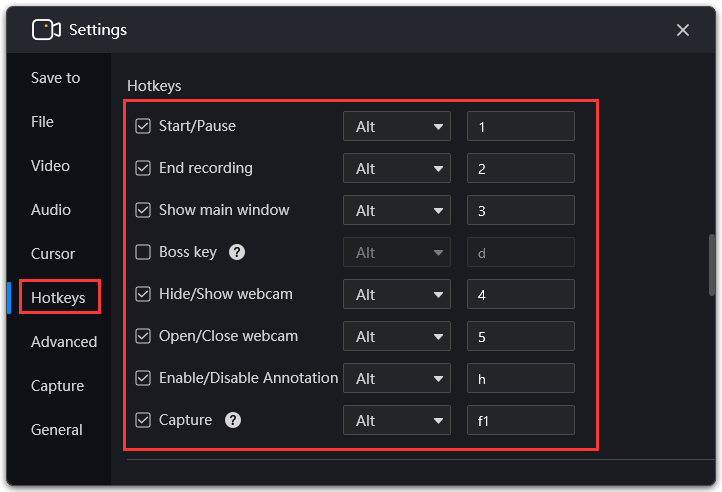 Video settings
In RecMaster, you can save the recording videos in MP4, AVI, FLV, and GIF format. It also enables you to set the video resolution, frame rate, encoder, and output resolution. (Menu>> Settings>> File & Video)
You can record 4K videos with vivid colors and detailed pictures by using RecMaster. The detailed guide>> How to record screen in 4K resolution on Windows 11?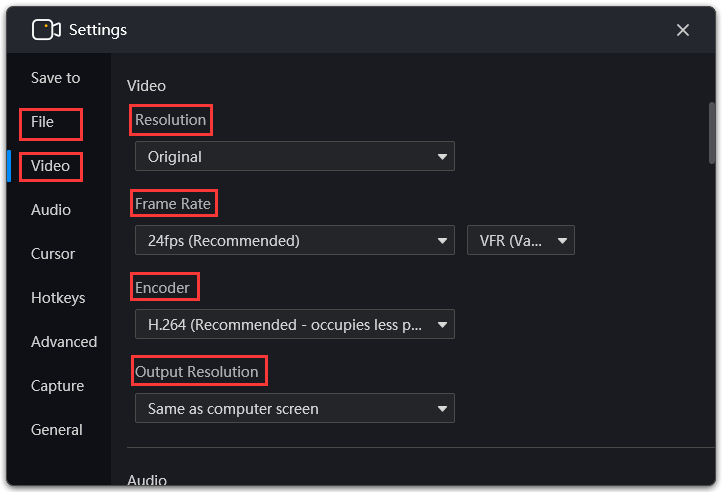 Watermarks
On social applications or video sharing software, you will see many videos with watermarks. That is the exclusive mark added by the video creator to prevent someone from stealing the video. By using RecMaster, you can add your own watermark like these video creators. Text form and image form for you to choose from. You can also set the position and the showtime. (Menu>> Settings>> Advanced>> Watermarks)
The Bottom Line
This tutorial has shown you how to record Dawn of Man gameplay with RecMaster. Is recording games a piece of cake for you now? As a reliable and user-friendly screen recorder, RecMaster enables you to record the full screen, custom area, game, webcam, audio, etc. By using this great video recorder, you can record Dawn of Man gameplay with no lag on Windows 11. Now, let's try to record your gameplay video in RecMaster.
Read more?
How to Record StarCraft II Gameplay?
How to Record World of Warcraft Gameplay?