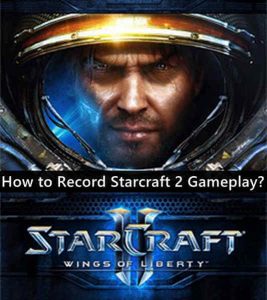 StarCraft II: Wings of Liberty is a science fiction real-time strategy video game developed and published by Blizzard Entertainment. It is one of the most popular games nowadays. Similar to its predecessor, StarCraft II was praised for its engaging gameplay, as well as its introduction of new features and improved storytelling. There are many game masters sharing their game skills and show off excellent achievements on YouTube. But do you know how to record StarCraft II gameplay on PC? All you need is a reliable game screen recorder. It will be easy for you to record gameplay videos with the best screen recording software. This guide will show you how to use RecMaster to record StarCraft II with no lags.
How to record StarCraft II gameplay with RecMaster?
RecMaster is famous for its intuitive and attractive main interface and rich features. It is very easy to use the recorder to capture video and audio. You can use this powerful software to record your screen with system sound and microphone sound. During the gameplay recording, you can see the real-time game FPS (Frame per second). For your convenience, we will show you several simple steps to record StarCraft II gameplay on Windows 11.

Step 1: Choose the recording mode
Compared with other screen recording software, RecMaster has 7 different recording modes. Several commonly used modes are the Full-screen mode, Custom-area mode, and Game mode. If you are interested in how to use other modes, you can click here to read more.

Tip: If you want to record the webcam while recording the StarCraft II gameplay, you can choose the Full-screen mode. Fullscreen allows you to record everything on your screen.

Step 2: Confirm your settings
The next step is to open the game and refresh the page, RecMaster will automatically recognize StarCraft II. Before you start recording, you can choose whether to record system sound and microphone sound simultaneously.

Step 3: Get started recording
When everything is ok, you can launch the game and there will be a number in the upper left corner of the game interface. This number is the current frame rate of the game. The FPS (Frame per second) displayed here has no connection with the recorded video frame rate. The recorded video frame rate is related to computer performance and recording parameter settings.
Press the Alt key + 1 to start StarCraft II recording. You can also click the big red REC button to start capturing before you open the game. Shortcut keys make our operation easier. If you want to know more about the hotkeys in RecMaster, you can click here to jump.
Note:
Green FPS means the game was captured but not recorded.
Red FPS means it is recording.
Yellow FPS means the recording is paused.
Step 4:Pause & stop the gameplay recording
When you are recording the gameplay video, you can pause the recording by pressing the Alt key + 1. The FPS number will change to yellow. When you finish recording, press the Alt key + 2 to end the StarCraft II gameplay recording and you can find the recorded video in the recording list easily.
You can play the recorded video and delete the unsatisfactory ones. Modifying the name of the video can help you find it more easily in the future. In addition, if you want to trim your video or add some captions to it, RecMaster has a built-in editing tool for you to use. Please click here to jump to how to use the editing tool in RecMaster.
Just click the Upload icon, you can share your gameplay video to YouTube or Google Drive with friends and other game lovers quickly.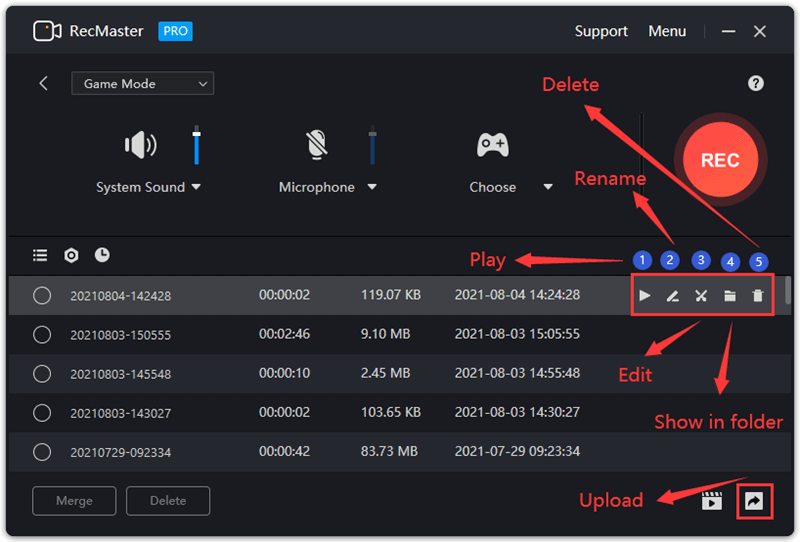 Other useful settings and features about gameplay recording
Hotkeys in RecMaster
Here are the hotkeys in RecMaster. These are the default settings, If the shortcut key combination in your game conflicts with the hotkey in the screen recording software, you can modify the combination as you like. (Menu>> Settings>> Hotkeys)
Start/ Pause: Alt + 1
End recording: Alt + 2
Show main window: Alt + 3
Boss key (Enable it to record in hidden): Alt + d
Hide/ Show webcam: Alt + 4
Open/Close webcam: Alt + 5
Enable/Disable Annotation: Alt + h
Capture: Alt + f1
Video settings
RecMaster enables you to set video resolution, frame rate, encoder, and output resolution. You can find the Settings window in the menu. You can also save the recording videos in different formats: MP4, AVI, FLV, and GIF. (Menu>> Settings>> File & Video)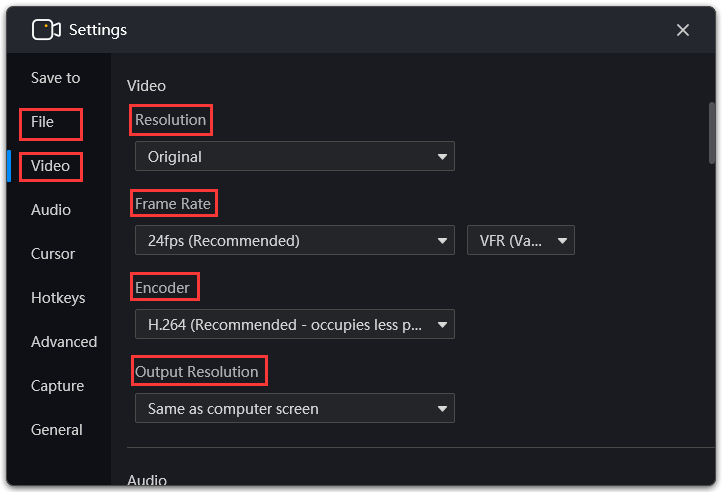 How to edit videos in RecMaster?
RecMaster is an all-in-one screen recording software. So you can use it to do some basic video editing such as trim, cut, add subtitles, remove the logo, etc. You only need to click the scissors icon in the recording list to enable the editing feature.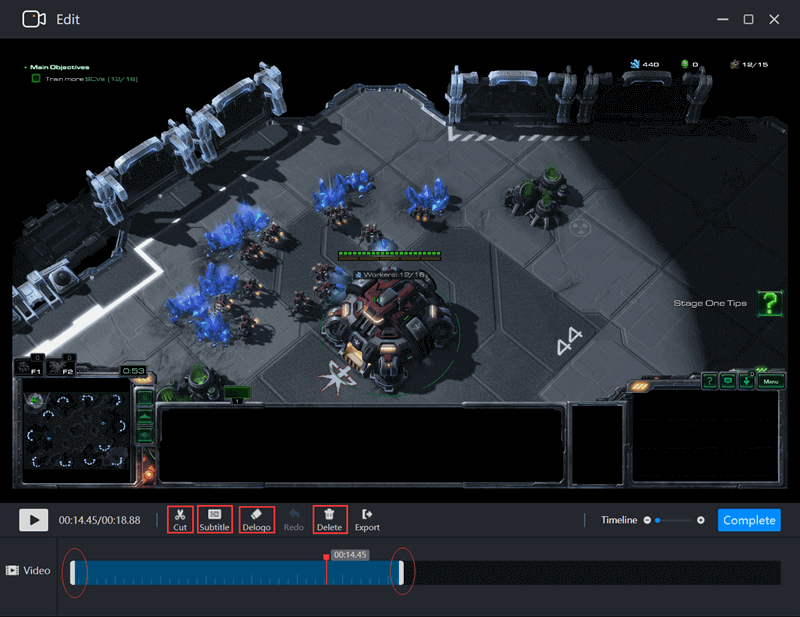 Conclusion
This tutorial has shown you how to record StarCraft II gameplay on Windows 11 with a screen recorder. The brilliant colors and cool style of StarCraft II are worthy of your record. It is great to share the achievements and experiences of the game with friends or followers. In addition, you can also review your gameplay videos to improve your skills. RecMaster is a reliable and powerful screen recorder. Its interface is intuitive and brief and it is very user-friendly in many details. Try it now to enjoy a comfortable and natural gameplay recording without lag.
More guides about Screen recording
How to Record League of Legends Gameplay?
How to Screen Record Star Stable Online?