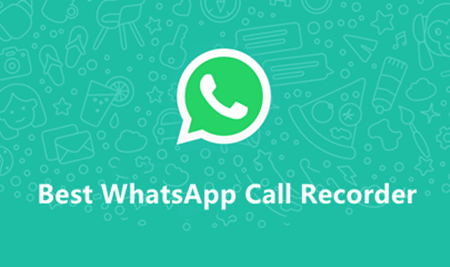 WhatsApp is one of the biggest social apps of the present time. Winning over 1.5 billion active users, this app is more likely considered as a social media platform than office software. It allows you to text message, send images, and most importantly, make VoIP calls with the assistance of the Internet, just like the platforms like Facebook, Twitter, Instagram.
To give a solution for those who want to record WhatsApp calls, this passage will lead them to the two best WhatsApp call recorders that work respective on Windows/Mac and mobile phones. With these recorders, users can record both WhatsApp video calls and audio calls easily.
By the way, this passage also consists of a solution for operating WhatsApp calls on PC, if you have interests in it, please hit the link and jump the part.
Content Navigation
1. How to Make WhatsApp Calls on Mac on Windows?
2. How to Record WhatsApp Calls on PC?
How to Make WhatsApp Calls on Windows or Mac?
Until now, WhatsApp does not allow its user to conduct a video call/audio call from its PC version or web version. So what're the essential elements for building up a PC-launched video call/audio call? The answer is 'Emulator'. Dispensed with this kind of software, no recorder can carry out any recording task in WhatsApp, even the best WhatsApp call recorder.
An Android emulator, in general, is a kind of app that imitates the operating atmosphere of an Android phone, so users can download the mobile-phone-only apps to their PC. Once we download the mobile version WhatsApp, the function for making a video/audio call is accessible.
• A list for the best Android Emulator
LDPlayer
Android Studio's emulator
ARChon
Bliss OS
Bluestacks
• How to launch a WhatsApp call on PC with the help of an emulator? [BlueStacks as an example]
Download BlueStacks and install it on your Mac or Windows PC.
Launch the BlueStacks on your Mac or Windows PC. Enter your Google account credentials (linked to your device) and keep going.
Go to the main interface of BlueStacks and search for WhatsApp at its searching bar.
Download the mobile version WhatsApp.
You can now access your WhatsApp on your Mac or Windows PC. Now feel free to make a phone call to one of your contact and check if it works. If BlueStacks is not compatible with your PC, you can turn to another emulator.
An emulator is the very premise for those who want to launch their WhatsApp calls on PC. Settling this problem, users are able to make PC-to-Phone and PC-to-PC WhatsApp calls from PC.
Now after addressing this fundamental problem, we can proceed with today's real task – recording WhatsApp calls. Now it is time to check out the best WhatsApp call recorder below.
Record WhatsApp Calls on PC (PC to PC, PC to Phone)
3rd-party screen recorder – RecMaster is powerful recording software that captures every on-screen activity. The ideal scenarios include game recording, streaming video recording, and online meeting recording, etc.
So you don't have to worry about RecMaster's capability. Taking WhatsApp recording by this software is the way that piles of users adopted.
It will carry out the recording tasks providing users with stable and reliable performance.
Here are two instructions for users to record both WhatsApp video and audio calls.
How to Record WhatsApp Video Call? – Use Full-Screen Mode.
How to Record WhatsApp Audio Call? – Use Audio-Only Mode.
• Steps for recording WhatsApp video call:
1. Download the software package of RecMaster according to your system and then finish the installation.
2. Open RecMaster and select a recording mode. FYI, RecMaster bears 5 recording modes (on Windows version) and here are their brief introductions.
Full-Screen mode is grabbing the whole desktop screen, it is the most universal mode. Custom-Area enables you to undo the resolution and create a tailored area. Webcam generates a single window capturing your talking head with your internal camera. Last but not least, as mentioned above, the Audio-only mode is for recording voice calls.

3. Configure some really important options before recording. For WhatsApp video call recording, users need to set up the video formats, video quality and FPS.
MP4, AVI and FLV are the 3 offered formats. (By the way, formats for voice call are MP3 and WAV). If you don't know the exact format to output, choose MP4 and MP3 since they are the most used formats.
Video quality is suggested to set at 'Original' – the highest quality RecMaster is able to give.
And finally, the FPS should be tweaked at 20-30, a higher parameter of it will be unnecessary.
In addition, you can add personalized text/image watermark on Settings control if you care to protect the recordings of your WhatsApp calls.

4. Pressing REC button on the control or tap the hotkeys Alt + 1, the recording will happen immediately.
5. Ending the recording by tapping the button again or press hotkeys Alt + 3 and a new recorded file will be created on the Recording List overlay.
6. Editing the footage from the Recording List. RecMaster has an internal video helping users to cut the unnecessary segments from original footage. This software also supports the direct upload WhatsApp recordings to YouTube or Google Drive.
• Steps for recording WhatsApp audio call:
1. Press Audio-Only Mode and then enter its setting panel.
2. MP3 and WAV are offered for you. Choose the right format and then turn on System Sound. Disable your microphone to prevent noises from your PC or from the environment.

Editor's Words
This passage offers a solution of how to conduct a PC launched WhatsApp (video/audio) calls as well as the introduction of the best WhatsApp call recorder.
BTW if you want to record phone-to-phone WhatsApp calls, you may need the help of mobile recording app like AZ screen recorder, or the default recorders on iPhone or Android.