Want to obtain some basic and simple video editor to edit your home-recorded or downloaded clips on Windows? This post will share multiple easy-to-use and newbie-best video editing applications at your disposal.
Nowadays, people are living in a digital world full of diversified media files. For this or that reason, you must have piles of (DVD-ripped) movies, camcorder-shoot VCRs, screen recordings, mobile films, online streaming clips and similar stored in your hard drive and are willing to do easy and basic edits on certain ones for more flexible playback, more professional upload looking etc. Then is video editing work difficult for noobs? Not really, particularly when your edit requirement is not complicated but simply cutting, trimming, cropping, merging, adding filter, apply background music, changing speed and so forth.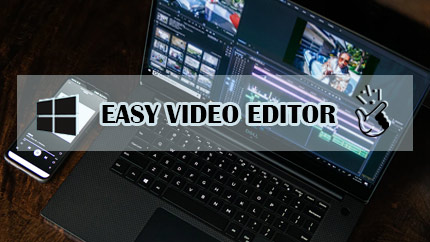 Generally, video editing apps are classified into two types: Linear Editor (LE) and Non-linear Editor (commonly known as NLE). In short, Linear Editor is the easier-to-handle one while a little bit old-fashioned tool with less editing flexibility while Non-linear Editor is able to exhibit digitalized material in waveform format with all originally available tracks here to edit separately. So considering various editing demands and varying computing skills, I will represent both easy video editors of LE and NLE in the coming part.
The Easiest Screen Recorder with Editor Built-in
If screencasting computer monitor is a frequent action you will take for work or so, obtaining an easy screen recorder and editor will save you much time on switching between recorder and editor.
RecMaster is one of the easiest screen recording and editing software on the planet that's worth a shot for all beginners. By providing multiple recording modes, a sequence of audio/video setting options, real-time annotation tool, and basic editor, RecMaster is able to help create and edit screen videos in a new professional looking for saving personally or sharing online.

Now let's get together to look at 4 easy screen recorder utilities for Windows computer, all of which are free of charge and 100% secure.
Photos: Windows-10-bundled Video Editor That's Super Facile
Type: LE
OS: Windows 10 version 17134.0 or higher
Official Download: No need to download (For re-installation, download it from Microsoft Store)
Simplicity: ★★★★★
Price: Free
Speaking of the most convenient and easiest video editor for Windows, new Photos app from Windows 10 should take a place. Although named as Photos, it still features viewing and editing existing video by trimming, reducing the playback speed, add 3D (butterflies, lasers,explosions etc.)/(animated) text/filter/motion effect, drawing, and saving photo from video. Better still, you are enabled to make creative video with Photos project from multiple items, be it photos and videos locally or from the web. Now you can open any video file with Photos and enjoy its magic yet easy internal editor.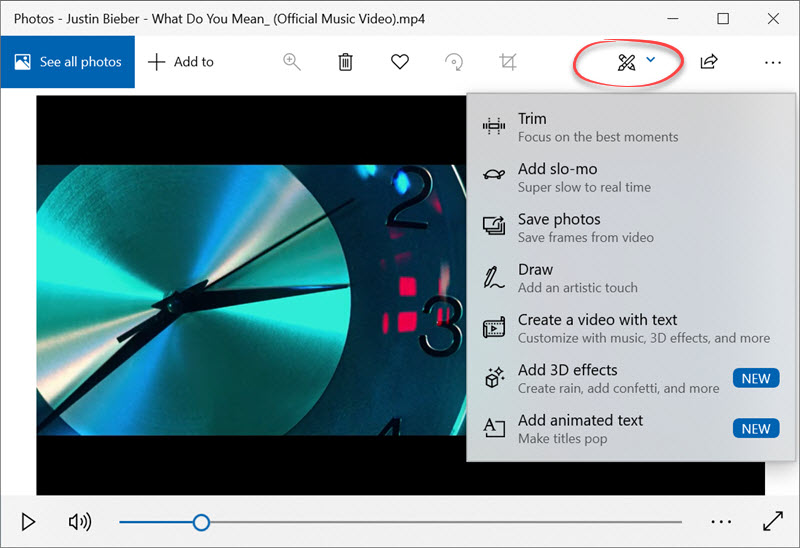 Windows Movie Maker: Basic and Easy Video Editor Coming from Microsoft
Type: NLE
OS: Windows 7, Windows 8(.1), Windows 10
Official Download: N
Simplicity: ★★★★☆
Price: Free
Long-term Windows users must more or less know Windows Movie Maker, which is a part of Windows Essentials software suite and also called Windows Live Movie Maker at certain times. As the default video editor of earlier Windows systems, Windows Movie Maker is said to be all about simplicity and works with Project stuff too. You can leverage it to cut video segments, split video into pieces, rotate video, combine multiple video clips, add titles/transitions/background music/filter effects. Through continuous updates, the latest Movie Maker is capable of stabilizing shaky video, recording voice-over and audio editing.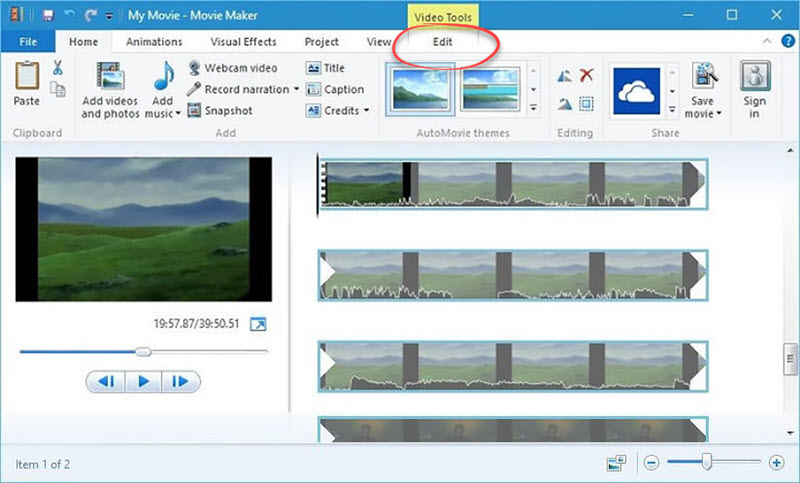 Besides basic editing functions for single video polishing, video creation with auto themes, e,g. Default, Contemporary, Cinematic, Fade, Pan and Zoom, Black and White, and Sepia, is still supported by Movie Maker. Once the video is produced, you can one click publish it onto Facebook, Facebook, Vimeo etc.
Note: Since Windows Movie Maker was officially discontinued on Jan10th, 2017 and there's noavailabledownload from Microsoft, when you get its package from other sites, take care because it may contain malware, viruses, or further costs.
Avidemuxe – Free Open Sourced and Easy Video Editing Software
Type: NLE
OS: Windows (officially no exact system versions)
Github Download: https://github.com/mean00/avidemux2
Simplicity: ★★★☆☆
Price: Free
Avidemux is an open sourced NLE program, with which you are free toload your DVD disc, AVI, MPEG, MP4, or ASF media file into it for further cutting, filter visual effect applying, adding audio streams to it, extract sound from it, do video transcoding between a dozen of container formats and codecs, as well as subtitle processing including SUB, SRT, ASS etc. It is preloaded with both project and non-project systems to help users create video configurations and save file without hassle.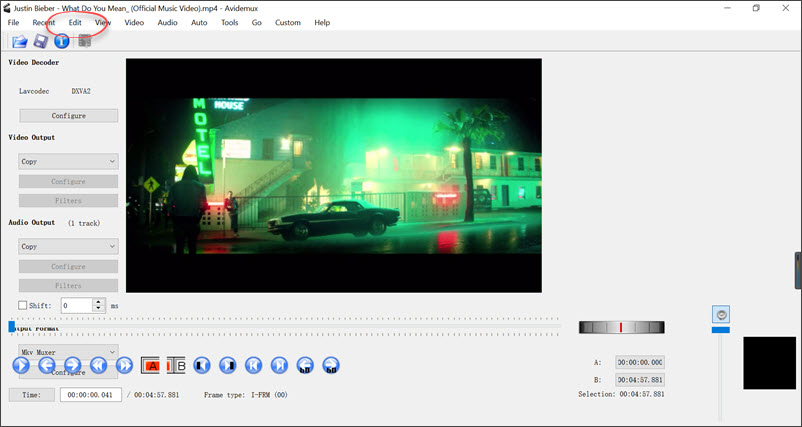 Avidemux is designed with less-confusing interface, and all available settings and options can be accessed and adjusted effortlessly. The only shortcoming of this freebie is it doesn't have much editing features as an NLE should have.
VSDC Free Video Editor – Entry-level yet Powerful & Easy Video Editor
Type: NLE
OS: Windows
Official download page: http://www.videosoftdev.com/free-video-editor
Simplicity: ★★☆☆☆
Price: Free
VSDC is a popular multimedia processing software brand. It offers Windows customers both high-quality freemium and premium apps, among which VSDC Free Video Editor is a typical program for green hands in editing. With it in handy, you are empowered to edit ready-made video and create new file into pro-looking one by cuttting, merging videos, adding visual & audio effects (filter and transition included), adding soundtrack, producing slideshows, using Chroma Key, filtration and image correction, and adjusting advanced parameters.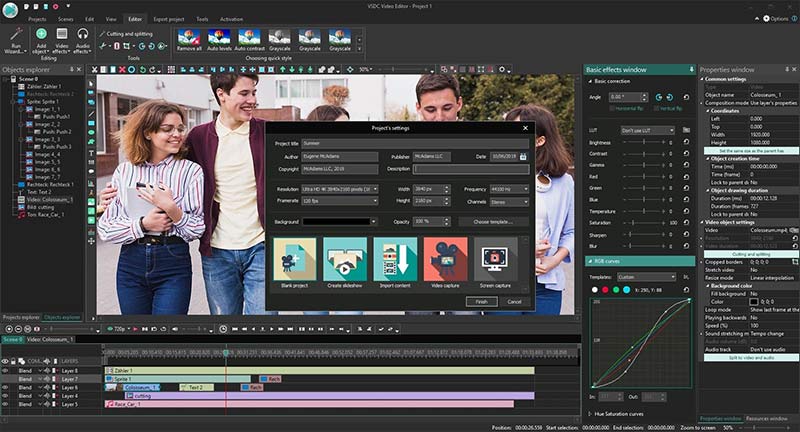 As the most advanced editor in this list, VSDC offer the most complex interface and has the best file support, working well with all popular video and audio formats. If you have no problem with it after continuous practicing, you can consider to level up to a Pro NLE product.
Verdict
That's all about the four simple video editors for Windows PC. I believe either of them will do you a great favor to edit video for the first time, and help you enjoy your videography hobby in the very beginning as an enthusiastic amateur. If you still have any easy-to-handle program to share, just feel free to email us.
You may also be interested in:
Easy & Simple Screen Recorder for Windows and Mac