If you want to easily capture the activities on your computer screen, then Wondershare DemoCreator screen recorder will be a good choice.
As an all-in-one screen recording and video editing tool, its intuitive interface provides you with flexibility and convenience. Also enables users to enhance their recording and editing experience.
In addition, it allows you to create professional productions and save high-quality video and audio in many different formats. To help you pick the most suitable screen recorder more effectively. We will present all the basic information you need about this outstanding screen capture software in 2022.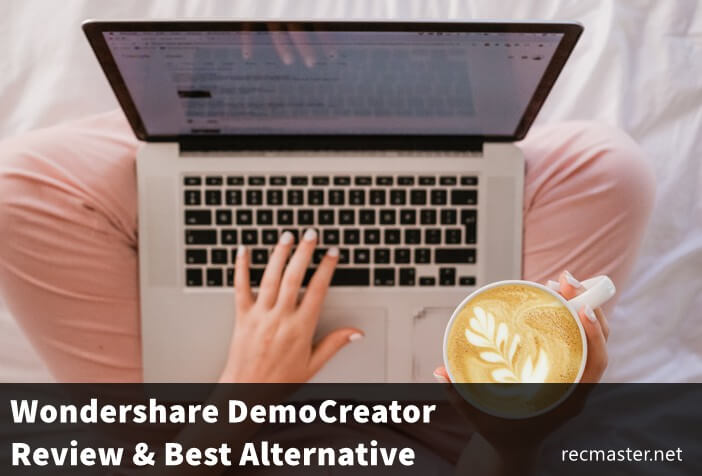 Price & Compatibility
You probably wonder what this great software will cost you.
Free Trial
Premium: $65/Year
Standard: $45/Year
Perpetual: $69/Year
Fortunately, this software is available for free to all users who want to use it. But videos recorded with the free version will come with a watermark of Wondershare DemoCreator. And some limitations on advanced features such as schedule recording. Even so, users can still use it to record computer screens for free as well as edit videos to create the content they need.
A license for the standard version of this screen recording software costs only $45 a year. By doing so, users can create perfect videos without watermarks. If you only need to use this tool for a short period of time, you can purchase it on a monthly basis. If you purchase a business or education package, there are some discounts available.
Whether your computer is on Windows or Mac. You can easily download and install this video recording software Wondershare DemoCreator.
Windows: Windows 11 / Windows 10 / Windows 7 (64 bit OS)
macOS: macOS 10.13 – macOS 12(Apple M1 compatible)
Wondershare DemoCreator Key Features Review
You've had a first look at the price of this software and whether it will fit on your computer. Then, it's time for us to dive a little deeper and check the features it offers.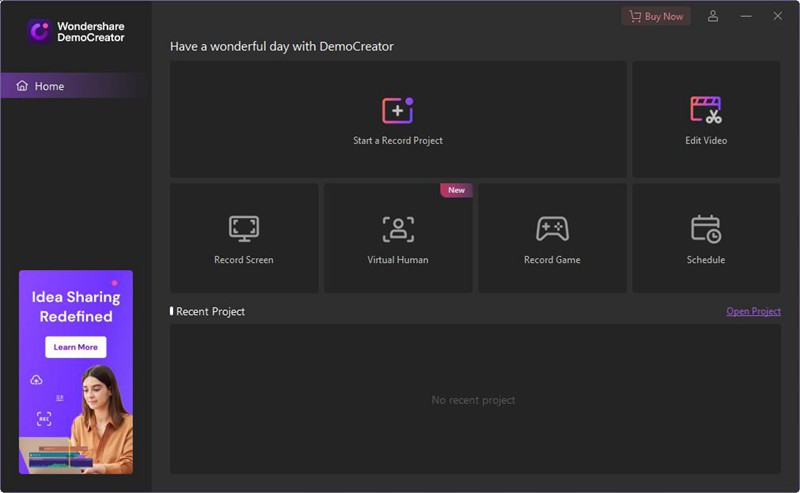 Record Screen: This recording tool enables you to record the entire charged screen or a custom area, and offers users a choice of recommended sizes for some popular video platforms. You can also easily capture system sound, microphone sound, and your webcam.
Virtual Human: This feature helps Wondershare DemoCreator stand out from many screen recording software. It processes your webcam live feed with special effects to turn it into a virtual portrait animation. And you can also freely choose the background.
Record Game: The name of this board is Record Game, but actually you can use it to capture any of the selected windows. It is more like recording without interference. Other windows will not be captured. It also supports recording the camera, system sound, and microphone.
Schedule Recording: If you already know the time of the meeting or class you want to record in advance, then you can use this amazing feature. You can choose to set the start and end time or duration, the recording area, and the path to save the file. Then leave it to this reliable tool. *Note that users of the free version can only set up 10 minutes of recording at a time.
Built-in Video Editor: One of the main advantages of the package is that it includes a powerful editor. You can add some effects to your video using the editor in Wondershare DemoCreator. For example, panning, zooming, advanced effects, cursor effects, animated text, etc. Adding annotations, titles, background music, etc. is also a good choice.
Pros & Cons
After you have thoroughly understood the features of the software. We will show you its advantages and disadvantages. Helping you to pick the best screen recording software is exactly what we are going to do now.
Pros:
The main interface is simple and easy to use, and friendly to novices.
You can turn off/on the camera and microphone at any time while recording.
Supports recording picture-in-picture mode, which means you can have your webcam displayed on the desktop.
Advanced AI portrait technology that lets you create virtual animations.
Provides a full-featured built-in editing tool, you don't need to download additional editing software.
Cons:
Compared to similar products, it is high-price and requires annual renewal.
You are not allowed to add real-time annotations while recording. However, it can only be done at the time of editing.
RecMaster – Best Alternative for Wondershare DemoCreator
While Wondershare DemoCreator does have a lot of great features if you are looking for the best alternative that is cheaper and easier to use. We will show you another software that will provide you with similar results, if not better.
RecMaster is a very cost-effective screen recorder. The interface you get is quite intuitive and user-friendly. In addition, you can use it to record presentation videos, record webinars, share guides, create online courses, and more.
Key Features of RecMaster:
Record microphone and system sound simultaneously or separately
A built-in video editing tool
Set personal watermark and add cursor effects
Add real-time annotations and take a screenshot
Record multiple monitors at the same time
Scheduled recording, Segmented recording, and Auto-record
Conclusion
Screen recording software makes your study, work, and life easier. In the age of pandemics, some people choose to record videos of their lectures, some create instructional tutorials, some record the process of online transactions, etc. Wondershare DemoCreator is a feature-rich software. However, it is expensive and does not have permanent packages.
However, RecMaster is also a great computer screen recorder. It offers a wealth of recording options to suit your needs better. Then, you can choose the most suitable one according to your budget and needs.
Editor's recommendations