Summary: Know nothing about downloading online videos by converting URL links? Come and learn the method about how to convert URL to video.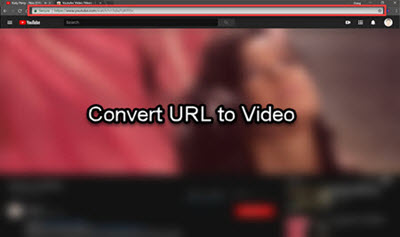 These days online streaming videos are not only about entertainment but also involved in education, lifestyle, hobby and fitness. Therefore, watching a video either via social media or via video hosting sites is one of the favorite pastime activities for most individuals. Most of us carve for enjoying online videos with ease by downloading to local space but in fact we are restricted by copyright policy problem like unable to download YouTube videos.
Have you noticed that most of the videos that we watch have a link locating at the top of most browsers? These links provide a solution to download online videos. However, you can't download the videos by just having the links and you must need to convert URL to video. There are a wide range of URL video converters available in the market, so it would be difficult and time-consuming to find the most powerful one. Here we introduce two ways for you to convert URL to video in case you can hold video without effort.
1. Online URL to Video Converter: ClipConverter. cc
ClipConverter.cc is a free, powerful and clean URL video converter website that allows you to download URL to videos without software. It can output video file as MP4/3GP/AVI/MOV/MKV and audio file as MP3/M4A/AAC and that can fulfill your basic conversion needs. It supports YouTube, Vimeo, Facebook video and more video URLs downloading. It provides four-step video downloading solution and here let's have an overview about the workflow.
Workflow to convert URL to video by virtue of Converter.cc
Step 1: Open the ClipConverter.cc official website and then paste your desired video URL either from YouTube or other giant websites.
Step 2: Copy the wanted video URL in the dialogue box and hit the "continue" icon.
Step 3: Select the format (MP3, MP4, AAC and more) and the quality (720p, 1080p, 360p) for the conversion.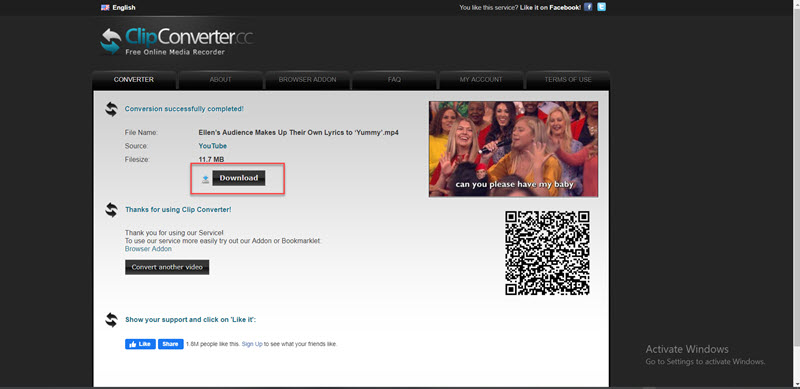 Step 4: Click Start button to launch the whole process. It takes a little longer to convert URL to video so that it's available for download. When the conversion process ends, you have got the access to download this video.
Note that ClipConverter.cc is not available for video containing music.
Shortcomings of online converters like ClipConverter.cc
● They fail to let users transform a designated fragment in a video.
● They cause a quality loss in the process of converting.
● They may contain malware, adware and even virus along with downloading.
● They can only work online and depend much on the internet connection status.
2. Use RecMaster to Convert URL to Video
Reliable and professional service is the key factor that makes RecMaster standout among competitors. It empowers you to download any playable videos as MP4 without security problems like potential virus. Moreover, editor and flexible settings are strengths that you can take advantage of to make a perfect video downloading. It is compatible with both Windows and Mac computers to convert URL to a video.
Key features of RecMaster:
● Able to convert URL to video or extract any clip from the whole video.
● Save video to MP4/AVI/FLV (Windows) or MP4/MOV/M4V (Mac).
● RecMaster can download the video with crystal quality as long as it's playable.
● Able to extract audio from the video or download voiceless video.
● Editor and other advanced tools to assist your process like a breeze.
How to Convert URL to video as MP4, AVI with RecMaster
Step 1: Copy the link and paste it to the search box of your browser. You will see the target video.
Step 2: Choose Full screen mode to capture the whole video. If you want to convert the video file into the audio file, simple leverage the Audio only mode.

Step 3: Configure your video format as MP4/AVI/FLV or MP4/MOV/M4V according to your computer system. RecMaser enables you to grab video as original quality by setting the quality section as Original option. Last but not the least, remember to turn on the system sound button to save audio as well.

Step 4: Play the video and then press REC to convert the online video to local drive disk. When it's time to end, click the Stop menu. There is a built-in editor to cut out unnecessary part of the finished video.
Conclusion
This passage tells viewers how to convert URL to video with two ways. If you don't like to install any software, then try the online video converter. Otherwise, RecMaster is the better choice for you no matter from security or flexibility aspect.
See also:
5 best YouTube recorder online
Is YouTube downloader/converter safe? You take your chance
URL to MP3 Converter: Convert URL to MP3 on Your Computer