Living in this tech and digital age, we can witness and experience many great changes. Look at how flexible we can watch TV shows now! From satellite to cable to more recent internet streaming TV, not only more playback methods are available for customers to choose, but also more playback devices could be the medium for TV streams, HDTVs, smartphones, computers, just to name a few. Then is it possible to record TV shows to local storage? If it's workable, how to record TV shows (off TV) on computer?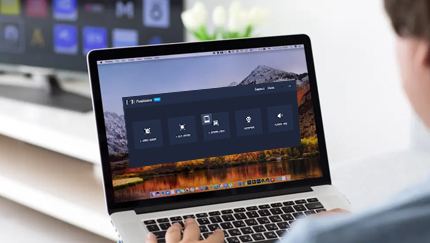 DVR – the top choice of many common users!
DVR, full name Digital Video Recorder, is an electronic device that's able to record and store digital content at will. TV DVR is one part of the whole DVR ecosystem and TiVo, as one of the forerunners in DVR industry, is a household name for developing such kind of DVR products including standalone DVR unit and add-on one for set-top box.
With cable or over-the-air/OTA DVR, you can choose and preset a recording for any live TV episode, movie, sports event and so forth for watching later, making up you have no time to sit in front of the screen to watch the real-time one or there's a time conflict so that you can't cut yourself into two parts for enjoying the contents at the same time.
It's convenient to take video capture while the cost is a little bit high. A set-top DVR may cost from 100 to 1,000 dollars depending on the recording features and storage and if you prefer rental service from a cable or satellite company, $20 is the monthly rental fee for HD DVR. That's why many people search for an alternative way to record TV shows without DVR.
How to Record TV Shows on Computer
– For Cable/Satellite TV shows
Except using DVR, users can also record TV shows from HDTV turn to elder VCR, VHS, DVD recorder, PVR or TV Tuner plus PC cooperation. Yes, if you'd like to record TV shows without DVR on your computer, HDMI is not enough and TV Tuner is a must-have. With a hardware TV Tuner card built in your PC, your are empowered to move the TV signals to computer and record it with screen recorder tool like Windows Media Center (available for 7/8), RecMaster (available for Window and Mac) for an offline video piece.
– For streaming TV shows
There are currently a dozen of streaming TV services for people to choose like Netflix, Hulu, Prime Video, Sling TV, YouTube TV, Disney+ and many alike, the biggest difference of which lies in the supported channel numbers or TV series. Usually once you subscribe either one or more, you can watch the TV channel on your computer and record/download streaming shows to local for watching later (if the app has this feature). If the app doesn't allow you to do so or it has strict rule on the playback of downloaded/recorded content, or the free cloud space is limited, you can free yourself from the restriction by obtaining a cloud DVR-similar app like Plex or choose to record streaming TV shows manually with desktop screen recording software like RecMaster and OBS Studio.
How to Use RecMaster to Record TV Shows on Computer
Step 1. Free download, install RecMaster on computer to standby.
Step 2. Play the streaming TV show on your computer screen. If your target is the one from your HDTV, please firstly transmit the TV signal to computer with the help of TV tuner or antenna splitter thing.
Step 3. Open RecMaster and choose a recording mode for your upcoming TV show capture. Generally, the "Full Screen" is the top choice.

Step 4. Select video format, quality level, frame rate as you like and remember to check whether the "System Sound" is turned on. If you want to define the destination folder, please click Settings icon to complete the setting under General section. Windows version is also embedded with a Task Schedule feature, with which you can create and enable any timed recording if you are away from the machine.

Step 5. When your favorite shows starts, you just need to click REC button on RecMaster or press hotkeys "ALT + 1" on the keyboard to record it in the background. If you have set a scheduled task, just leave it alone and the software will automate the capture.
Step 6. When the TV shows is over, click the stop button on RecMaster or press "ALT+2" to end the capture. Now you can enjoy the TV shows anytime at any place.
DVR delivers a more convenient way to record TV shows. However, not all users have obsession for it or are willing to invest so much on it. At this time, try some alternative methods just like combining splitter or TV tuner plus screen recorder to record the TV show on computer. If you get a black screen video with the latter methods, that's because the internal encryption is not bypassed successfully.
Related Capture Guides:
How to Record Hulu TV Show or Other
How to Record Netflix
How to Record YouTube TV on PC
Is It Legal to Record TVs on PC