It's well-known that Windows and Mac are two mainstream computer systems in the world and they work differently from the video formats to video codecs. As a Mac user, you may meet the situation that your recorded file can't be opened on another Mac computer or your video is unreadable in other media platform like YouTube. These problems may result from unsuitable video formats or wrong recording operation. Therefore, this post is going to discuss the Mac supported video formats and how to record Mac screen as popular format.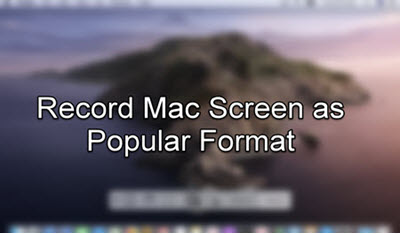 Mac Video Audio Formats & Codecs Supported
First and foremost, it's necessary to have a general understanding of the Mac supported video and audio formats so that you can record Mac screen as popular format in accordance.
● Mac Supported Video File Format
QuickTime Movie (.mov), MPEG-4 (.mp4, .m4v), MPEG-2 (OSX 10.0 – 10.6 are exclusive), MPEG-1, 3GPP, 3GPP2, AVCHD (OSX 10.0 – 10.7 are exclusive), AVI (Motion JPEG only), DV;
● Mac Supported Video Codecs
MPEG-2, MPEG-4, H.263, H.264, H.261, Apple ProRes, Apple Pixlet, Animation, Cinepak, Component Video, DV, DVC Pro 50, Graphics, Motion JPEG….
What Are the Best Video Formats for Mac Computer?
In this article we've listed a sum of Mac supported video formats but not all of them can be called the best video formats for Mac. Based on the search results and customer demands, we find three formats that deserve to be called best video formats for Mac computer.
1. MOV: Indeed, as WMV is for Windows, the very native video for a Mac computer is MOV. MOV is a type of digital container file for videos and other multimedia, which is also known as QuickTime File Format. It can be used to save movies and other video files, compatible with both Macintosh and Windows platforms. In short, it is the born video format for QuickTime of Mac.
2. MP4: MP4 is a multiple file storage format – most often used for storing video but also for other media types. It's compatible with both Mac and Windows devices so it is crowned as the international format. Technically, an MP4 is a digital container file, which means that it contains compressed video data and other associated data necessary for playing the video.
See also: Best MP4 Screen Recorder for Computer
3. M4V: The M4V file format is a video container format developed by Apple and is similar to the MP4 format, which is leveraged to encode video files like TV episodes, movies, and music videos in its iTunes Store under official DRM copy protection. Therefore, the copy-protected Apple video using FairPlay DRM copyright protection can only be played on a computer authorized (using iTunes) with the account that is used to purchase the video.
To sum up, MP4, MOV, M4V are three popular video formats on Mac. If you want to produce high compatibility video, you'd better choose one among them.
How to Record Mac Screen Video as Popular Format
Screen recording is an easy task for Mac users because there is a built-in tool called QuickTime. It can not only act as a media player but also a mac screen recorder. Indeed, it's a convenient recording solution even with drawbacks like unable to record internal audio. To make up the shortcoming of QuickTime Player, here we recommend RecMaster which is a feature-rich and powerful Mac screen recorder.
RecMaster allows you to carry out onscreen activities as mentioned video formats. Moreover, compared with QuickTime Player, RecMaster offers more flexible settings for your screen recordings. You can use it to record video, audio or video with audio either in full screen or any designated area. Additionally, it comes with many advanced tools including mouse cursor, editor, auto-stop function and more. Now let's look through how to record Mac screen video with RecMaster.
How to record Mac screen video as popular format with RecMaster
Step 1: Download the software package from the official website and complete the installation process.

Step 2: Full screen and Custom area are for onscreen activities capture. Webcam mode empowers you to directly create video from your camera and Audio only is for audio file recording. If you have no special requirement, Full screen is our general suggestion for screen recording on Mac.

Step 3: Setup video format as MP4/MOV/M4V and MP4 is our suggestion considering the computer difference and small file size. You can also configure video quality (HD/Original/SD), audio source (microphone/system sound), frame rate (up to 60 fps), mouse cursor effect and auto-split recording.

Step 4: Start recording with REC. There is an annotation tool for you to mark up key points like adding lines, texts and shapes. You can also depend on the shortcuts to command any recording process.
Pause/ Resume Recording: Command +4
Show Main Window: Command+3
Show/Hide Annotation: Command +H
Screenshot: Command +P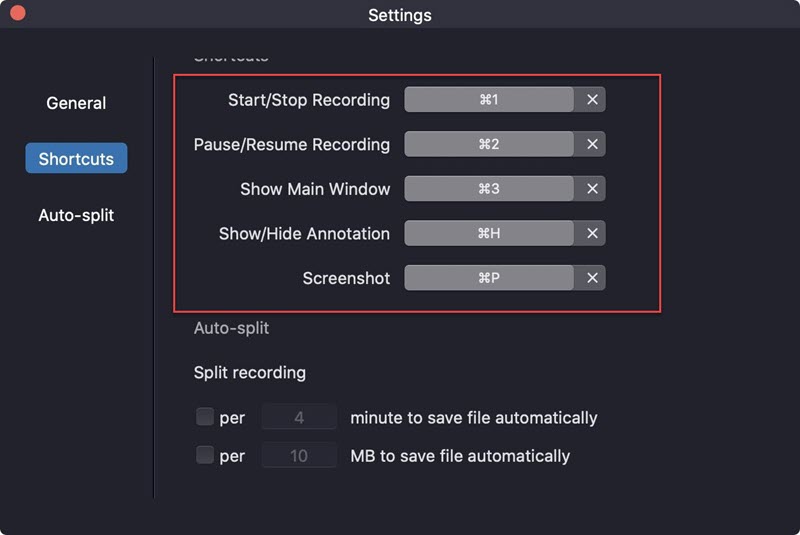 Step 5: Stop and edit the recorded video for better viewing. You can upload video to YouTube/ Google Drive in one-click solution or save to local storage.
Conclusion
RecMaster is a good tool to record Mac screen as popular format so that you'll never worry about unreadable or unaccessible situations in your file sharing.