Want to record Skype meeting calls? One of our recent articles has explained some desirable ways to record Skype on your PC. Briefly, both the built-in recorders of Skype and the 3rd-party recorder are all very helpful.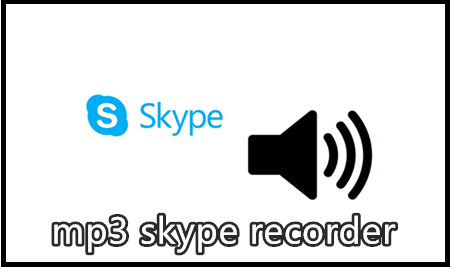 This passage serves as a supplement tutorial for those who want to record Skype meeting calls. To achieve this goal, Skype's default recorder is not capable enough, we need to turn to a professional MP3 Skype recorder for help.
This type of recorder has the ability to capture screen and produce no-video involved audio files. Let's get straight to the core part.
Can I Try Skype's Built-In Recorder to Create Meetings Recordings in MP3 Format?
Skype's default recorder enjoys the advantages of instant operating, cloud storage. It is also implementing fast recordings that are not CPU-intensive at all.
Want to know more details about the concrete steps for recording Skype calls with its built-in recorder? Click on this guide:
How to record Skype call with internal recorder.
However, thing is that the built-in recorder of Skype offers no service for audio recording. And if you want to transform your recordings to MP3 format, you need extra software for video converting. But the combination is so inconvenient, here I suggest you use a 3rd-party screen recorder to directly carry out this task.
How to Use MP3 Skype Recorder to Record Skype Meeting/Calls?
The reason why RecMaster is called an MP3 Skype recorder is that it is embedded with a special recording mode called the Audio-Only Mode. In this mode, users can record their Skype meeting calls and produce sheer audio files.
This mode is extremely friendly for recording online conferences.
RecMaster used to have a good performance on recording Slack calls, Microsoft Teams, and Zoom meetings.
Here is the step-by-step tutorial for recording Skype meetings in MP3 format.
1. Download RecMaster and install.
2. Call out the main interface of RecMaster and select the Audio-Only Mode. This is a mode typically designed for capture sounds only. It also is the secret why RecMaster is seen as an MP4-to-MP3 video converter.
In its setting panel, you can set audio format into MP3 or WAV if you are a Windows user, or M4A, or CAF for Mac version.

Don't forget to manage the options of your audio sources. To record the intact Skype sounds, you need to turn on the "System sound" and fine-tune its volume. Microphone sounds are suggested to turn down to prevent RecMaster from capturing noises.

3. Navigate to Skype, begin your meeting calls, and start recording.
4. During the recording, you can control the process by pausing or stopping the recording. The audio file is saved automatically to local folders and you can find the audio in the Recording List.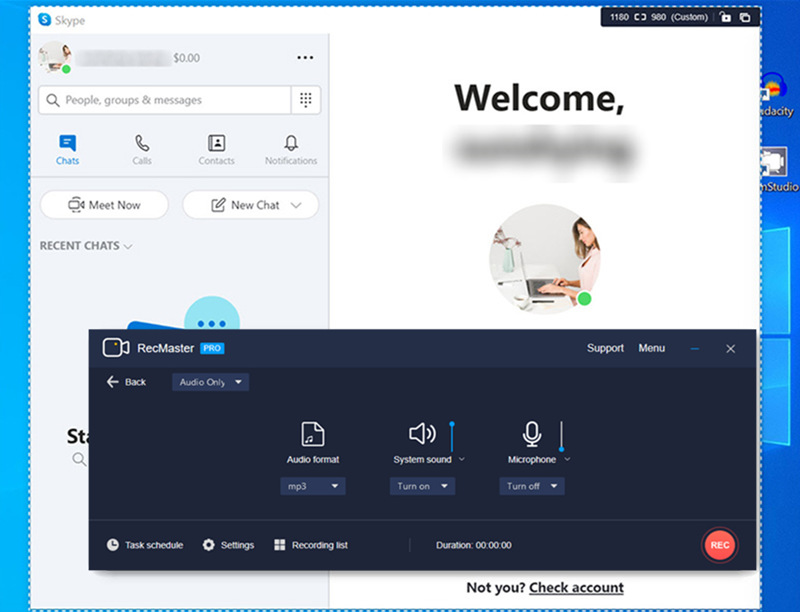 Differences of Between the Default Skype Recorder and RecMaster
The differences between the Skype default recorder and the MP3 Skype recorder – RecMaster are listed below.
● Built-in Skype Recorder
Pros: Free, No download needed; Cloud-based recording saves your storage space.
Cons: Output with MP4 (even the audio recording); your recording will send reminders to other participants and could be a problem. The recorder lacks other features for recording such as annotation tools or editing function. No MP3 format to output.
● RecMaster
Pros: Multiple recording modes (game mode, full-screen mode, and audio-only mode), multiple useful features (editor, task scheduler, annotation tools), and multiple parameters (video format, video quality, resolution, FPS) waiting for you to choose from.
With Windows Version RecMaster, you can output your meeting recordings in MP4/FLV/AVI, audio files in MP3/WAV.
Cons: Workflow for download and installation is required, hard disc space should be put into consideration and long time meeting recordings could occupy a large space of your PC, It may affect the performance of Skype call if your equipment is outdated.
Well, in a nutshell, if you are an ordinary user that demands no further features, the default recorder of Skype should satisfy all your wishes.
But once you desire more functionality, I mean, like recording Skype videos and produce MP3 files from them, edit or annotate your videos, etc, a professional 3rd-party MP3 Skype recorder such as RecMaster will be a better choice.
Editor's Words
This passage explains if it's necessary to leverage a 3rd-party MP3 Skype recorder to make their Skype meeting call recordings in MP3 format.
The answer is – you have to use a special recorder to achieve this goal since Skype doesn't bear any audio recorder and it produces MP4 files only.
Now, download RecMaster and check it out so you can instantly start your audio recording for Skype!