Any Zoho meeting user can record Zoho meeting or webinar easily, no matter you are a host or a common attendee.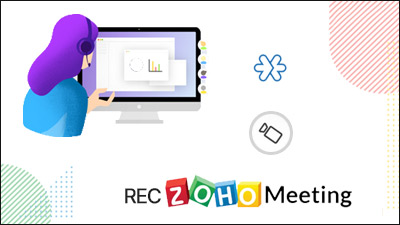 Web conference tool not only delivers a quick solution for online communication, but also gives a viable opportunity for enterprise members to collaborate more flexibly. Among the leading online meeting platforms, Zoho meeting, although not as popular as tech giants like Zoom, Cisco, and Google, is still picked my people as their target web conference tool thanks to its 14-day free and full-featured trial plan with no time limit, multi-platform support (browser included) and reliable security standard. Then how to record online meeting from it?
Like many other web conferencing service providers do, Zoho still offers plans for meeting and webinar respectively and they work in the similar way and rule on event hosting, scheduling and recording. Now before the how-to guide starts, let's firstly take a look at Zoho's internal recording functionality.

Zoho Meeting & Webinar Host Is Able to Record Audio and Shared Screen on PC
As long as you launch a Zoho meeting or webinar on your computer, your web-based or desktop control will offer you a "Start Recording" button on the top or left tool bar menu. Thus whenever you want to give the meeting or webinar a cloud capture in background, simply press this button to make the recording (up to 12 hours) work. Once the content is being recorded, any attendee will be informed with a red recording dot and duration showing on the menu bar too.
After the recording is stopped and the host exist the meeting/webinar room, the recorded video will be loaded into "My Recordings" of Zoho dashboard, with related topic, date and time, duration and action options for Play, Share, Download and Delete. Note that there's no time restriction on recording storage unless you remove it from list while the cloud storage is limited. If you are unwilling to pay for more space, you can download MP4-formated video to local hard disk and give room for further videos.

Why There's No Video in Zoho Recording, How to Record Zoho Meeting As an Attendee…
Any Zoho meeting/webinar host that has recorded some talking moments must know that the integrated screen recording feature only supports grabbing shared screen movements and audio, not being able to save that from webcam. That's the reason many find their recordings only play with a black screen, or say there're just audio but not video files.
Actually, Zoho's internal screen recorder only lacks the ability to record webcam while can document audio and shared screen seamlessly. That's to say, if you don't care about all meeting participants' facial expressions, excluding their webcams from recording is not a big deal.
What matters more for Zoho recording is that all meeting/webinar attendees are not allowed to use Zoho's in-built recorder. Consequently, this crowds will have to ask for and wait for host's share link of recording or conduct the online meeting capture with a third-party screen recorder by themselves. Compared to Zoho-bundled recorder, standalone screencasting app is de facto more powerful, at least capable of recording webcam(s) displayed on the meeting dialog box.
How to Record Zoho Meeting/Webinar on PC Without Limit?
All recording features of online meeting software are similarly full of limitations, which gives rise to the usage of more flexible external screen recording app. Here RecMaster – a really simple meeting recorder for Windows and macOS – is strongly to everyone in demand.
To be specific, RecMaster is simple screen recording software for people who want an easy, stable and stable tool to make screen action documentation, surely including the streaming meeting activity. By offering one-click no-brainer workflow and some setting options, RecMaster can satisfy any basic and advanced screen video capture requirement. As to how to record Zoho meeting/webinar with RecMaster, please free download it now and complete the installation first.
Step 1. Launch software and choose a mode
Open RecMaster up to select a recording mode for your upcoming Zoho meeting or webinar. Since in most cases, people tend to join the video meeting in full screen, you are suggested to use "Full Screen" mode for the capture still. If you only need an audio recording or the meeting is just an audio calling, "Audio Only" is more suitable.

Step 2. Confirm the settings
Video recording modes permit you to customize video format (MP4 and some more), quality (the higher, the bigger size), frame rate (CFR is recommended if you will edit it with advanced editor), another webcam inset, sound source and volume. And audio capture mode only enables you to define container format, turn on/off system sound & microphone and tweak their volume values.

Besides the above mentioned most widely used settings, some other are also available such as watermark, shortcuts, recording saving folder, countdown, scheduled recording time (for Windows only now).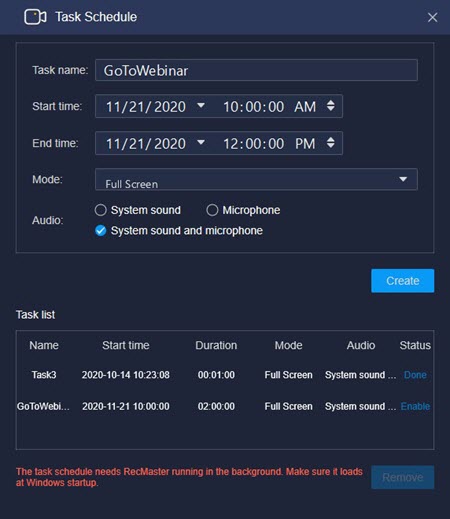 Step 3. Start recording
When it's the right time for meeting/webinar capture, click on Rec button or press the right shortcuts to start the screencasting session. If you've created and enabled a scheduled recording on Windows machine, just leave it alone to begin automatically. During the capture process, you can pause and resume to skip unnecessary moments, make real-time annotation or whiteboard note (for Mac only) to strengthen the key points, and show or hide your own front camera as you like
Step 4. Stop the recording
When the conversation is over, give the recording an end in the same way. The file will be automatically added to a recording list so that you can rename, preview, edit, delete and post online directly.
Both Zoho and third-party screen recorders are good bets to save one-off online meeting or webinar event as digital file. For host with paid subscription, Zoho's cloud recording is of course the go-to choice. While for attendees without permission to use its cloud recording feature or host who'd like to conclude webcam faces into recording, pro-level screen recorder like RecMaster is far more proper.