ESPN is a cable television Network focusing on delivering to viewers with resources like sporting events, live and pre-taped matches, breaking news, statistics, schedules, player updates and up-to-the-minute sports scores.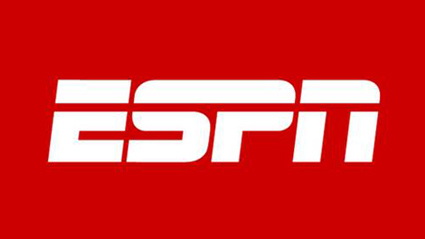 Chances are that viewers could have trouble downloading their favorite contents on ESPN since the website is adopting streaming videos as the media to transmit information and streaming videos disappear when you close its window. An adoptable way to save your inclined contents on ESPN is to record them. In this passage, I am going to tell you how to record ESPN's streaming videos and audios as well as webpages of it. Let's get straight to the instructions.
Record ESPN [Streaming Videos]
An example of recording – The Last Dance.
ESPN recently push up a new series of episodes called "The Last Dance". The documentary series are divided into 10 parts profoundly illustrating the dynasty of Chicago Bulls.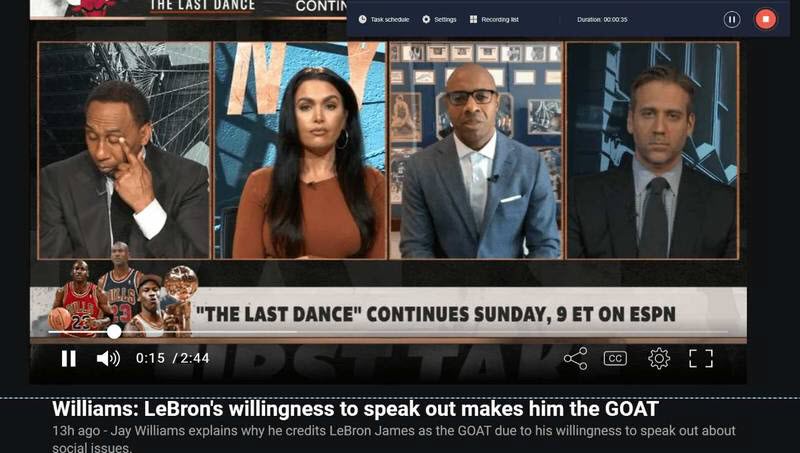 The Last Dance is remarkable documentary, with RecMaster's help audiences could record them out of ESPN and save this series locally and playback at anytime.
ESPN's got live streams and the pre-taped videos for web surfers. Let's see how to record them on ESPN.
Steps:
Step 1. Download RecMaster, Double-click RecMaster and select Custom Area Mode.

Step 2. Tweak the settings. Make sure you set up correctly for the best performance of your videos.
Format (MP4, FLV, AVI) > High Quality (crisp HD) > 60 FPS > Webcam off > turn on System Sound (capture video sounds) > turn off Microphone Sound (prevent your videos from capturing excessive noises).
Step 3. Hit REC to start recording. When you finish it, you could find the footage in the Recording List. There you can do some simple editing like trimming and clipping.
2. Record ESPN [Streaming Audios]
ESPN radio was launched on January 1, 1992, used to under the original banner of SportsRadio ESPN. The network airs a regular schedule of daily and weekly programming as well as live coverage of sports events including Major League Baseball, League Soccer, National Basketball Association, Army Black Knights Football etc.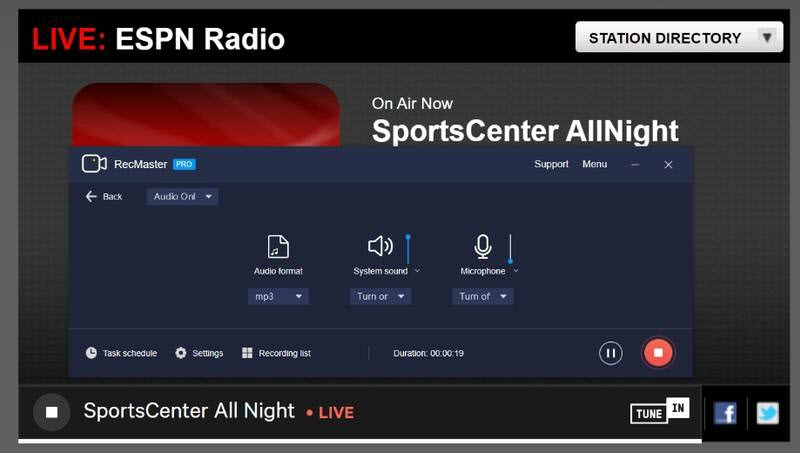 Speak of ESPN radio programs, nothing brings more refreshment than Sarah Spain's Spain Company in the late afternoon. Her beautiful voice always appeases all the strain from work.
Midnight, Jay Reynolds of SportsCenter AllNight clears away the void of darkness caused by my insomnia.
So if you are lacking means to download ESPN radio like me, it is also very convenient to record it from ESPN and store it to your local folders. Let's check out how to record streaming audio on ESPN
Steps:
1. Download and open RecMaster.
2. Select Audio Only Mode.

3. Tweak the settings, Audio Format (MP3, WAV) > turn on system sound > turn off Microphone sound.
4. Pre-running your preferred network audio program from ESPN radio and click REC to start recording.
3. Record ESPN [Latest News and Add Commentary]
ESPN's news is worthy recording. You can make these contents videos and add commentary to them and finally upload to a news website or video portal website to show your points. For example, recent sports news has more or less association with the hottest issue COVID-19, these are the hottest news on ESPN recently.
● Ronaldo "Jacare" Souza catches coronavirus
Ronaldo "Jacare" Souza, who was scheduled to fight Uriah Hall at UFC 249 on Saturday in Jacksonville, Florida, has tested positive for the coronavirus.
The UFC immediately pulled Souza, 40, from the event, but it still plans on moving forward with the rest of the pay-per-view lineup. Two of Souza's corner men were subsequently tested positive according to UFC.
As per UFC's health and safety protocols, all three men have left the host hotel and will be self-isolating off premises, where UFC's medical team will monitor their conditions remotely and will provide assistance with any necessary treatment.
● Milan players are affected by Coronavirus
President of the Milan, Paolo Scaroni, revealed Friday that his team has several players affected by the coronavirus that are currently recovering although the staff maintains the planned preparedness plan.
Milan recognized at the start of the pandemic that Paolo Maldini and his son Daniel were affected by Covid 19. They are recovered.
Scaroni, however, indicated that the preparation of the Milan team continues its course with an eye toward the restart of the competition in Italy and recalls, as an example to follow, what happened in Germany.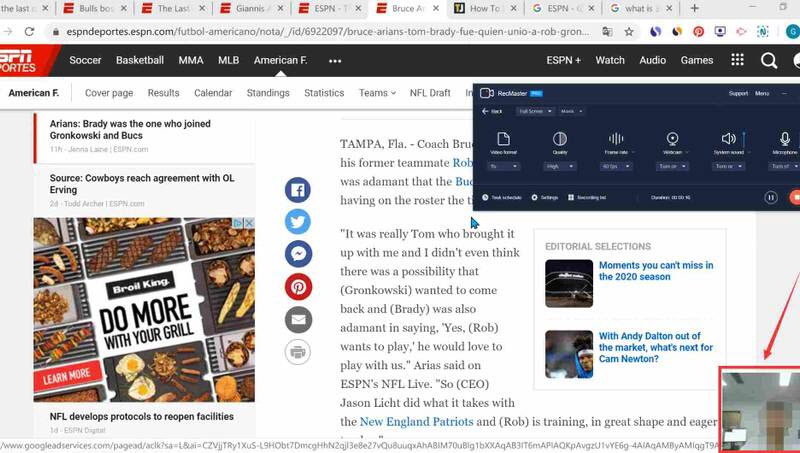 COVID-19 is spreading fast and we should better accord with government's call to stay at home.
Now let's see how to record ESPN news and create a commentary video with the materials you found impressive.
Steps:
1. Open RecMaster and choose Full Screen Mode.
2. Tweak the settings, Video Format (MP4, FLV, AVI) > turn off system sound > turn on webcam to record with your intern webcam > turn on microphone sound (capture your own voice).
3. Place the webcam window at a proper position on your screen.
4. Click REC to start recording. During the process, scroll your news page and simultaneously add annotations to highlight the content in order to create a commentary video.
Conclusion
With RecMater, audiences could record ESPN effortlessly. ESPN bears the most colourful resources ranging from the hottest videos of Basketball, Soccer, F1, Tennis programs to the sport columns ESPN. In a nutshell, never be caught in an old rut that download is the only way to save streaming data, screen recording does a job as great as download.
FYI: Some of the videos on ESPN could be encrypted which may lead to failure of recording. We suggest our customers to test with our trail software before any purchases are settled.
Related Guides:
How to Record Twitch Stream
How to Record Video/Audio off YouTube
How to Record Facebook Live