The Chinese developed fictional expansive-RPG game – Genshin Impact is catching attention worldwide. This game, featuring Stereoscopic 3D and picturesque in-game sceneries, uses DirectX 11 and picks PC OS, making any recording of its gameplay, not an easy task. This passage exists for addressing the problem by introducing a reliable 3D game recorder for gamers.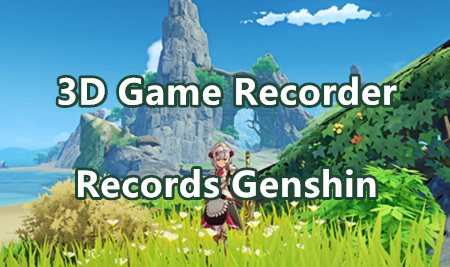 Overview for A 3D Game – Genshin Impact and Is It Hard to Record?
Overview:
1. Fascinating action-RPG combat system
2. Expansive world
3. Free of charge
4. Cross-platform support console, mobile, and PC
The very first impression gamers have towards Genshin Impact is that 'if this game refers too many from Nintendo's The Legend of Zelda? '.
The most attractive feature of this game – an expansive open-world with an action-RPG model indeed, is quite similar to the most welcomed game on Switch. But apart from that, this grandly-designed game that reshaped by picturesque Chinese sceneries has truly broken new ground. The unique gameplay systems and charming story distinguish Genshin Impact from the archaic RPGs.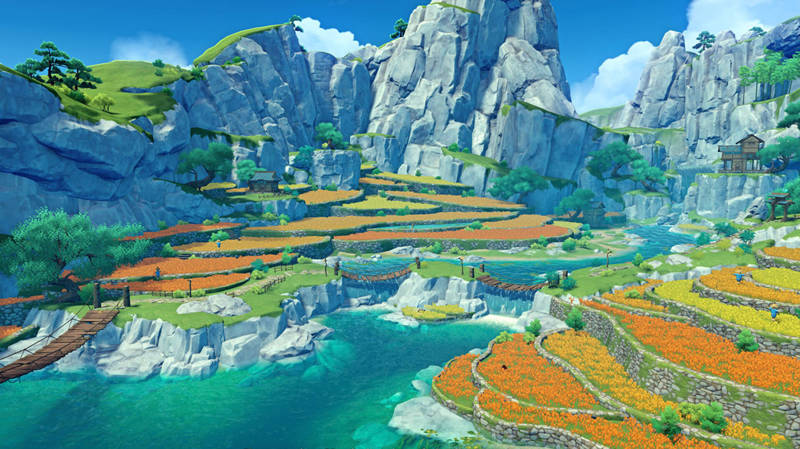 • Genshin Impact Recommended OS
Operating Systems: Windows 7 SP1 64-bit, Windows 8.1 64-bit, or Windows 10 64-bit (Windows 10 dev builds are not currently supported)
Processor: Intel Core i7 or equivalent
RAM: 16 GB
Graphics Card: NVIDIA® GeForce® GTX 1060 6GB or better
DirectX Version: 11
Storage Space: 30 GB of available storage space
The recommended OS for playing Genshin Impact decides that it is not easy work to record it. Gamers need a good 3D game recorder so as to produce great clips.
Are Any Recommendation for 3D Game Recorder?
Here it is, an optimum recorder for Genshin Impact.
What kind of game recorder could be qualified as a good one for recording 3d games? Well, in my perspective, firstly the recorder should be a lightweight recorder – at least it won't be CPU-intensive. And secondly, this recorder should provide users with high FPS (60 FPS at least) so the recording would not lag. Thirdly, this recorder should be easy to use – I assume you don't really want to go another round of learning how to use an OBS anymore.
Here is the answer to the question: RecMaster!
It is a versatile screen recorder that is conversant with recording DirectX 8-12 games, 3D or 2D. Meeting all the terms mentioned above, what's even better about this software is that it manages to provide a resolution as high as your monitor could provide. If you want to create gameplay videos on your 8K screen, RecMaster suffices your demand.
How to Record Genshin Impact on PC with 3D Game Recorder – RecMaster?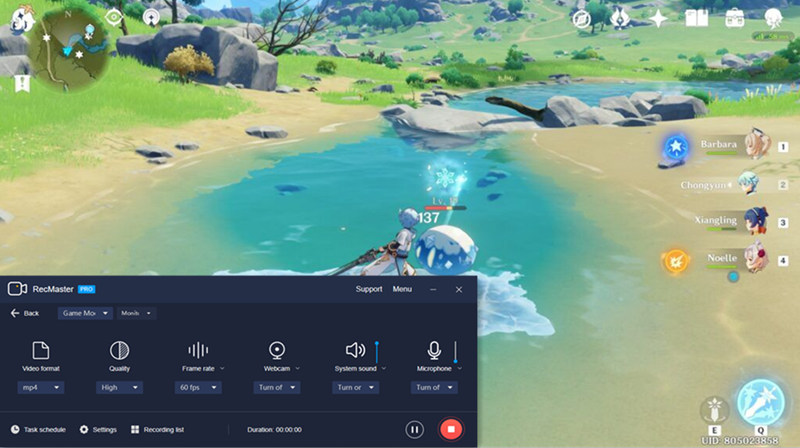 Steps:
1. Download and install RecMaster.
2. Open RecMaster and choose the 'Game' Mode. (Full-Screen Mode works too)
3. When you click on the button, a setting panel of RecMaster will appear. It is time to set up the options before recording your game.

To record Genshin Impact and create high-quality gameplay videos, the video format, resolution, FPS, and video quality are the most four important parameters that could impact the performance of your gameplay clips.
If you feel puzzled and don't know how to make these options right, there is an out-of-box solution. Now follow the instruction below:
Choose 'original quality' > MP4 video format > recording at 60 FPS > turn on the webcam (if you want to add your talking head to your video just like a professional game anchor. If not, disable the webcam) > turn on the system sound > turn on the microphone to capture your off-screen sound (again, if you have no plan for introducing a webcam to your video, the option should be disabled too). These are basically all the places you need to pay attention to.
4. Click 'settings' on the bottom-left corner and enter another setting panel where we will do some less important settings.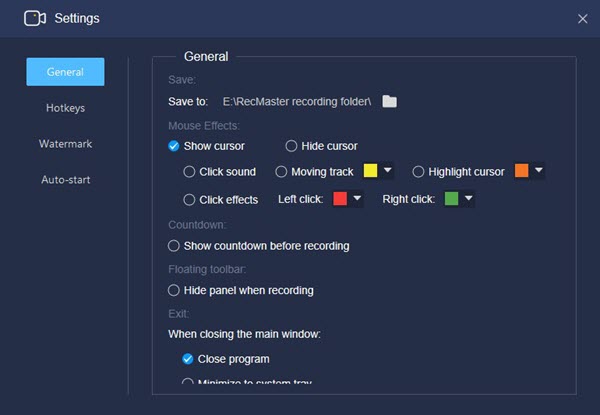 Generally, on this overlay, you can configure options like videos' saving path, cursor effect, hotkeys, customized watermark, and task scheduler.
It's totally all right to skip this step if you feel a hurry to produce a gameplay clip.
5. Start recording by clicking on the REC button
6. In the process of recording, gamers can add annotation tools to mark the Genshin Impact gameplay recordings, which is considered as also an anchor function.
7. Click the red button again to stop recording. Users can find their footage in the Recording list where they can further edit their clips.
Editor's Words
As conclusion, RecMaster is competent in recording Genshin Impact since this 3D game recorder can records DirectX 8-12 games, delivers good performance when recording, and it's easy to use. Hope this answer solves your problems.