Fraps Windows 10 – Everything you'd better know no matter you are a new starter or an old user.
Fraps was used to be and is still regarded one of the best game recording software in many list posts. Then considering there has been no software update for over 7 years and many Windows 10 users are willing to gain benefit from it currently, we are here to give an all-around article on things between Fraps and Windows 10.
Basic information of Fraps
Key features
benchmark | screen image capture | screen video recording
Latest version
v3.5.99
Setup size
2.4MB
Release date
26th February 2013
Officially available systems
Windows XP, 2003, Vista, and Windows 7
Free trial limit (for unregistered)
30-second time limit of each recording;
Fraps-watermarked video;
BMP-formated screenshot.
Video capture format
AVI
Price
Single User License at $37.00;
2-User Site License at $70.00;
3-User Site License at $99.00…
Is Fraps Workable on Windows 10 Now?
Theoretically and according to many real feedbacks online, Fraps is available for many Windows 10 based computers. So if you are a newbie in a dilemma on whether to download and try Fraps or not, you can go for it as you like. Since it's a a true lightweight app, even you end up with a failure, it won't take you much time.
"My Fraps works fine on Windows 10. None of the problems (e.g it never works on Windows 10 desktop, it only works with a few games) you (a question asker) described." (From tom's guide forum)
Possible Problems of Fraps on Windows 10
But you should be informed that, you are not 100% guaranteed to leverage Fraps on Windows 10 as perfectly and same as on Windows 7 or earlier Fraps-compatible systems. Probably, you may encounter either of the situations below:
1. Fraps only works for several games on Windows 10/crashes/not working at all:
"The developers are no longer responding to emails and although the Fraps application works for a few games using DirectX or OpenGL, it never works on Windows 10 desktop and Aero." (From tom's guide forum)
2. Fraps unable to take screenshot:
"I used the free version of Fraps in my old laptop (Windows 7) without an issue and was able to make screenshots of any game. Now I have a new laptop with Windows 10 installed and I can't get Fraps to work…" (From reddit)
3. Fraps records at low fps:
"In Windows 8 my computer ran Fraps very well and i was able to record easily, but after updating to Windows 10 my computer refuses to run over 10 fps when i try to record." (From Microsoft TechNet forum)
FPS drop is a common problem that many gamers may come across, to know why and more, please visit how to record screen with less/no FPS drop.
4. Fraps files are too big:
"I am using Fraps to record my SkrimSE gameplay, but my two 30 minutes episodes are 80 GB, I am unable to do anything with them."  (From tom's guide forum)
Fraps only outputs video into AVI, a typical container format with relatively larger file size than other formats in the same quality level. To record screen at smaller size, you can check out how to fix screen recording is too large.
Although some user got email reply from Fraps team in 2015 who claimed an updated version of Fraps with Windows 10 support was currently in development but couldn't give a release date, as years pass, there's no further software update or related hint showing the new release yet. So for those who have strict requirement on system & game compatibility, screen recording's size and quality, as well as more settings and advanced tool, it's a wise choice to a Fraps alternative app for Windows 10.
Easiest Fraps Screen Recorder Alternative for Windows 10
Name: RecMaster
Latest version: V1.0.23.10
Release date: 2020-9-1
Available system: All new and mainstream Windows systems
Available media formats: MP4, AVI, FLV, MP3 and WAV
Among piles of screencasting tools, RecMaster is recommended here for its friendliness to any Windows OS incl. Windows 10, simplicity in operation, flexibility in recording content & area, quality control and real-time annotation. Better still, it's embedded with a basic video editor and one-click social-share button to satisfy any corresponding needs. Now you can free download it and have a try on this Fraps alternative recorder.

RecMaster is able to grab any screen activity at your disposal, be it video gameplay, software how-to, PowerPoint presentation, facecam performance, microphone talking, or any online streaming. Blow is the step-by-step user guide of RecMaster for your reference.
Step 1. Install and launch.
After downloading RecMaster above, simply set it up on your machine and open it. Besides Windows 10, earlier Windows 8, 8.1, 7 and XP are also supported by RecMaster. If you want to run it on your Mac computer, you can obtain its RecMaster for Mac here.
Step 2. Choose a recording mode.
RecMaster delivers Windows users five core recording options on its main UI and they are respectively:

● Game Mode – That's designed to record DirectX games on Windows 10 PC and enables you to add webcam inset and voice-over with it. Since a small portion of DirecX games are not compatible well with this mode, when you encounter a black screen or other error, please turn to Full Screen.
● Full Screen – It's aimed to help you capture the whole desktop at high quality with audio. Also, webcam overlay (for picture-in-picture capture) and MIC narration are possible.
● Custom Area – With which you are free to manually choose any screen section to record, e.g a certain app, a fixed (720p/1080p-sized ) part at 16:9/9:16 or other aspect ratio.
● Webcam – The one that allows you to create video from integrated or externally plugged-in front camera at any resolution you prefer.
● Audio Only – Another useful tool that permits you to save sound from computer sound card or microphone or the two both.
Step 3. Do settings.
After defining the recording mode, you will head to another main window to adjust different parameters like format, quality, frame rate, webcam, system sound and microphone. For more than that, you can click to access to Task Schedule or Settings panel for automatic capture creation and enabling, mouse cursor customization, personal watermark putting, hotkeys altering or so.
Step 4. Record and annotate (if necessary).
Make sure both your recording target and software pre-settings are both ready made. After that, click the REC button or press "Alt+1" to initiate the screen recording, during which you are free to do any annotation by using the drawing pen from floating bar.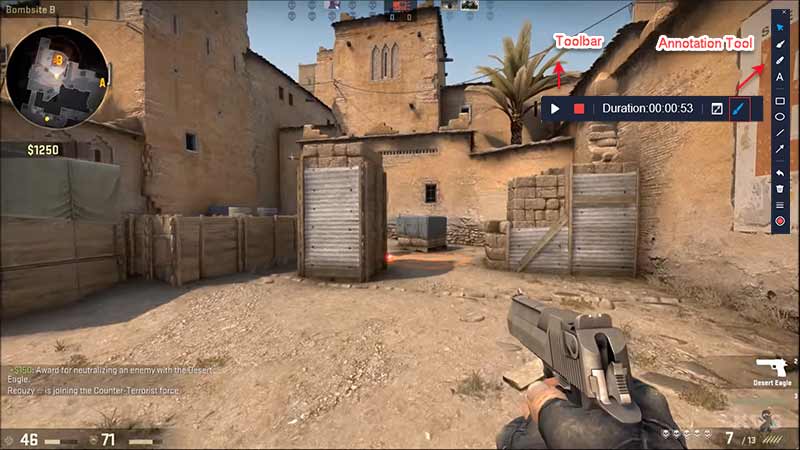 Step 5. End and edit (optional).
When the recording is over, tap the same button or use "Alt+2" to stop it and load the final file into the Recording list. If you've made any mistake during video capture, you can use the built-in editor to cut unwanted parts off. Also, you can click to share the recording to YouTube or Google Drive.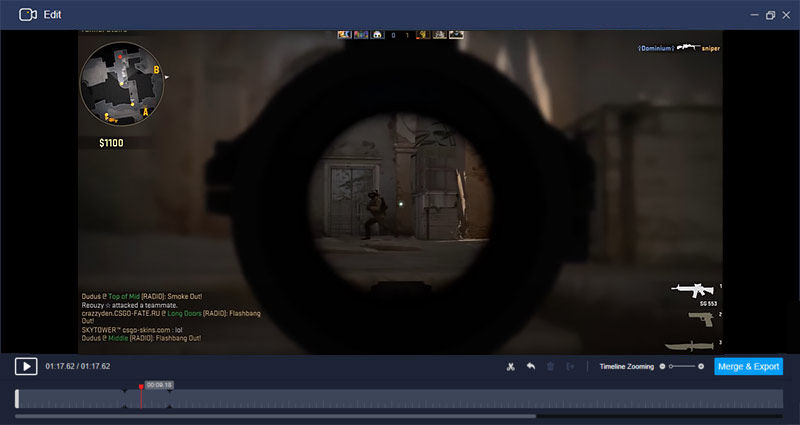 If you have enabled a scheduled recording, just leave the software alone to start and end screen capture automatically.
Ending
It's undeniable that Fraps was once a great choice for either gaming or common screen capture tasks. But due to the "end-of-update", the user experience and reputation seem to go downhill continuously. We hope a new release will come here in the near future. However, currently for worry-free screen capture on Windows 10, you're suggested to leverage some other best screen recorders for Windows 10 like RecMaster as a handy Fraps Windows 10 alternative.
Related Tips:
How to Record Screen Without Lag