Download YouTube resources is easy. You can save a YouTube MP3, video, playlist, or channel with a browser recorder, video downloader, desktop recorder.
No matter what methods you are adopting, chances are that you might find yourself can't download YouTube videos or audios due to multiple reasons.
It might because a video owner decides to delete the file or a YouTube account or a bug from your tool. Actually, the situations are many out there, this passage will exemplify the most common cases and give practical solutions.
Reasons for Can't Download YouTube Videos/Audios
1. Technical Error from YouTube
As a world-known video site, YouTube has to make changes every now and then to retain stamina, which cites reasons for its constant improvements and updates. YouTube usually carries out latent experiments with coding, site design, and so on. That's what happening when you have trouble streaming or downloading YouTube videos.
2. Your Recording Tool's Error
As a matter of fact, all of the YouTube recorder tools experience the same problems of a sudden breakdown. To solve this problem, users are suggested to have a look at their software's official site's information. Luckily enough there will be an announcement about the problem and troubleshooting. So you have nothing to do than to wait until they fix the problem and release an update.
If you can't find any notifications, you should write to the support center or ask on your software's forum.
3. Internet Problems
Check your Internet connection. This is obviously not a big problem though.
4. Software's Update Problems
If your software's current version misfits your PC, it definitely won't work for you. So make sure your software gets the due updates, especially if you use browser screen recorders. Unfortunately, this part is always forgotten. If your web video recorder has not been updated for a long time, you really need to find a new one to assist you in a recording.
Three Methods for Those Who Can't Download YouTube Videos
1. VLC – Free software, tricky steps
VLC is originally a media player for playing videos of all kinds. However, it is not the regular function of VLC that impresses users. It is its additional features like download streaming videos, combine multiple videos, etc. The reason why it is recommended here is that VLC can download streaming videos, and its performance is not a penny worse than the most professional video downloader.
Here are steps to download YouTube videos with VLC:
a) Open VLC > click 'Media' > Select 'Network Stream'.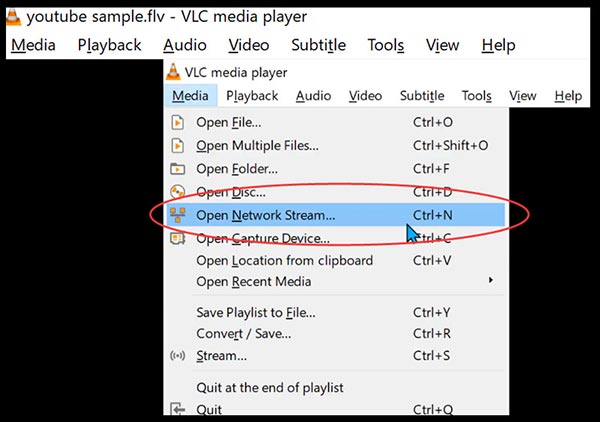 b) Obtain your video's URL, copy it, and paste it to the blank bar.
c) If you are Mac users, click "Window" > "Media Information". If you are a Windows user, select "Tools" > "Codec Information".
d) Find the "Location" bar at the bottom section of VLC's overlay, and copy the new URL.
e) Paste the new URL to a blank browser tab. This action is for opening a downloadable video.
f) Right-click the video, and click "Save Video As".
g) Rename the video and save it to your local hard discs.
2. RecMaster – Professional Screen Recorder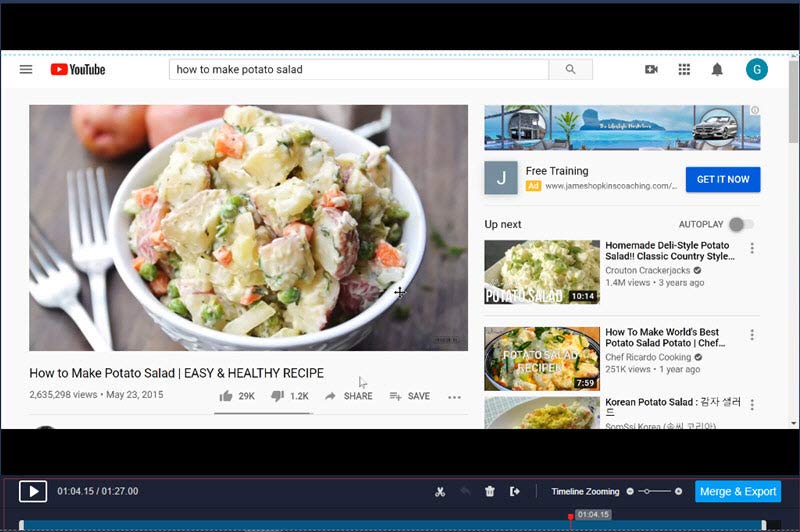 RecMaster is a desktop screen recorder that delivers more stable performance in recording YouTube videos and audios. If you can't download YouTube videos and don't want to learn tricky methods, you may change your mentality and use this recording software to gain copies of YouTube videos.
RecMaster supports to download YouTube videos as MP4, AVI, FLV format, and also download YouTube audios as MP3.
The best part of using screen recorders to download YouTube videos is that you can edit your recordings, add annotations and watermarks to them.
a) Download RecMaster and install it.
b) Enter RecMaster's main bar and select Full-Screen mode.
c) Configure the settings: Video Format (MP4, AVI, FLV) > Video Quality (high, standard, original) > Frame Rate Per Second (60 FPS at most) > webcam > and audio options (system sound and microphone sound).
d) Arrange your recording process by operating on the control bar. You can add annotations if you are using Windows version RecMaster.
e) Stop recording and head to 'Recording List' to check your YouTube copies or edit your videos.
3. YouTube Video Converter X2convert – One-Click Solution
Speak of YouTube downloader or converters, your first thought might be 'are these kinds of tools safe?'. Well, actually malware and spam are occasionally found on YouTube converters and downloaders.
According to Google Safe Browsing and Symantec x2convert.com is a safe domain. Besides, x2convert has a valid and up-to-date SSL certificate issued by Sectigo Limited.
Knowing that this tool won't do you bad, Here are the steps to download YouTube videos with it:
a) Enter the website of X2convert.
b) Paste your YouTube videos' URL to the blank bar like the picture below suggests.

c) Hit 'Get link video', then another interface will appear for choosing video format and video quality.
d) Hit the green button to download then X2convert will show you another window with a new download button, don't panic, hit it.
e) Then your chosen video will be played in a new browser tab. Right-click the screen and select 'save video as… ' or expand the options list and select 'download video'.
f) Choose the storage path and then you are downloading your YouTube videos/audios.
Final Words
This passage explains some possible reasons for users when they can't download YouTube videos. And as solutions to the problems, 3 different methods are introduced.